The Family of Gershon Solomon
Remembered by Berl Glezer
Translated from Yiddish by Sonia Kovitz
▶ See also Solomon family

Sora-Leyka Solomon
(1937) (full view)
GERSHON Solomon, son of Moyshe, was one of the biggest flax merchants in Trashkun. He lived at the very end of New Street (map), just before the road narrowed. Past Gershon's house lived two more Jewish families, the families of Asher's sons Hirshe and Mende, but reaching them was not easy because the road was so narrow that not even a horse-drawn cart could pass through.
Gershon's house had small windows, low doors, and a thatched roof. A porch served as the entryway. Inside, one door led to the dining room. A second door, on the right, led to the kitchen. A large brick oven stood in the kitchen. It had a hood and an iron griddle with three openings where three pots could cook at the same time.
Across from the oven was a window and a broad wooden bench where the water pail stood. Empty milk cans stood nearby, and whey from cottage cheese drained into another pail. Under the bench was a garbage pail. A poker and broom stood beside the oven. Dry corn was kept in a corner for the hens in winter. Flax was placed behind the oven to dry before it was beaten.
In the dining room was a bone-white wooden floor with a multicolored rug. There was a large brown table with four matching chairs. Two sofas, each with a wooden back, stood along the wall near the table. A door on the right side of the dining room led to a small room that was always warm from the steam coming through the walls from the back of the brick oven. The room also had a cupboard, a sideboard with four large drawers, and a Singer sewing machine near the window.
When Gershon's wife [Rachel] died, he was left a widower with seven children— three sons and four daughters. The first son was Hilke, the second was Shabske, and Moneske was the youngest. The oldest daughter was Rivka, next was Sora-Leyka, then Sheynka, and Elka was the youngest.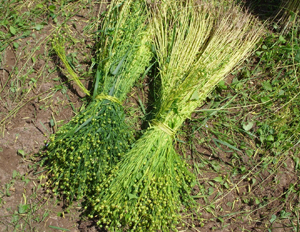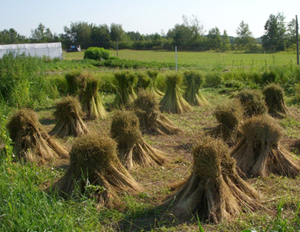 Rivka was in charge of managing the entire household. She woke up before the rest of the family and on winter mornings started a fire in the oven to warm the house. Gershon and his oldest son Hilke fed the horses and then prayed. Sometimes Gershon and Hilke would go out to buy flax and hay. Meanwhile Rivka had a lot of work to do at home. She fed and milked the cows, fed the chickens, made breakfast for the family, and prepared food for later in the day. Rivka was so busy all day long that she didn't have time to realize how tired she was. And she had even more work in the evening, when Gershon came home with a cart full of flax that he had bought in the villages, and Hilke returned with hay.
After the children were grown, Gershon decided to build a large new wooden house. Wooden blocks were brought and the house rose higher and higher. The roof was made from sheets of galvanized steel. Gershon stored flax in the house before the doors and windows were finished, and women came every day to beat the flax. Gershon always sorted the flax himself since he was an expert. When the flax was ready, he would send it to Ponevezh (Panevėžys). Gershon decided to wait until the flax season ended before installing the windows and doors and moving into his new house. But by the time the flax season came to an end, World War I had begun (August 1914).
Hilke married Chayka-Basa daughter of Yeshoye-Leyb [Yakobson], and Rivka married Noske [Kozhenetz] son of Golda. Moneske left for South Africa. Sheynka moved to Kovno to learn tailoring, and Elka, the youngest daughter, moved to Ponevezh to study. Sora-Leyka stayed in Gershon's house to manage the household, a job she had learned from her oldest sister Rivka. Sora-Leyka enjoyed working in the large garden, which had potatoes, carrots, tomatoes, cabbage, beet root, and more. All the vegetables were of very good quality every year, and there was enough left over to feed the cows through the winter.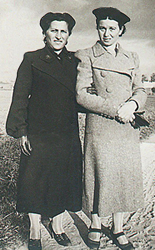 Sora-Leyka with her friend
Frida Kozhenetz, who married
Berl Glezer. (enlarge)
Sora-Leyka was a lovely girl and she fell in love with Hirshke son of Velve [Itzikovich]. Hirshke's job was to prepare the leather used by shoemakers to make new shoes. Hirshke's father Velve was a shoemaker, and so were Hirshke's brothers Ruvke and Moyshke. Sora-Leyka was troubled because at that time it was not considered proper for a girl from a merchant's family to fall in love with a boy from a worker's family. When Sora-Leyka and Hirshke walked in the street, Sora-Leyka didn't want people to see them together. But later Sora-Leyka changed her mind. If World War II hadn't intervened, she would have married Hirshke. But when the war began, Sora-Leyka and Hirshke, like all the Jews of Trashkun, were murdered by the Nazis.
Sheynka was the only member of Gershon's family who survived the war. When she was in the Kovno ghetto, the Nazis sent her to work as a laborer. She was lucky to survive, but at the end of the war she was exhausted and ill. Upon recovering her health, Sheynka married Chaim-Shimen Baranovsky, who had lost his wife during the war. They had a child and named him Gershke in memory of Sheynka's father. Gershke grew up to be a fine young man who graduated from the university as an engineer and decided to move to Israel.



Left to right: Chaim-Shimen Baranovsky, Sheynka (Solomon) Baranovsky, and their son Gershke. Vilnius, 1963.
Sheynka loved her son very much. Her one dream in life, after losing her entire family in Trashkun, was to see her son with a family of his own. Although Sheynka's health was not good, she and her husband moved to Israel to be near Gershke. Her health continued to decline and eventually she died. Later her husband also died. Then the only remaining members of the family were Sheynka's son Gershke in Israel and her brother Moneske in South Africa.
NOTE: Berl Glezer also wrote about Gershon Solomon's family in Part I of his memoir. There he writes that during World War II, the middle son Shabske hid in the forest until 1944, when the Lithuanian fascists found him and shot him. The others (Hilke, Rivka, Sora-Leyka, Elka) were presumably killed at Pajuoste in 1941.