Growing Up in Trashkun
by Alter (Albert) Resnick
as told to Shirley Kalb and Sam Puner**
on 26 February 1979
▶ See also: Puner and Reznikovich families
ALTER RESNICK was born in Trashkun as Chaim Daniel Reznikovich in 1906. He was probably given the apotropaic name Alter (meaning "old") in the hope that he would live to an old age, after three of his earlier siblings had died in childhood. His father was Leyb Reznikovich, and his mother was Gitl (née Puner). His mother died in 1910, and his father went to America three years later. Alter's life was disrupted again with the outbreak of World War I, and another sister and brother died in Lithuania before Alter and his two surviving sisters were able to join their father in New York in 1923.
---
This interview comes from the archive of Bernard Margolis, kindly supplied by Jeff Meyerson. The questions were not included, only the responses of Alter Resnick. Comments in square brackets were presumably added by Bernard Margolis. The text has been lightly edited, and some parts have been rearranged to improve continuity.
---
Life in Trashkun
Trashkun was a fine little shtetl. At Passover time, the mud was up to here. There were about 200 families, Jewish and non-Jewish, but the majority was Jewish. I only dealt with them. There were two synagogues there: Hasidic and Misnagdic.
Trashkun was a small, quiet town. The people held themselves together nicely. We had our own house. It wasn't one of the best but it was a big, liveable house with lots of rooms. It had a big kitchen with a basement under it. I slept on the stove. Actually, there were two wood-burning stoves, one in the kitchen, where you baked bread and everything else. This stove came out into the living room. On the other side of the house, there were three or four beds and a stairway to the loft where people could sleep. Company stayed there.
School
I went to cheder [Hebrew primary school] right from the crib. Literally, I was three or four. The cheder was a very dark room except in the summertime. We had to be there 7:00 to 7:30 in the morning. We were up much earlier. The last minyan in the shul was at 6:30. Everyone came to shul, the children too—Shacharit, Mincha, Maarev [morning, afternoon, and evening prayers]—every day.
We went home for lunch because it was very close to our house. The Rebbe taught in his home and it was across the street from us. There was only one class in the cheder. My group was four to five children. I don't know about the children older than my group. What did they do? Everyone in my group wanted to leave Trashkun. Not all made it. Anyway, they stayed in the cheder until they learned. Those that couldn't learn, they were given a twisted-ear or a whipping.
There always came a time when the Rebbe took a nap on the table. Some of the wise guys wanted to get even with him, in revenge for last week or something, and they glued his beard to the table.
My Father
(Leyb Reznikovich)
There was a small train depot near Trashkun. My father was a government clerk. He made the "bills of lading" sheets for this railroad that was run by the government. He also took care of the passports and all kinds of governmental papers. That's what he did.
Of course, it could get very cold. Plenty of snow! My father used to walk from Trashkun to the train depot, at least three miles or more, every day. Summer or winter, he walked. He had to be there when the freight came in or went out. He had the receipts and he had to check it in and out. The trains were very small, maybe two cars. He was on the job before the earliest minyans, while it was pitch black outside.
In the winter, we never waited for our father to eat with us except for Friday, naturally, and holidays . When he came in, he was red or else he was a block of ice. He wore a short coat, a big one-piece hat and scarf, and of course, boots. I didn't understand how he could make it there and back. He had to cross big ditches filled with snow and mud. When I used to ask, "How could Papa come home in the dark and the snow"?" my elders would respond, "God brings him home."

Moshe Itzhak Reznikovich
On Rosh Hashanah and Yom Kippur, my father did the davening [leading the prayers] in his shul. His father [my grandfather, Moshe Itzhak Reznikovich] was a chazan [cantor] and also the shochet [ritual slaughterer]. Zeyde [Grandpa] would daven with his two sons: my father and his brother—but I don't remember his brother's name.
Uncle Avraham
(Avraham Elye Puner)

Avraham Puner
I remember Uncle Avraham. He was Sam's [Sam Puner's] uncle and mine. He was the oldest child [NOTE]Actually, he was the oldest surviving child. Alter's mother Gitl was the oldest, but she died when Alter was four. of Mordecai Puner. Avraham had a beautiful beard and was a very religious man. He had four girls and three boys. I think that their names were Chayka, Shmulke, Yankele, Nechomka, Yeshike, Sheynka, and another one. Sheynka was a fat girl and a sick one. Avraham was still there when the Nazis came.
Avraham used to go to the villages to buy up ANY merchandise: pelts, dates, corn, hides, flax. He would buy it to sell or to accumulate it. He and his sons bought or sold anything they could. They would go to a village and meet someone on the way, a goy, one of the villagers. They'd learn from him that someone in the village had something to sell. Everyone wanted to be the first for the gravy—the hide, the cow, or anything. If it was a kosher cow (without a blemish), they would bring it back to our town and the shochet [my grandfather, Moshe Itzhak Reznikovich] would cut it up and sell it to the Jews. He also sold chickens, eggs, and everything else.
Mordecai Puner was also in the flax business.
My Brother
(Melech Reznikovich)
Melech was my brother, younger than me by several years. I don't know exactly how much. He was the last born of the family. The oldest one was Liba, next was Chana [Hannah], then Sheynka [Shirley], then I was born and, finally, Melech. He passed away in Trashkun, before I was bar mitzvah, after the war [World War I], while we were running from countries, from city to city, from the gangs, from the Cossacks and other bands that were making pogroms and things like that. We had no time for bar mitzvahs. By the time we stopped running, the time for my bar mitzvah had passed. We couldn't have had it in the forest, so we never had it anywhere.
Emigration
We finally got passports and the exit visas from Lithuania and we started to prepare to go to America. By then, there were three of us: Chana, Sheyna, and me. [Liba had died in 1917 and Melech in 1919]. Chana was 17, four years older than me. Sheyna was three to five years older. She was probably 20 because she was going to the gymnasium [high school] till after the war.
Our father sent the tickets for the three of us. We went from Trashkun to Libau in Latvia near Riga. We stayed there months, quite a long time. We stayed in some kind of a home or reception, a tremendous building, while we prepared to go to the US. This building had been donated and it was kept on donations. The Lithuanian government, small and very poor, couldn't afford it. Libau was an important emmigrating port and people from Poland, Russia, and others stayed there.
We had primary health examinations, and one of us—maybe me—had a growth. I don't remember where it was. We had to stay there until this was cleared up and until we could get clearance. We went to doctors, etc., and finally we left there.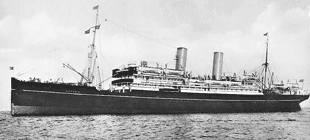 S.S. Estonia
We took the ship there in Libau and sailed for 21 days to America. It was the S.S. Estonia.[NOTE]Alter remembered the ship as the S.S. Polonia, but records show that Alter and Chana sailed to New York on the S.S. Estonia in January 1923. Sheyna sailed in November 1922 on the S.S. Lituania. I wasn't sick on the boat but Chana was very sick. On the boat, we were glad to get in anywhere we could. There were 1st, 2nd, and 3rd class. We were supposed to ride first class. (I don't know why or where the money came for this. I suppose our father provided for us.) However, when we got on the boat, we were put in 3rd class. It seems that this was done to a lot of people and a lot of people knew about it, but they actually preferred 3rd class. The 1st and 2nd were better as to food, etc. However, it was not our kind of food, too rich, too fancy. They served herring and potatos for breafast. We, who hadn't seen a herring in such a long time, couldn't handle it. Too much, too rich. However, we were never hungry. Plenty of food to eat.
Our father met us in New York and took us to Cleveland Street in Brooklyn, the East New York section, where he had an apartment.
My Father's Life in New York
At that time, my father was teaching children or preparing them for bar mitzvah. He would go to their homes. When he had first come to the US, he had a stall on Hester Street in Manhattan selling herring, pickles, and things like that. By the time we got there, he didn't have that any more. Besides preparing the children for bar mitzvahs, etc., he sold matzos to his acquaintances for Passover.
He was a very religious man but was open-minded. He was also a scribe, writing letters for his neighbors and friends, but he didn't make money from that. He had been a scribe in Lithuania too.
I don't think my father was ever a chazan in this country. He was never one of the pushers. Now I realize that he always stood away; he was remote—from anything. If they asked him for help, he would give it. Otherwise, no!
---
---
**Shirley Kalb and Sam Puner were related to Alter through his mother, Gitl Puner. Shirley Kalb was a daughter of Alter's first cousin Fannie Bacon, who was a daughter of Gitl Puner's sister Rivka Puner. Sam Puner, Alter's first cousin, was the son of Gitl Puner's brother Meyer Hirsh Puner. Meyer had sponsored Leyb's immigration to the US. See Puner family.
Compiled by Johanna Kovitz in September 2019 from material in the Bernard Margolis archive.
Updated October 2021