Kikhel family
Alternate spelling: Kichel
The earliest known family member is Shevel Kikhel, born in Raguva (Rogeve) sometime before 1806. He died before 1869, and his wife's name is unknown. The three known sons of Shevel Kikhel were:
I. Moshe Kikhel was born in Raguva in 1822 and died in Troskunai (Trashkun) in 1902. He married Sora Dveyra Segal, who was born in Lithuania in 1823 and died in Troskunai in 1895. The three known children of Moshe Kikhel and Sora Dveyra Segal:
II. Meyrim Kikhel was born in Raguva in 1826. He married Mikhla Mina, who was born in Lithuania in 1827. Meyrim died before 1888. The four children of Meyrim and Mikhla Mina Kikhel:
Rokha Kikhel, wife of Gershon,
with daughters Feyga and Yenta
(enlarge)

Meyer Cohen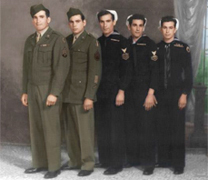 The five Cohen brothers (enlarge)

Morris and Glika Ugent

Ethel Ugent

Mary Kikhel
Cohen Kovitz
III. Mikhel Gershon Kikhel was born ~1828 in Troskunai or Raguva. He married Leah, who was born in 1834. On 1 August 1877 in Panevezys, Mikhel Gershon married his second wife, Rasha Kremer, who was born between 1840 and 1847 in Pumpenai (Pumpyan). Mikhel Gershon died in Troskunai in 1903, and Rasha died in Troskunai in 1908.
Send us corrections, additional information, photos, or a link to your family's genealogy site.