The Shepshelevich Family*
Remembered by Berl Glezer
Written in Yiddish by Berl Glezer in 1990, translated by Misha Glezer in 2016
*alternate spellings: Shepselevich, Sepselevich, Sepselevitz, Šepšelevič [Lithuanian]
▶ See also: Shepsel/Shepshelevich family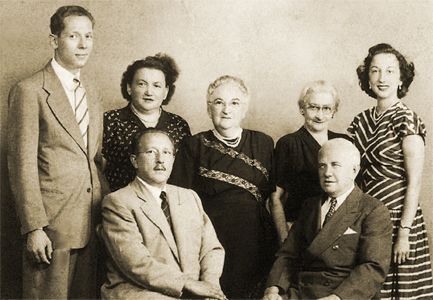 Introduction by Misha Glezer
My father, Berl Glezer (1905-1991), wrote this memoir in 1990, the year he and my mother emigrated from Lithuania to Israel. He was a brilliant man with an excellent memory, and he recorded these stories for the benefit of the extended Shepshelevich-Glezer family, for whom he cared so deeply, to give them an appreciation of their family's history and their roots in his beloved shtetl Trashkun.
The Glezer and Shepshelevich (Šepšelevič) families were related through my grandfather's sister, Chana Basya Glezer, who married Leybe Elye Shepshelevich. The Glezer and Shepshelevich families were extremely close. They lived near each other in Trashkun until the late 1930's. After World War II, they kept in touch as much as possible for a family scattered over several continents. A few months after completing this memoir, my father was finally able to meet some of Leybe Shepshelevich's grandchildren. By then they were in their sixties and living in Israel. Unfortunately, some of the Shepshelevich relatives he would have loved to meet had already passed away.
Here are a few memories of my uncle Leybe Shepshelevich, my aunt Chana-Basya, and their eight children who were born and lived in Trashkun in the years before the late 1930's, before the catastrophe of the Second World War. Since my parents didn't say much about their parents or grandparents, I think my Shepshelevich cousins and the rest of our family probably don't know many of these stories about their parents and relatives, their lives and their fate in earlier years when there was no time to talk about such things.
Leybe was my uncle because his wife, Chana-Basya, was my father's sister. I don't remember how many brothers and sisters my uncle Leybe had, but my aunt Chana-Basya had three brothers. One of them was my father, Motl Glezer. The second was Peysach and the third was Yudl. I remember that Yudl moved to America in 1910.
My aunt Chana-Basya was very beautiful, clever, and a good housewife. Her father Yankl Meir (my grandfather) and her mother Gita/Gutl (my grandmother) weren't rich but they were intelligent and highly regarded by people in our shtetl Trashkun. My uncle Leybe was from a well respected family. His father Avraham was a book lover and a very skilled man. When Leybe was young, he wasn't tall and he stuttered a bit, but he thought well of himself because his father Avromchik was a teacher. It was said that my aunt Chana-Basya didn't want to marry Leybe because she was tall and beautiful, while Leybe wasn't handsome and didn't earn enough money. But because his family was respectable, she went ahead with the marriage.
A year after their wedding, their first son was born and they named him Leyzer. Every two or three years thereafter, they had another child. In all, they had five sons (Leyzer, Shimen, Hirshl, Moyshe-Itzik, Motl) and three daughters (Necha, Sorele, Mere-Yentka). Leybe didn't earn enough to support his large family, so each of his children was sent to to Riga, Latvia, at the age of 15 to learn a profession and be able to support themselves.
I don't remember Leybe's eldest son Leyzer. I was told that in 1905 Leyzer became a revolutionary and was in danger of being arrested and sent to prison. So he made a false passport with a different surname, Abramovich,[NOTE]Abram was his grandfather. and escaped to America.
I spent my early years with Motke and Mere-Yentka. The three of us spent a lot of time playing happily together in Trashkun when we were young, before Motke and Mere-Yentka went to South Africa. Before World War I, I saw my cousins Shimen, Hirshke, Moyshe-Itzik, Sorele and Nechka only when they came back from Riga to Trashkun to be with their family for holidays such as Passover and Sukkot. They brought toys from Riga for Mere-Yentl and Motl and for me too.
I remember Shimen very well in those years before World War I. He was a tall and very handsome young man who learned to be a hatmaker in Riga. Before leaving to serve in the army, he visited our house and joked with my sister. I still remember the song that he sang to her:
Please, God, turn the tables
And make me into a girl.
What should it matter to you
If there were one more girl?
And my life would be much better.
During the first months of the war, the family received a letter from the army saying that Shimen was wounded. After this, no more letters came.
Hirshl and Moyshe-Itzik learned to be tailors in Riga. When they came home for holidays, all their friends from Trashkun visited them in the evenings. They told their friends how they spent their free time in Riga. They sang songs and played games. At that time we—Motke, Mere-Yentka and myself—were very young so we hid in a corner of the porch, watching and listening while Moyshe-Itzik and Hirshl entertained their Trashkuner friends.
Sorele learned housekeeping in Riga. She was very beautiful, like her sisters. She knew a lot of young men in Riga, but when it was time to get married, she was not interested in any of the people she knew. When she reached marriageable age, there was a problem of where to get money for a dowry. Leybe and Chana-Basya were smart and capable but not very wealthy. Uncle Leybe did not make a lot of money from his job, which was building brick ovens to heat houses and also cleaning chimneys. The produce from their garden was not plentiful every year, and their goat gave little milk. Finding a bridegroom for a bride without a dowry was not easy, but they found a nice young man from a very good family, whom Sorele liked too, but did not want to marry him because he was a shoemaker. She married him anyway, and they lived in Chana-Basya's house until their first child was born. Later they moved to Utyan (Utena), where her husband's family lived. The birth of first Sorele's child was difficult and they had to call a gynecologist from another big city to perform surgery, after which she gave birth. I don't remember who the doctor was.
Necha learned to be a hairdresser in Riga. There she fell in love with a very handsome young man, Hillel Vospe, and they used to come to Trashkun for holidays to spend a few days with family and friends. She brought her fiancé from Riga to visit her parents when the military front came closer to Trashkun in 1915, and the entire Shepshelevich family and many other Jewish families from Trashkun fled deep into Russia.
Moving to Russia was not easy. I know it very well because the Glezer family went to Russia too. I was ten years old at the time. When we arrived in Russia, in the city of Penza, each family was sent with 10-20 other families to a community shelter. After our long and difficult journey, we were all very tired and many people were ill. Many even died along the way. After that, many families found their own apartments and started to work in their professions.
The Shepshelevich family—my aunt Chana-Basya and Uncle Leybe and their children—also found accommodations in Penza. The youngest children, Motke and Mere-Yentka, went to school. Moyshe-Itzik and Hirshl began to work as tailors. Necha and her fiancé Hillel got jobs at the school. In Penza they preserved the Jewish way of life and all the Jewish traditions. The children studied in a Jewish school. Various events were arranged for the older youth, who got acquainted with other young men and women, fell in love, and got married under a chupah according to Jewish custom. There was also music and dancing.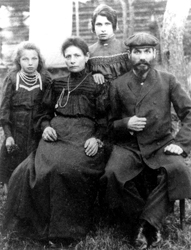 The Peysachovich sisters and parents.
Not shown are the Pesachovich
brothers Simon and Leyb.
(enlarge)
While in Penza, Chana-Basya's son Moyshe-Itzik married a girl named Tzivya (Cila, later Celia) [Peysachovich], and Hirshl married Tzivya's sister. I remember very well what Tzivya's sister looked like. She was very tall and beautiful. But something terrible happened in Penza in 1918. While she was sitting on the windowsill of their second floor apartment, there was a clash between the Red and White armies. She was hit by a bullet and died. It was a great tragedy for the Shepshelevich family, one of many tragedies to strike our family. But life went on.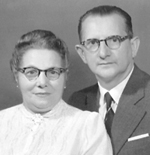 Cila and Moyshe-Itzik
(click for more)
When the war ended in 1919, we returned to our little shtetl Trashkun. Moyshe-Itzik and his wife Tzivya went to live in Ponevezh (Panevėžys). My uncle Leybe began to work as the shammes (caretaker) of the synagogue. Necha and her beloved husband stayed in Russia for awhile and then moved to the Crimea, where her three children were born: two daughters (Liza and Emma) and a son (Izye). Necha corresponded with her relatives in Trashkun until 1923, when diplomatic relations were cut off between Lithuania and Russia. From that time forward, they knew nothing about each other's lives.
Life in Trashkun was returning to normal, but there was still poverty. I remember that in 1919, during the week between Passover and Sukkot, Hirshl asked the poor Jews to come to the synagogue and bring empty bags. After prayers he took them to the cellar of Etka daughter of Bere [Lichtin]. The cellar was full of potatoes, and Hirshl invited the people to take as many potatoes as they wanted. The potatoes were donated by Isaac Kozhenetz, the father of my wife Frida. (Isaac Kozhenetz had stayed in Trashkun during World War I when the rest of us were in Russia, so he was still rich.) Hirshl also started a drama club that put on all sorts of performances. With the proceeds from ticket sales, they bought clothes for needy children.
Hirshl fell in love with Luba, the daughter of Pine and Buna-Rela Sherman, who were very prosperous. They baked buns and bagels and they had a shop. Luba's father Pine was a roofer who also made the boards that cover the roofs of houses. The work was not easy but it paid well. Since Hirshl was only a tailor and was far from rich, Pine didn't approve of his daughter's marriage to Hirshl. But they did marry, and the wedding was held in Aunt Chana-Basya's house. There was not enough space in Chana-Basya's house for the couple to live, and Luba's parents did not take the newlyweds into their home. To stop the rumors in town, the couple rented an apartment in a neighboring village where they lived for a while. Meanwhile, there lived in the shtetl a very intelligent Jewish woman named Mina Saltuper, who went to Pine and said, "Why are you such a snob? Every honest Jew in this town would be proud to have a son-in-law like yours. You are a roofer and Leybe cleans the chimneys on the roofs. So which is higher: the chimney or the roof?" She convinced Pine that his son-in-law was a good-looking, intelligent and capable young man, and that he could even be proud of him. After Pine realized that his attitude had been wrong, he invited the the young newlyweds to live in his house.
Hirshl's family soon grew. Luba gave birth to two daughters: Frumele and Chavele. Hirshl and Luba were very active in Trashkun. They organized various charitable activities for Jewish youth to help children from poor families.
Later on, I think it was in 1925, my cousins Hirshl and Moyshe-Itzik went to Brazil in search of a better life. (see Moyshe-Itzik's travel documents) Sorele's husband Meyshitzik (Meyshe-Itzik) went with them, but he did not stay long. He returned to Lithuania because he was not satisfied with the lifestyle that he saw in Brazil. After Moyshe-Itzik and Hirshl went to Brazil, I knew nothing about their life there. They wrote letters about their difficulties, but from their stories I understand that they gradually got back on their feet, and then they brought the rest of the family from Trashkun to join them. Still later they brought Sorele's daughter Mere-Ziska to Brazil, and she is happily married there.
Hirshl's daughters Chavele and Frumele grew up and married in Brazil. Unfortunately, Frumele later fell ill (I don't know what disease). She died while still in her thirties, leaving behind a husband and two children as well as the rest of her family. Her death was a great tragedy in their household and for our entire family.

Motl (1933)
In 1925, I served in the army with my cousin Motl. During that year he was given a vacation for ten days, and in those ten days his mother (my aunt Chana–Basya) died. Motl married a girl from the town of Birzh (Biržai) on the border with Latvia. Her name was Chaya. They managed to emigrate to Johannesburg, South Africa. I often corresponded with Motl in the post-war years. He and his wife had one beautiful daughter named Sorele. Sorele's family life did not cause him a lot of happiness. Motl died a long time ago.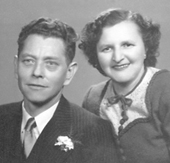 Itzik and Mere-Yentka
(click for more)
My cousin Mere-Yentka was a very beautiful girl. She was friendly with a young man in Trashkun named Itzik Katz who was very fond of her. He and his mother left for South Africa to join his father, who had emigrated a little earlier. After Itzik arrived in South Africa, he sent an invitation to Mere-Yentka to come and marry him. As soon as Mere-Yentka stepped off the ship, she met a rich man who wanted to marry her. She refused and went on to marry her friend Itzik, who had been waiting for her in Johannesburg.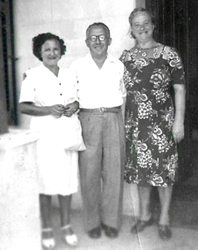 Mere-Yentka, Motl and his wife Chana
After Motke and Mere-Yentka emigrated to South Africa, Leybe Shepshelevich lived alone in his house for some time. Then he moved to Birzh to live with his daughter Sorele. To our great sorrow, Leybe and my cousin Sorele and her husband and children were murdered in the same way that all Jews were brutally murdered by fascists in the worst years of World War II.
After World War II, I found Mere-Yentka's address in South Africa and started to correspond with her. I learned that Mere-Yentka and her husband had two children: a son Haim and a daughter Jane. I knew their children only through photographs that Mere-Yentka sent with her letters. Much later I learned that Mere-Yentka's husband had both legs amputated, and as a result their financial situation deteriorated. But her husband's sister, who lived in the same city (Johannesburg), was very wealthy and was able to help them. I corresponded with my cousin Mere-Yentka for a long time, but at some point I stopped receiving letters from her. I thought she was no longer among the living. Then I learned that she had suddenly become seriously ill and had to be hospitalized. What exactly happened to her, I do not know. Her son Haim now lives in Israel, and his sister Jane lives in Canada.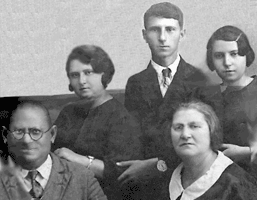 Necha with her husband and three children
(click for more)
In the late 1940's, I began to correspond with my cousins Hirshl and Moyshe-Itzik. When I found my cousin Necha, I started to correspond with her too. Necha and her husband lived in Crimea under difficult conditions and they struggled to make ends meet. I often sent them parcels of food. Her husband Hillel fell ill and died. Then Necha received word that her two daughters and son were killed during World War II, and she lost her eyesight. When her health deteriorated, she was offered a place in a home for the sick and elderly, but we knew that conditions there were not good. I wrote to her brothers Hirshl and Moyshe-Itzik about her situation and explained that she needed help because her state pension was small. They wanted to help their sister, but in those days it was very difficult to send parcels from Brazil to Russia.
Because Necha was totally blind and very lonely in Crimea, I brought her to live with us in Vilnius in the early 1950's. In those days our children were still young, and the apartment had no facilities. Our water supply and toilet were outside. Necha needed to be cared for like a small child because she couldn't see at all. Everything she needed, we provided. Later, when Moyshe-Itzik moved to Israel in the 1950's, he started sending packages to Necha and Hirshl contributed to this aid as well.
After such a hard life, it was a great comfort to Necha that she was not alone, and she stayed with us until her last days. She understood that we wanted her to live with us because we had the same family blood flowing in our hearts. Necha always dreamed of being reunited with her brothers and sisters, but unfortunately this did not happen. Necha died in 1967. When Luba (Hirshl's wife) came to visit her own sister in Vilnius in 1968, she did not find Necha alive and could only visit her grave.
Necha was a very intelligent woman. She was interested in politics and many other things. Journalists often came to visit her. They read articles to her, and she had many interesting things to tell them. She also wrote poems. Some she gave away, but some I have kept.
Afterword
Now I am 85 years old as I write my memories about our family. At last I am able to tell my relatives in the Shepshelevich family about my cousins—the five brothers and three sisters—so they will learn a little bit about their parents and grandparents who are no longer with us. I came to Israel in 1990 and looked forward to renewing family ties. I was sure that I would be able to see my cousin Sorele's daughter Mere-Ziska. I was very disappointed to learn that she was no longer among the living. I remember well Hirshl's and Luba's daughter Chavele (now Eva) in the years before she moved with her parents to Brazil, and now I hope to see her again. I also hope to meet Chana, Riva and Simcha (children of Moyshe-Itzik and Tzivya), who now live in Israel, and Haim Katz (son of Mere-Yentka and Itzik Katz). I would like them to hear all these stories and to know about the entire Shepshelevich-Glezer family.
— Berl Glezer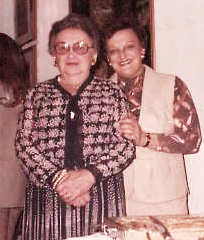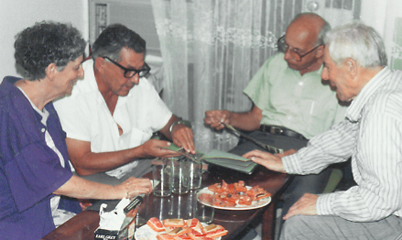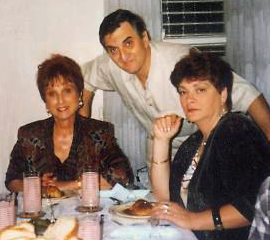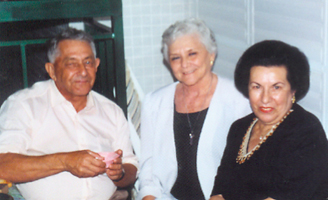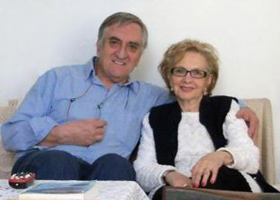 Compiled by Johanna Kovitz
© 2016 Misha Glezer & Johanna Kovitz
Updated February 2016