Also known as


Lubin

or

Labun'



Information and photographs courtesy of Mary-Jane Roth.
GROSSER (Grojskop) FAMILY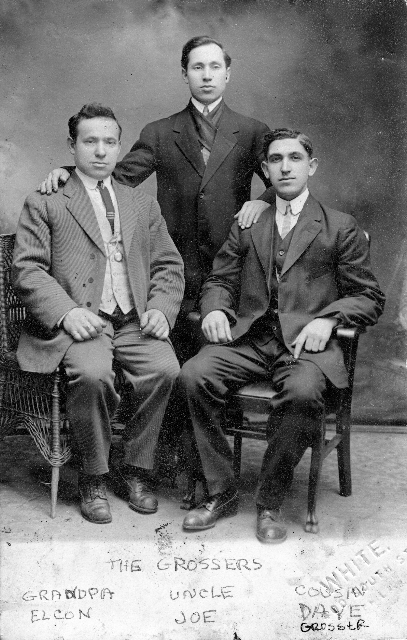 The Grossers in Philadelphia (l to r): brothers Elcon Grosser and Joe Grosser, cousin Dave Grosser.
Chaim and Chaia Grojskop (who both died before 1898) of Lubin has three children: Elkunah (more about him, below), Jossel (became Joseph Grosser) and Perl (Pearl Shapiro).
Joe Grosser (ca. 1881 - 1976) arrived in Philadelphia in 1903. He was a locksmith and, later, a machinist. He married Katie in Philadelphia.
Pearl Grosser (ca. 1876 - ?), not pictured, married Hyman Shapiro in the Russian Empire and had five or six children. She arrived in Philadelphia about 1913. In Philadelphia she had two more children.
David Grosser (ca. 1902 - ?) was born in Labun and traveled to the USA in 1921. He was a blacksmith and, later, an ironworker. He married Dora Goran in Philadelphia, had two daughters, and then moved to Brooklyn before 1930. He worked as a driver.

The Elcon and Jennie Grosser Family: Photo (from about 1903), l to r: Ida (Chaia) Grosser Lieberman, Herman (Chaim), Elcon (Elkunah Grojskop), Jennie (Czarna Tepper), Samuel.
Elkunah Grojskop was born in August 1870 and married Czarna Tepper in the town of Baranivka (located 24 mi. NE of Labun) in August 1897. He was a blacksmith. Elcon emigrated to Philadelphia in 1900 and worked as an ironworker for the Baldwin Locomotive Company. Jennie and the children arrived in Philadelphia in 1901. Elcon and Jennie opened a hardware store on South Street in Philadelphia. He died in September 1973.


Elcon and Jennie Tepper Grosser 74th Anniversary, The Evening Bulletin, Philadelphia, August 11, 1970.
Click on document to see transcription.