---
---
Brief History of Tarnobrzeg

New (Aug 2008): Click here to see a video about the Tarnobrzeg Jewish community and cemetery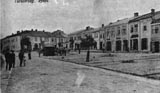 Tarnobrzeg is located just south of the mouth of the San River and Vistula River, in Rzeszow province. It is located at 50.35 degrees North and 21.40 degrees East, in the area of Poland which was Galicia. Galicia was part of the Austrian-Hungarian Empire. The town was also known by the name of Dzikow, in the 1765 census.

The Jews of Tarnobrzeg were massacred in 1655 and in 1757 there was a blood libel, when several Jews were murdered, as they were accused of killing a boy. Later the boy returned to the town and Countess Tarnowski paid restitution to the town's Jewish population.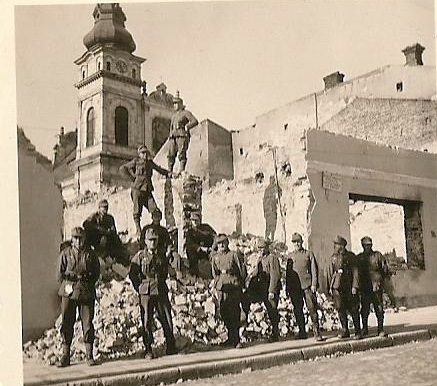 Nazi soldiers in Germany - 1939
In 1718, the wife of Count Tarnowski loaned the Jewish community 1,000 florin to build a synagogue. In 1778-9, Wolf and Simpel Lewkowicz paid sales tax as the town's kosher butcher along with Samuel Zelmanowicz.

During the 19th century Hasidism play a large role in the town with R. Meir Horowitz it's key figure. The Baron Hirsch fund established a school in the town before World War I.

On September 17,1939 the Germans occupied the town, the population was then 3,800. In October of that year the Jews were robbed and expelled. The final liquidation of the community took place in July of 1942.

Jewish Population of Tarnobrzeg


| | | | | | | |
| --- | --- | --- | --- | --- | --- | --- |
| 1765 | 1880 | 1890 | 1900 | 1910 | 1921 | 1939 |
| 569 | 2,768 | 2,840 | 2,537 | 2,642 | 2,146 | 3,800 |
---
---