LACKENBACH
Rabbis of Lackenbach


(Main source: "Kehila Kedosha Lackenbach", Rabbi Adonyahu Kraus, Jerusalem 1963)
The Lackenbach community always had one synagogue and one Rabbi. The first Rabbi mentioned in documents is
R' Chajim Bucher
, in about 1600, but nothing is known about him. For many years the Lackenbach Rabbis were famous not only in the region but also in Hungary, Poland and Germany. This attracted to Lackenbach Yeshiva students from all over Europe. Here is the list of the Rabbis:
1.
HaMaHaRaM A"Sh
(Rabbi Meir Ben Yitzhak Eisenstadt
, "
Panim Meiroth
") born 1670 died 27 (7?) Jun 1744.
In 1717 became the Rabbi of Eisenstadt and the Seven Communities, before Lackenbach had its own community Rabbi.
He had 6 sons and 2 daughters.
Maharam means [acrostically] "great teacher Rabbi Meyer", and A"Sh means the town Eizenshtat in Hungary.
The name of this town was customarily written with the abbreviation
A
leph-
Sh
in א"ש.
2. Rabbi Meir Ben Shimon Ulmo-Ginsburg was the first recognised Rabbi of Lackenbach, at the time of HaMaharam Asch till 1742.
3. Rabbi Benjamin ASCH, the 6th son of MaHaRaM A"SH. Came to Lackenbach in

1742

(תק"ב Taf Kof Beit) from Ungarisch Brod;
was also Rabbi of Kobersdorf.
More information about him, in:
Bernhard Wachstein,
Die Grabinschriften des alten Juden-friedhofes in Eisenstadt
, Wien: Holzhausen 1922, pp. 78-83;
Chapter about The Children of Rabbi Meir Ben Isaac Eisenstadt, also known as MaHaRaM A"Sh or Panim Meiroth
"The sixth child of Meir b. Isaac was
Benjamin
[OR 3666].
As
Rabbi of Lackenbach
in Hungary, he signed the approbation for Meorei A"Sh on
Thursday,
22 Cheshvan [5]526 [6 November 1765, a Wednesday!]. In the same work, p. 88c, Kallir mentions an explanation of a Talmud passage in his name.
Before his term in Lackenbach, we find him among the leaders of the community in Ungarisch-Brod between 1728 and 1747" [*].

One of Benjamin's sons was Salomon;
[*]
Frankl-Gruen, Geschichte der Juden in Ungarisch-Brod, p. 23.
4. Salomon, son of Rabbi Benjamin, grandson of MaHaRaM A"Sh. He was a learned man but - judging from the titles he is given [80/4] - not a Rabbi [**].
[**] According to "Otzar haRabbanim", he became Rabbi in Lackenbach in 1770 [OR 18740]


5. Rabbi Shlomo Zalman son of Eliezer Lifshitz: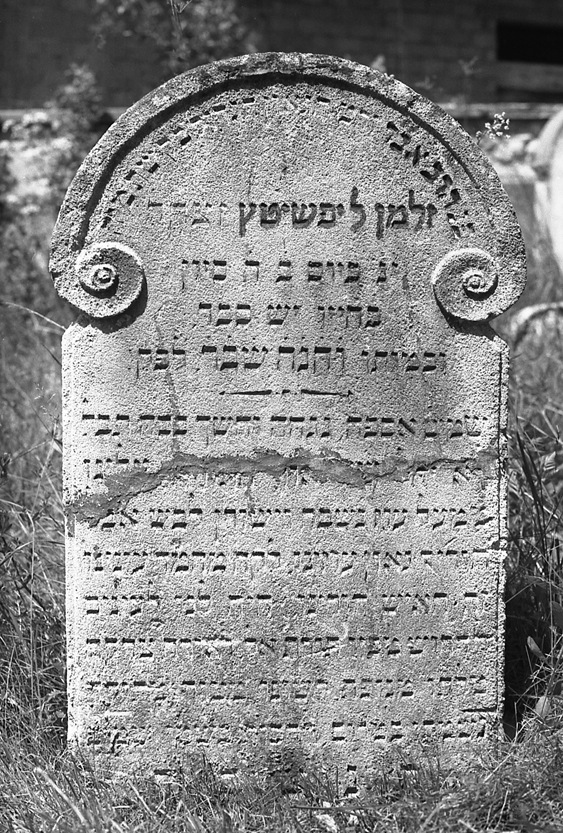 Came from Poland, coincidently visited Lackenbach when Rabbi Benjamin died, agreed to become the town Rabbi, served for about 20 years, from about 1789 to 1809. Many students came from all over Hungary and Poland to learn from him at the Lackenbach Yeshiva.
<<<[C8] Rabbi Zalman Lifshitz Gravestone, Lackenbach Cemetery
Copyright © 2010
Sandor Bacskai











6. Rabbi Shalom Ullmann ("Rabi Shalom Charif"), son of Isar (Israel) Ullman from Fiorda: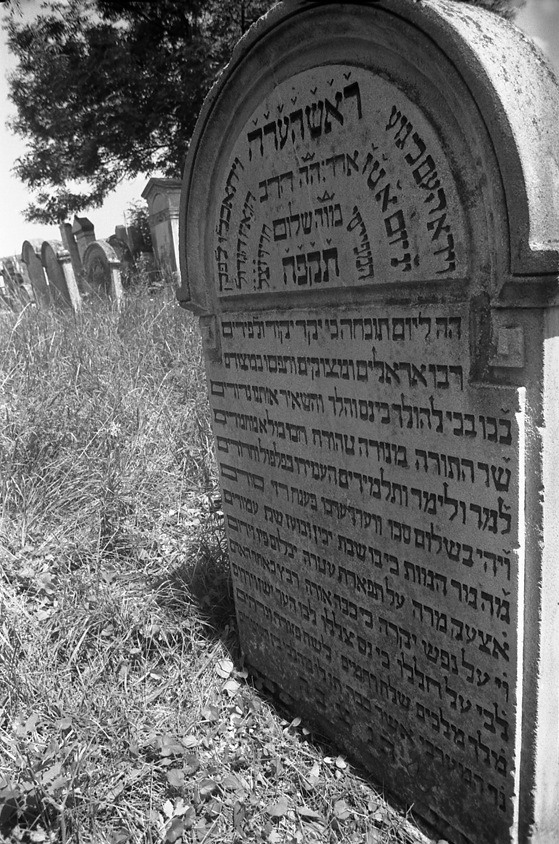 Born 16 Adar תקט"ו Taf Kof Tet Vav, 27 Feb 1755 in Furth. He served as the Rabbi of Anschbach, the Rabbi of Schtampfen and the Rabbi of Freukirchen.

He came to Lackenbach
in the Hebrew year 1809, Taf Kof Samech Tet
, תקסט
Served as Lackenbach Rabbi for 25 years.
Wrote the book "Divrei Rash". Died in 16 Adar Taf Kof Pei Hei, 6 March 1825-
תקפ"ה
, on his 70th birthday!
His wife, Rachil, was the daughter of Rabbi Rephael Hagital, Chief Rabbi of Swiss, died 4 years later.
They had 2 sons: Rabbi Avraham and Rabbi Schlomo Zalman.




<<<[C9] Rabbi Shalom Ullman Gravestone, Lackenbach Cemetery

Copyright © 2010
Sandor Bacskai
7. Rabbi Avraham Ullman, son of Rabbi Shalom Ullman: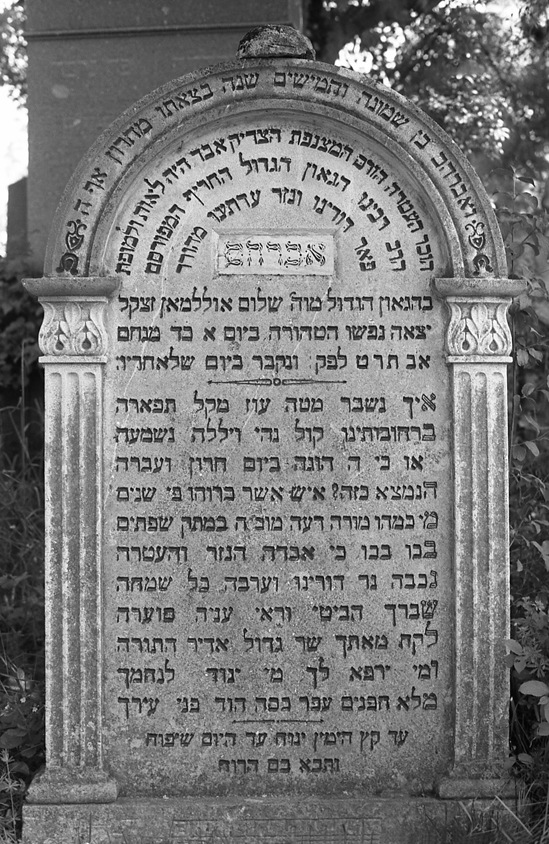 Born 1791. In 1810 already was a Rabbi in Tapeltshan.
Served as Lackenbach Rabbi for 21 years, from 1825 to 1846; died 56 years old.
Was married to Yetl (see gravestone C6), daughter of Ya'akov SEGAL.
Had 4 sons – David, Shalom, Mordechai and Rafael.
Remarried to Rachel, after his first wife Yetl died in 1835.
Died on 12 August 1849
כד אב תר"ט.
<<<[C10] Rabbi Avraham Ullmann Gravestone, Lackenbach Cemetery
Copyright © 2010
Sandor Bacskai
8. Rabbi David Ullmann, son of Rabbi Avraham Ullmann: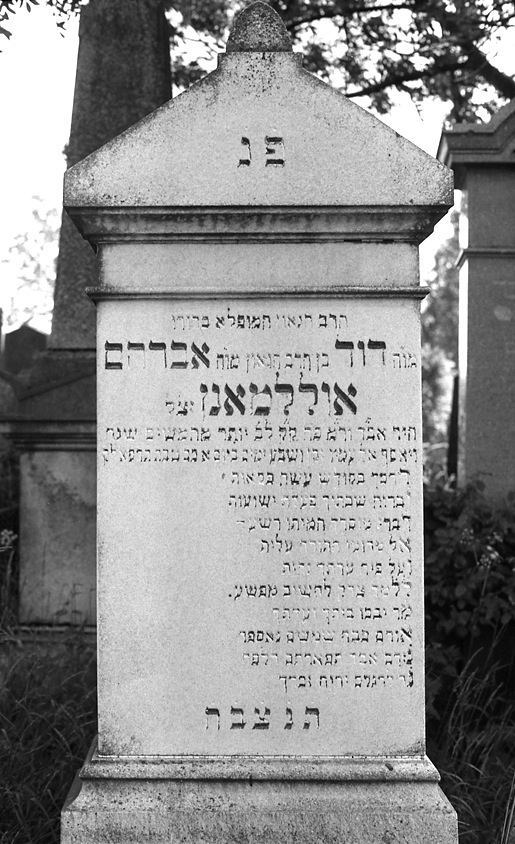 Born 1823; Was married to Julie (Yetl) WIENER (see gravestone C7).
Served as Lackenbach Rabbi from 1846 for 55 years (!) till he passed away , 13 Jan 1901, 78 years old.

He was one of Europe's greatest Rabbis.
<<<[C11] Rabbi David Ullmann Gravestone, Lackenbach Cemetery
Copyright © 2010 Sandor Bacskai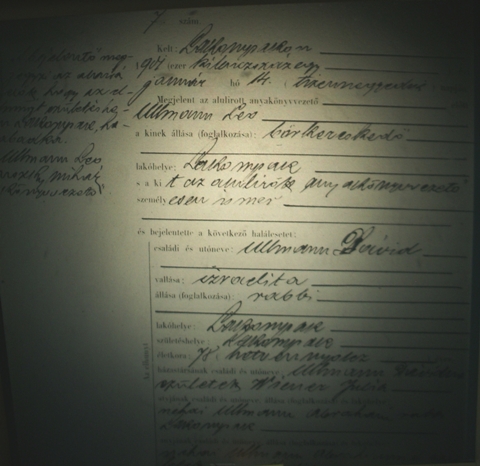 [C12]
Rabbi David Ullmann Death registration, Lakompak,14 Jan 1901
Copyright © 2009 Yohanan Loeffler
9. Rabbi Yehuda Hacohen Kraus (Krausz), B. 10 Dec 1858, son of Yekutiel. Served as the Rabbi of Lackenbach from 1902 . Was married to Etl, daughter of Adonyahu Schmeltzer, and second marriage to her sister Leah. His son Adonyahu Kraus wrote the book about Lackenbach. His other sons were Rabbi Moshe A'haron Kraus, Rabbi of Banya: Rabbi Nafthaly Kraus; Rabbi Yekutiel Kraus; His daughters were Bracha Weinberger; Freidl Sofer;
He retired in 1935, his son-in-law succeeded him. He left his community to live in Jerusalem, in Meah Shearim, as a simple Jew [*]. He passed away in 23 Jan 1938, one month before the takeover of Austria by the German Nazis. He was one of the only European Rabbis that had left Europe to Israel peacefully before the Holocaust .
[*]Yohanan Loeffler: Rabbi Kraus's example (leaving Europe to Palestine) probably saved my father and his sisters from the Nazis: my grandfather Yohan Loffler sent after Rabbi Kraus to Jerusalem both his daughters Rozsi (in 1935) and Gitta (in 1937) and in the last moment, his son, my father, Joseph Loeffler in 1938.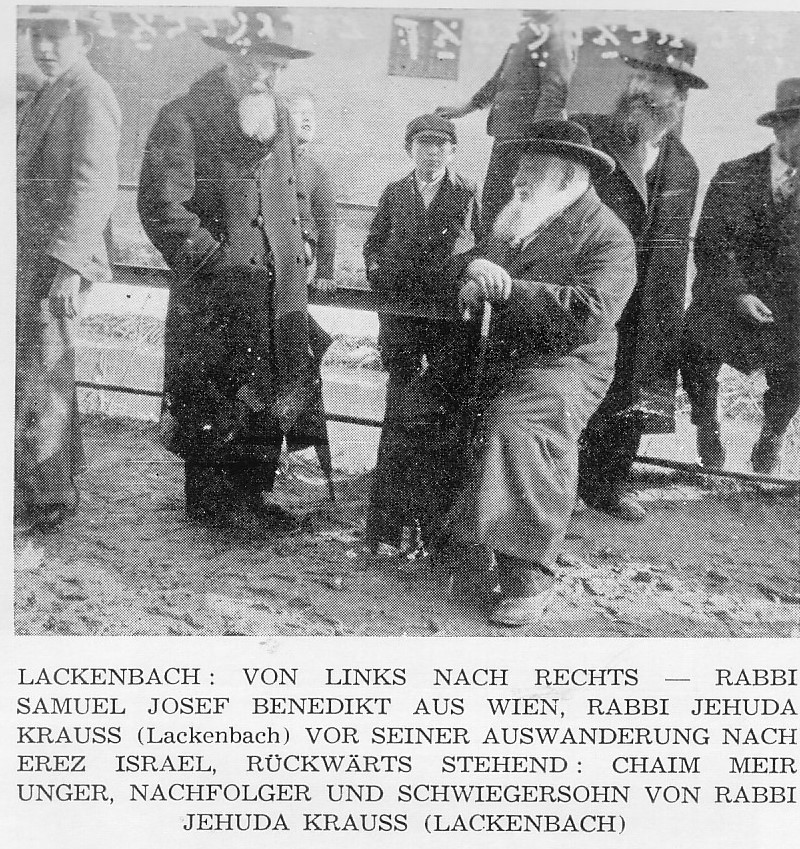 (C13) Rabbi KRAUS (middle front, sitting) and Rabbi UNGER (right back) 1935 - in Lackenbach train station, departing to Palestine.

Copyright © Hugo Gold, Gedenkbuch der untergegangenen Judengemeinden des Burgenland
With the kind help of Liane Winkler

See titles of some of Rabbi Krausz's work: "Divrei Emeth", "Divrei Shalom", "More Derech".
"Divrei Emeth" (1910)





"Divrei Shalom"

"More Derech"






Dedication by rabbi Krausz in "Divrei Emeth" to his late wife,
Ethel, daughter of Sarah, daughter of Rabbi Adonyahu SCHTELTZER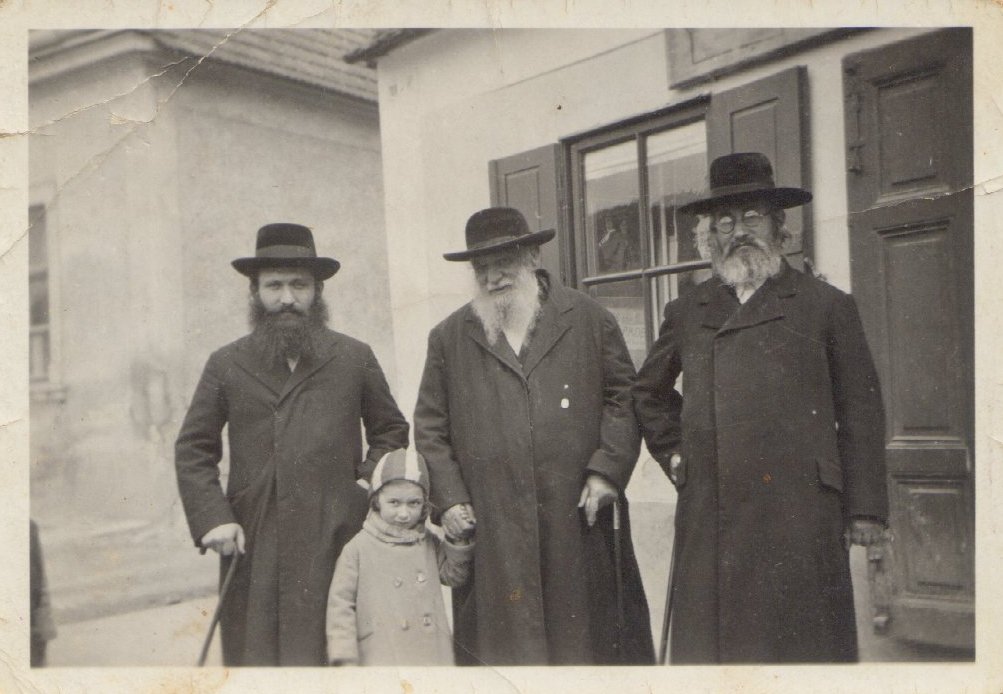 (C14) Rabbi Krausz (middle) and Rabbi Ungar (left), April 1935, Lackenbach
Ettl Ungar is the girl, with her father and grandfather, Rabbi Krausz (Identified by Eli Ginsburg, May 2011)
Copyright © Yosef Loeffler
***
10. Rabbi Meir Chaim Ungar (Unger), (1905, Zeilim - 1958, Jerusalem), son of Ya'akov Ungar (son of Yechiel Michael Ungar from Zeilem) and Beila. Chaia, served as the last Rabbi of Lackenbach between 1935 and 1938. He was Rabbi's Kraus son in law (was married to Rabbi Kraus's daughter, Sara).
He survived the Holocaust, in 1938 he received a certificate to go to Palestine, and served later as a Rabbi in Jerusalem. He died young, 52 years old.

The Rabbinate Nomination of Rabbi Ungar as the Rabbi of Lackenbach, 1935,
by the Lackenbach Jewish Head of Community (אקרו"ט - אלופי קהל ראשים וטובים)


46 Community members signed:
Chaim Kraus, Zvi Sega"l, L. Lobl, Avraham Feiglstock, Greensfeld, Asher Hacker, Binyamin Lobl, Yissachar Dov, Ya'akov Sega"l, Leib Ullmann, Schultz, Oisterlitz, Yochanan Loeffler, Moshe Leib Lobl, Yakuthiel Baruch, Avigdor Blum, Ya'akov Leib Lobl, David Ketingstein, Ber Kohn, ...Wieselmann, Yosef Lobl, Chaim Zvi Kopstein, Shimon Band, Mordechai Kraus, Avraham Dov Bergmann, Wolf Max, Shraga Wiener, Avraham..., Asher Blum, Yermyah Yitzhak Gewirtz, Meir Kamlasch, David..., Avraham Chaim Hacker, Gavriel Ullmann, W' Kamlasch, Ari' Tertes, Akiva Sussmann, Berl Weiss, Chaim Zvi Kornfein,
Shlomo Y. Ginsberg, Yitzhak Leitner, Peretz Kohn, Itsek Kohn, Avraham Watrasch, Moshe Kohn, Meir Stossl.

Copyright © The Society for the Preservation of Hebrew Books: Hebrewbooks.org
***
Rabbi Ungar's book "Maor Hachaim", published by his son in law, Rabbi Nathan Gestatner, Jerusalem 1960,
as a memory of Rabbi Ungar's brother, Rabbi Yehuda Leib Ungar from Pitsburg and his wife Rivka.
See in: http://hebrewbooks.org/20836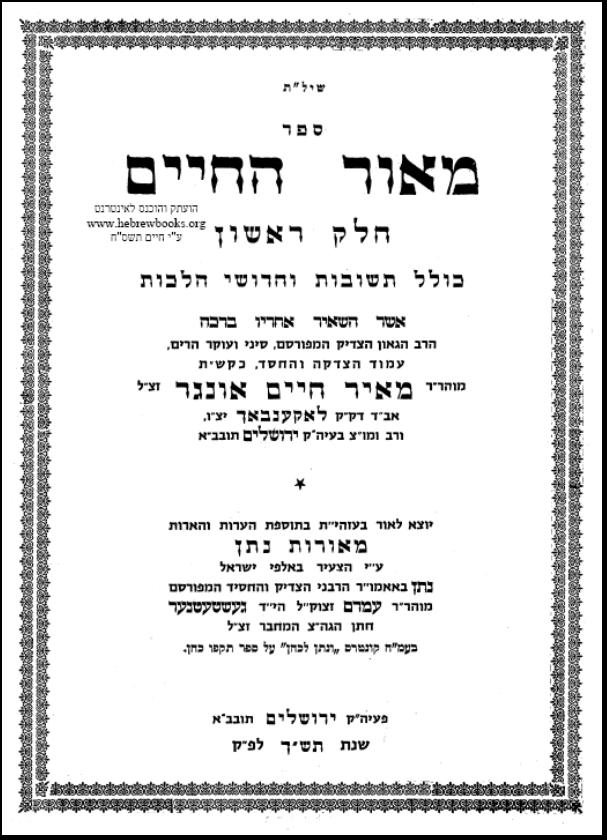 Copyright © The Society for the Preservation of Hebrew Books: Hebrewbooks.org
***
* * *
Yad Vashem photo archive 1902, celebrating the arrival of the new Lackenbach Rabbi. See in:
http://www1.yadvashem.org/yv/en/exhibitions/rosh_hashana/before04.asp
***
Lackenbach Mohel Book

R' Hertzl Roffe from 1821 - see sample pages.




***

Jewish Gen Home Page | ShtetLinks Directory



This site is hosted at no cost by JewishGen, Inc., the Home of Jewish Genealogy. If you have been aided by this site and wish to further our mission of preserving our history for future generations, your

JewishGen-erosity

is greatly appreciated.