LACKENBACH


Moritz (Moshe) Neufeld Mohel Book, 1882 to 1923

This Mohel book was contributed in Jan 2011 to the Lackenbach Shtetlink by Prof. Max Sussmann, who requested to mention:
"After the death of the
childless Moshe Neufeld, the mohel of Lackenbach, his Milah-Buch passed
into the treasured possession of his loved protégée Johann (Hans) Sussman
(Lackenbach 1899 - London 1948) and then to his son."


The Mohel Moshe Neufeld, 1913
Copyright © 2010 Max Sussman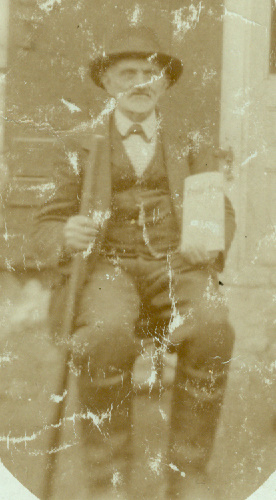 * * *
Lackenbach – Moritz (Moshe) Neufeld

Mohel Book, 1882 to 1923
Translated from Hebrew by Yohanan Loeffler, Jan – Mar 2011
You may view the original Hebrew pages by clicking on the page number
(e.g. to see page 1 click on "

page 1

" here or in the table)
.
The original Hebrew table has got 9 columns:
Child's name;
Father given name and surname;
Hebrew date and month of Brith;
Hebrew year of Brith;
Day and month of Brith;
Year of Brith;
1st part of Brith ("Khituch") – by whom;
2nd part of Brith ("Pria'ah") – by whom;
Place of birth.
Cover pages of the Mohel Book

(Click on the immage to enlarge)


Outside cover




Inside front cover




Last Page














Birth Town




(Lackenbach where blank)

Date

(of Brith)




Last name

Father's name

Child's First Name

No.

7 Apr 1882

WISELMANN

Eisek

Itseg

1

13 Jul 1882

BOHN

Yakl

Chaim Hersch

2

17 Jul 1882

BARUCH

Ber

Zalman Leib

3

Zöbern

2 Nov 1882

MAYER

Leizer

Moshe Yosef

4

6 Jan 1883

GEIGER

Avraham

Ya'akov Hersch

5

Lackenhaus

20 Feb 1883

STESSL

Leib son of Meir

Zelig

6

9 Aug 1883

POLLAK

Leib

Akiva

7

Troyersdorf




(Trausdorf)

22 Aug 1883

STEINHEARDT

Eliezer

Gavriel

8

Krumbach

19 Oct 1883

BLUM

Moshe

Ya'akov

9

4 Nov 1883

GEIGER

Michael

Eliyahu

10

17 Nov 1883

BOHANSKI

Simcha

Ya'akov

11

Hainfeld

22 Nov 1883

NEUFELD

Leiber Ya'akov

Lipmann

12

Siegendorf

12 Jan 1884

POLLAK

Moshe

Eber

13

Troyersdorf

(Trausdorf)

29 Jan 1884

BENEDIK

David Leib

Herzl

14







Birth Town




(Lackenbach where blank)

Date

(of Brith)




Last name

Father's name

Child's First Name

No.




9 Feb 1884

DEUTCH

Manis son of Herschl

Ya'akov

15




16 Apr 1884 (7th day of Pessach)

WISELMANN

Isac

Akiva

16

Grunbach

20 Apr 1884

SPIEGEL

Zanvill

Yekov Leib

17

Neunkirchen

30 May 1884

GAIER

Meir

Berl

18

Ritzing

24 Aug 1884

FEIGELSTOCK

Ahron

David Hersch

19




24 Sep 1884

BUN

Ya'akov

Lipman

20

Klingenbach

2 Oct 1884

LEDERER

David

Shmuel

21




2 Nov 1884

POLLACK

Leib

Mordechai

22




5 Dec 1884

NEUFELD

Meir

Manis

23

Zöbern

7 Feb 1885

MAIER

Leiber

Binyamin

24




21 May 1885

LEIBL

Moshe

Meir Hersch

25




19 Jul 1885

BUN

Leiber

Tuvia Zalman

26

Grunbach

21 Sep 1885

SPIEGEL

Zanvill

Israel

27

Aspang (Markt)

22 Nov 1885

MAIER

Meinstrl

Arie

28




27 Nov 1885

KORNFEIN

Zalman

Zimel

29




Birth Town




(Lackenbach where blank)

Date

(of Brith)




Last name

Father's name

Child's First Name




No.

Kobersdorf

18 Aug 1886

GERSTL

Meir

Ber Leib

30

21 Sep 1886

WIESELMAN

Isac

Zalman

31

30 Oct 1886

SUSSMANN

Mordechai

Moshe

32

16 Nov 1886

BOHANSKI

Simcha

Ben Zion

33

30 Nov 1886

BUN

Yakl

Zalman

34

Wahrersdorf

24 Mar 1887

STERNFELD

Moshe Chaim

Zissl

35

Troyersdorf




(Trausdorf an der Wulka?)

2 Apr 1887

STEINHART

Eliezer

Meir

36

28 Apr 1887

BLUM

Ya'akov

Avigdor Hersch

37

18 May 1887

STESSL

Shlomo

Meir Leib

38

Zillingtal

25 May 1887

SCHNEIDER

Kalman

Itsek

39

Granz

8 Jun 1887

FEIGLSTOCK

Koffman

Yosef

40

12 Jun 1887

BUN

Eliezer

Herschl

41

Oslip

13 Jun 1887

WERENDARF-ER

Yoel

Itsek

42

Strebersdorf

10 Jul 1887

DEUTSCH

Itsek

Herschl

43

27 Jul 1887

DEUTSCH

Manis son of Herschl

Meir

44




Page 4:




1887-1888




Birth Town




(Lackenbach where blank)

Date

(of Brith)




Last name

Father's name

Child's First Name




No.

Ritzing

18Aug 1887

FEIGLSTOCK

Ahron

Elchanan

45

Kleine Warasdorf

22 Aug 1887

WILLER

Pinchas

Hersch

46

Siegendorf

15 Nov 1887

POLLACK

Moshe

Bermann

47

Hugendorf




(Eugendorf?)

3 Feb 1888

KERN

Pinchas Hersch

Simcha

48

Lackenhaus

16 Apr 1888

STESSL

Mordechai Hersch

Meir

49

St. Martin

26 Apr 1888

STESSL

Natl

Ya'akov

50

Ritzing

29 Apr 1888

KOHN

Manis

Simcha

51

20 May 1888

GERSTL

Avraham

Nachman Zvi

52

2 Jun 1888

GINZER

Manis

Meir

53

Ödenburg

8 Jun 1888

SUSSMANN

Mordechai

Herschl

54

20 Jun 1888

KORNFEIN

Zalman

Tristl(?)

55

Edlitz

4 Aug 1888

BLUM

Natl

Itsek

56

27 Oct 1888

KORNFEIN

Yakutiel

Arie

57

Wahrersdorf

28 Oct 1888

HOFFMANN

Avraham

Shlomo

58

Kirschlag

29 Nov 1888

HACKER

Meir son of Avram

Hersch

Avram Hersch

59

Unter-Walters- Dorf (Bad- Waltersdorf?)

25 Dec 1888

BRIKNER

Shalom

Herschl

60




Birth Town




(Lackenbach where blank)

Date

(of Brith)




Last name

Father's name

Child's First Name




No.

20 Jan 1889

EHRENHART

Shmuel

Yosef

61

13 Jun 1889

HOFFMANN

Ber son of Yosef

Nathan Wolf

62

28 Jun 1889

LOBEL

Moshe

Ben Zion

63

Neutal (Middle burgenland)

4 Sep 1889

KOPSTEIN

Simcha

Manis

64

Oslip (Uzlop),




Burgenland

14 Oct 1889

SHAY

David

Itsek

65

Edlitz

14 Mar 1890

BLUM

Nathl

Elchanan

66

Neunkirchen

28 Apr 1890

GERSTL

Leib

Meir Hersch

67

Ritzing

2 May 1890

KOHN

Manis

Ya'akov

68

27 May 1890

WEISS

Israel

Itsek

69

Father from Kobersdorf

16 Jun 1890

HACKER

Moshe




Akiva

70

Ödenburg

24 Jun 1890

SUSSMANN

Mordechai

Ya'akov Shmuel

71

29 Jun 1890

NEUFELD

Meir

Moshe

72

Lackenhaus

31 Jul 1890

STESSL

Leib

Meir

73

27 Aug 1890

LOBL

Avraham Leib

Israel

74




Page 6:




1890-1891




Birth Town




(Lackenbach where blank)

Date

(of Brith)




Last name

Father's name

Child's First Name




No.

16 Oct 1890

UNGER

Manis

Arie


75

Wahrersdorf

31 Oct 1890

HOFFMANN

Avraham

Meir


76

3 Oct 1890

LEITNER

David

Zalman


77

Oslip (Uzlop),
Burgenland
26 Nov 1890

SHAY

David

Arie


78

Lutzmannsburg,
Burgenland
27 Nov 1890

FRISCHMANN

Meir

Yuda


79

Eisenstadt

5 Dec 1890

MOSES

Son of Belke

Itsek Wolf


80

Ritzing

29 Dec 1890

FEIGLSTOCK

Ahron

Meir


81

3 Jan 1891

BRUNER

Ahron

Chaim


82

Loipersbach

15 Jan 1891

GERSTL

Itsek

Pesach


83

Staab / Stub

8 Feb 1891
GRENGER

Manis

Itsek


84

12 Feb 1891

GREENSFELD

Mordechai

Tuvia Yosef


85

10 Mar 1891

KORNFEIN

David

Manis


86

Ritzing

6 May 1891

NEUFELD

David

Elyakum


87

Eisenstadt

12 May 1891

FURST

David

Wolf


88

Minihof

25 May 1891
ל"ג בעומר
LEDERER

Moshe

Baruch


89

Edlitz

31 May 1891

BLUM

Natl

Michael


90




Page 7:




1891-1892




Birth Town




(Lackenbach where blank)

Date

(of Brith)




Last name

Father's name

Child's First Name




No.

12 Jun 1891

SUSSMAN

Mordechai son of Akiva

Akiva


91

17 Aug 1891

KORNFEIN

Yakutiel

Herschl


92

Sieggraben in
Burgenland
22 Aug 1891

SHLESINGER

Meir

Shlomo


93

5 Oct 1891
צום גדליה
LEITNER

David

Israel


94

Kirschlag

17 Oct 1891

SCHWARTZ

Michael

Meir Leib


95

Berndorf

10 Nov 1891

HENIGSBERG

Israel Hersch

Zalman


96

Oslip (Uzlop),
Burgenland
29 Jan 1892

SCHAY

David

Yoel


97

Unter Walters Dorf ? Bad Waltersdorf

1 Feb 1892

BRIKNER

Shalom

David


98

4 Mar 1892

WELLISCH

Avraham

Mordechai


99

Agari ?

4 Jul 1892

LEVY

Mordechai

Itsek


100

12 Jul 1892

SCHWARTZ

Shlomo

Shmuel


101

Schaftring ?

23 Jul 1892

HIRSCHLER

David Hersch

Israel


102

10 Sep 1892

SCHAY

Yishaia

Zelig


103

Sheiblingkirchen

13 Sep 1892

LOBL

Abram Leib

Fischel


104

15 Sep 1892

BOHENSKI

Simcha

Zalman


105

מילה שלא בזמנה רחוקה מן הזמן 13 ימים 13 days Late Milah
17 Sep 1892

HACKER

Hersch

Zimmel


106




Page 8:




1893-1894




Birth Town




(Lackenbach where blank)

Date

(of Brith)




Last name

Father's name

Child's First Name




No.

Edlitz

16 Oct 1892

BLUM

Natl

Zelig


107

19 Nov 1892

KOHN

Manis

Ber Leib


108

Eugendorf

10 Dec 1892

NUSSBAUM

Avraham

David


109

31 Dec 1892

LOBL

Moshe Leib

Zalman


110

Eisenstadt

24 Jan 1893

FURST

David

?

111

26 Jan 1893

LOBL

Moshe

Lipmann


112

Oslip (Uzlop),
Burgenland
5 Feb 1893

Shay

David

Yosef


113

17 Mar 1893

WELLISCH

Yoel

Mordechai


114

28 May 1893

LOBL

Avraham Leib

Zalman


115

Lackendorf

2 Jun 1893

KORNFEIN

Yekutiel

Manis


116

Edenburg

14 Nov 1893

SUSSMANN

Mordechai

Leib


117

27 Nov 1893

BLUM

Mordechai Hersch

Avraham


118

Kroisbach

16 Dec 1893

WARENDAR-FR

Michael

Hertz


119

Stoob

4 Jan 1894

GINGER

Manis

Wolf


120

1 Feb 1894

WELLISCH

Avraham

Eliezer


121

19 Mar 1894

KONIGSTEIN

Chaim

David


122

Edlitz

4 Jun 1894

BLUM

Natl

Shmuel Hersch


123




Page 9:


1894-1895






Birth Town;
Lackenbach where blank
Date
of Brith
Last name

Father's name

Child's First Name

No


Lackenhaus

11 Jun 1894

STESSL

Wolf

Ya'akov

124


Siegendorf

12 Jun 1894

WEIIS

Moshe

Yosef

125


18 Jul 1894

LOBL

Moshe

Zalman

126


Minihof

19 Jul 1894

LEDERER

Moshe

Pinchas

127


Undten / Und

20 Jul 1894

FRISCHMANN

Avraham

Hertzl

128


4 Sep 1894

BOHANSKI

Simcha

Eliyahu

129

4 Oct 1894

GRUBER

Yitzhak

Eliezer Hersch

130

Ebenfort

28 Oct 1894

BEUMSTEIG-ER

Avigdor

Mordechai

131

Undten / Und

30 Oct 1894

FRISCHMANN

Moshe

Zalman

132

Krumbach

14 Dec 1894

BLUM

Moshe

Meir

133

Eugendorf

12 Jan 1895

NUSSBAUM

Avraham

Machl Arie

134

Nikitsch

27 Jan 1895

LEDERER

Nachum

Shmuel

135

16 days late Milah מילה שלא בזמנה רחוקה מן הזמן ט"ז ימים
Lutzmannsburg

11 Mar 1895

DEUTSCH

Hillel Leib

Yona

136

Eisenstadt

30 Mar 1895

FURST

David

Yishaia'

137

15 Apr 1895

שביעי של פסח

GINGER

Manis

Avraham

138

Ha...kirchen ?


27Apr 1895

MAIER

David

Moshe

139




Page 10:
1895-1896

Birth Town;
Lackenbach where blank
Date
of Brith

Last name

Father's name

Child's First Name

No


Warersdorf

13 May 1895

LEDERER

Selig

Avraham

140

2 Jun 1895

BARUCH

Yekutiel son of Ber

Yehoshua

141

6 Jun 1895

SUSSMAN

Mordechai son of Akiva

David

142

Lackendorf

24 Jun 1895

KORNFEIN

Yekutiel

Shmuel Leib

143

Eisenstadt

7 Jul 1895

BACH

Israel

Ya'akov

144

Csepreg

11 Jul 1895

WEINSTEIN-GL

Itsek Hersch

Shmuel

145

Wulkaproders-dorf in Burgenland

14 Nov 1895

APPEL

Ber

David

146

Csepreg

8 Feb 1896

KOHN (K"Z)

Meir Arie

Menachem Ya'akov

147

Undten

22 Apr 1896

FRISCHMANN

Avraham

Moshe

148

28 Apr 1896

MANNER

Manis

Shmuel Leib

149

Nikitsch

21 May 1896

DEUTSCH

Yehuda

Mordechai

150

Grommet? Neusiedl

2 Jul 1896

Taschauer

Pessach

Yehoshua

151

Eugendorf

10 Jul 1896

NUSSBAUM

Ber

Yosef Leib

152

Stoob

24 Jul 1896

GINGER

Manis

Herschl

153

Neuthal

23 Aug 1896

HACKER

Manis

Yoel

154

7 Sep
ערב ראש השנה
KOHN

Berl

Moshe

155


Page 11:




1896-1898







Birth Town;
Lackenbach where blank
Date
of Brith

Last name

Father's name

Child's First Name

No


11 Oct 1896

KORNFEIN

Ya'akov Hersch

Sinai

156

Thening (Upper Austria)

9 Nov 1896

ROSENBERG-ER

Yakov

Yosef

157

Geresdorf

17 Nov 1896

LEDERER

Pinchas

Lipmann

158

25 Jan 1897

KORNFEIN

Yakutiel

Moshe Ber

159

Horitschon, Burgenland

7 Mar 1897

BLUM

Leiber

Lima?

160

Ritzing

10 Mar 1897

FEIGELSTOK

Yishaia

Israel

161

10 May 1897

GUTMAN?

Leiber

Meir Wolf

162

Nikitsch

27 May 1897

LEDERER

Nachum

Chaim

163

Rokendorf

(near Sopron)

24 Jun 1897

KERN

Pinchas Hersch

Wolf

164

Ödenburg

15 Sep 1897

SUSSMANN

Mordechai

David

165

Krumbach

10 Oct 1897

ערב סוכות

REININGER

Mordechai

Sussman

166

Undten

4 Jan 1898

עשרה בטבת

FRISHMANN

Moshe

Gershon

167

18 Jan 1898

WELLISCH

Chaim

Zalman Hersch

168

4 Feb 1898

WELLISCH

Sussman

Manis

169

10 Jul 1898

KOHN

Yosef

Leib

170

Krossbach

19 Jul 1898

WARENDORF-ER

Michael

Mordechai

171

Page 12:

Birth Town;
Lackenbach where blank
Date
of Brith

Last name

Father's name

Child's First Name

No


Nikitsch

3 Aug 1898

FEIGLSTOCK

Elchanan

Abela

172

Horitschon, Burgenland

22 Sep 1898

FURST

Avner

Shimon

173

23 Sep 1898

KORNFEIN

Ya'akov Hersch

Chaim

174

30 Dec 1898

GLUCK

Mendel

Pinchas

175

Lutzmanns-burg

6 Jan 1899

FRISCHMANN

Meir

Pinchas

176

16 Feb 1899

HACKER

Meir son of Mordechai Hersch

Itsek

177

Eisenstadt

22 Feb 1899

FURST

David

Shimon

178

Horitschon, Burgenland

7 Mar 1899

BLUM

Leib

Itsek

179


Frankenau

15 Mar 1899
מילה שלא בזמנה
ה' שבועות 5 weeks late Milah
LEDERER

Yosef

Pinchas

180


16 Mar 1899

LEITNER

David

Arie

181


Ober-Rabnicz

18 Mar 1899

HOLTZER

Shlomo

Natan

182


Neudorf bei Landsee

8 Apr 1899

TZOLLSTEIN

Yishaiahu

Koppel

183


31 Apr 1899
11 days late Milah מילה שלא בזמנה רחוקה מן הזמן י"א ימים
KOHN

Itsek

Moshe

184


23 Jun 1899

SUSSMANN

Mordechai son of Akiva

Chanina

185


Undten

27 Jul 1899
7 days late Milah
מילה שלא בזמנה רחוקה מן הזמן ז' ימים
FRISHMANN

Avraham

Moshe Leib

186


"Brith and the Pidion was at the same day"
2 Jul (Aug?) 1899
"הברית והפדיון היה ביום אחד"
WELLISCH

Yosef

Moshe

187


Page 13:




1899-1901

Birth Town;
Lackenbach where blank
Date
of Brith

Last name

Father's name

Child's First Name

No


3 Aug 1899

KONIGSTEIN

Chaim

Meir Hersch

188

2 Oct 1899

KORNFEIN

David

Shlomo Wolf

189

Minihof

16 Oct 1899

SIMON

Mordechai

Moshe Meir

190

3 Nov 1899

WELLISCH

Chaim

Mordechai

191

2 Dec 1899

HACKER

Shmuel

Fishel Hersch

192

Sheibling-kirchen

16 Dec 1899

LOBL

Leib

Mordechai

193

29 Dec 1899

KORNFEIN

Yekutiel

Gershon Wolf

194

17 Jan 1900

KOHN

Yosef

Meir

195

2 May 1900

KOHN

Ahron

Itsek

196

23 Jul 1900

NUSSBAUM

Yosef

Mendel

197

7 Nov 1900

HACKER

Itsek son of Mordechai Hersch

Zalman

198

5 Dec 1900

FRENKL

Mordechai

Meir Hersch

199

22 Dec 1900

HOFFMANN

Shmuel Eliezer

Ber

200

נולד מהול

Born circumcised

13 Jan 1901

HOFFMANN

Netti

Avraham

201

27 Jan 1901

KERTESCH

Menachem

Avraham Ber

202

14 Apr 1901

LEITNER

David

Moshe

203

Page 14:




1901-1902

Birth Town
(Lackenbach where blank)
Date
(of Brith)

Last name

Father's name

Child's First Name

No


Undten

5 Jun 1901

FRISCHMAN

Avraham

Pinchas

204


Minihof

17 Jun 1901

SIMON

Mordechai

Eliezer

205


4 Jul 1901

GLUCK

Mendel

David

206


9 Jul 1901

KRAUS

Chaim

Shmuel Wolf

207


3 Aug 1901

HACKER

Meir

Itsek

208


14 Oct 1901

KOHN

Arie

Meir Hersch

209


Ritzing

2 Nov 1901

FEIGLSTOCK

Yishaia

Baruch

210


19 Jan 1902

NUSSBAUM

Yosef

Zalman

211


Nikitsch

26 Jan 1902

FEIGLSTOCK

Elchanan

Elyakim

212


Kaisersdorf

31 Jan 1902

HACKER

Meir

Pinchas

213


8 Feb 1902

LOBL

Moshe Leib

Zalman Wolf

214


Kaisersdorf

10 Jun 1902
ערב שבועות
TZOLLSEIN

Zanvill

Ya'akov Chaim

215


Nikitsch

21 Jun 1902

FEIGLSTOCK

David

Yozef

216


23 Aug 1902

BROWN?

Moshe

Herschl

217


13 Sep 1902

FRENKL

Mordechai

Ahron

218


16 Sep 1902

POLLACK

Wolf Ahron

Shimon Yitzhak

219


Page 15:




1902-1903

Birth Town




(Lackenbach where blank)

Date




(of Brith)





Last name

Father's name

Child's First Name





No.

Kagel?

27 Sep 1902

KOPSTEIN

Shlomo Leib

Chaim Hersch

220

20 Dec 1902

SUSSMANN-

SEGA"L

Mordechai

Yosef Shmuel

221

Frankenau

23 Dec 1902

LEDERER

Yosef

Herschl

222

Neuthal

13 Feb 1903

HACKER

Manis

Yakl

223

16 Feb 1903

LEDERER

Yakutiel

Mendel

224

27 Mar 1903

KOHN

Arie

Eliezer

225

21 Jun 1903

KRAUS

(Rabbi) Chaim

Israel

226

Troyersdorf

Trauersdorf

6 Jul 1903

DEUTSCH

Lipmann Hersch

Koppel

227

16 Jul 1903

HERSCH

Shmuel son of Mordechai

Yosef Leib

228

St Polten

26 Aug 1903

GELB

Wolf

Meir Hersch

229

6 Sep 1903

LOBL

Moshe Leib

Mendel

230

Kaisersdorf

11 Oct 1903

HACKER

Meir son of Shlomo

Yakl

231

16 Oct 1903

FEIGLSTOCK

Yishaia Leib

Shmuel

232

17 Oct 1903

BURG?

Mendel

Mordechai

233

Beringsdorf?

23 Oct 1903

STEINHEART

Itsek

Anshel

234

Page 16:




1903-1905

Birth Town




(Lackenbach where blank)

Date




(of Brith)




Last name

Father's name

Child's First Name




No.

11 Nov 1903

NUSSBAUM

Yosef

Avraham

235


Ödenburg

22 Feb 1904

POLLACK

Ahron Ze'ev

Ber Leib

236


מילה שלא בזמנה נולד מהול




12 days late Milah

30 Mar 1904




ערב פסח

LEITNER

Shraga

Moshe

237


16 Sep 1904

STESSL

Meir

Yosef Leib

238


16 Oct 1904

KOHN

Yosef

Arie

239


9 Dec 1904

GEIGER

Leib son of Michael

Eliyahu

240


Wohndorf

24 Dec 1904

KNEPPLER

Ozer ? Hersch

Manis

241


4 Feb 1905

LEITNER

Lima

Moshe

242


20 Feb 1905

GLUCK

Mendel

Zelig

243


Kobel

5 May 1905

KOPSTEIN

Shlomo Leib

David Hersch

244


20 Jul 1905

LOBL

Moshe Leib

Avraham Mordechai

245


Krossbach

1 Aug 1905

WAHRENDOR-FER

Michael

Yoel

246


20 Aug 1905

LEITNER

Shraga

Herschl

247


Sigendorf

17 Oct 1905

NEUFELD

Mordechai

Leib

248


Geresdorf

20 Oct 1905

LEDERER

Pinchas

Menachem Zvi

249


Page 17:




Birth Town
(Lackenbach where blank
Date
of Brith

Last name

Father's name

Child's First Name

No


30 Dec 1905

LEITNER

David

Shlomo Hersch

250

Nebersdorf

6 Jan 1906

NUSSBAUM

Mordechai

Israel Yoel

251

12 Jan 1906

OSTREICHER

Meir Hersch

Zelig

252

Neuthal, Neutal

20 Jan 1906

HACKER

Chana daughter of Israel

Herschl

253

20 May 1906

STOSSL

Meir son of Avr


Ari

254

24 May 1906

GEIGER

Leib

Mordechai

255

20 Aug 1906

KOHN

Ahron

Reuven

256

Was circumcised 24 days after his birth

14 Feb 1907

KOPSTEIN

Chaim

Arie Natl

257

31 Mar 1907
א' דפסח

GREENSFELD

Herschl

Ya'akov Shmuel

258

12 Apr 1907

HOFFMANN

Shmuel Eliezer

Netta Leib

259

5 May 1907

GLUCK

Mendel

Elyakum

260

Kobersdorf

19 May 1907
א' דשבועות
FURST

Nachum

Zanvill

261

5 Jun 1907

GEIGER

Leib

Hertzl

262

I circumcised
On 22 Av ;
66 days later
17 May 1907
4 Sivan
KOHN
Ber

Arie

263


Was circumcised 77 days old

17 May 1907
4 Sivan

KOHN

Ber

Itsek

264

?

30 Aug 1907

SHAY

Tseitel

Avraham

265




Page 18:



Birth Town




(Lackenbach where blank)

Date




(of Brith)







Last name

Father's name



Child's First Name





No.

2 Oct 1907

FRISCHMANN

Leib son of Natl

Natl

267

Ödenburg

1 Dec 1907

NEUFELD

Mordechai son of Meir Leib

Berl

268

"I circumcised 16 days after his birth"

10 Dec 1907

GLUCK

Rabbi Reuven

Zelig

269

24 Dec 1907

OSTREICHER

Meir Hersch

Kalman Leib

270

30 Dec 1907

OSTREICHER

Itsek

Yakov

271

Neuthal

13 Jan 1908

HACKER

Manis son of Shlomo

Shmuel

272

Neckenmarkt

11 Feb 1908