SCUCYN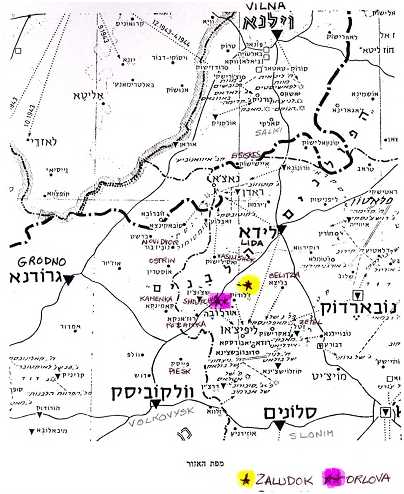 Alternate names:

Scucyn

and Шчучын [Bel],

Szczuczyn

[Pol],

Shchuchin

and Щучин [Rus],

Shtutchin

and שטשוטשין
[Yid],
Ščučyn
,
Ščiutinas
[Lith],
Szczuczyn
(Novogrudok),
Szczuczyn Nowogródzkim, Szczuczyn Litewski
. The transliteration Scucyn is the one preferred by the government of

Belarus:
53°36' N 24°45' E.
37 miles E of Grodno, 30 miles SW of Lida in Hrodna Voblast of Belarus as Scucyn district center.
and the dependent villages of Albinowce, Andruyushetvtsy/Andruszowce at 53º40' 24º38' , Bale I and II, Bartosze, Bojary Male, Bojary Wielkie, Bujwicze, Domuciowce, Dubrowlany, Gierniki Nowe, Gierniki Stare, Gudi, Ishelin/Ishchelnyany/Ishcholyany/Ishcolnyany/Iszczona/Ischalna/ Iszczolna/Stary Yederniki at 53º40' 24º55', Jabloszowce, Janczuki, Juciowce, Jurowszczyzna, Kaleczyce, Kiemiany, Koropki, Kozarcze, Krasna, Kulaki, Kuwerki, Lack, Maciowce, Micary, Mikolajkowszczyzna, Murawjowka, Naumowce, Nowosady Iszczolskie, Nowosiolki, Ogrodniki, Paszkowszczyzna, Pilczuki, Planty, Rohacze, Rzeszotniki, Sajdaki, Skragi, Solohubowce, Spusza, Starodworce, Topiliszki, Turowka, Worony, Zagunie, Zajkowszczyzna, Zarzecze, Zylicze
and the estates, colonies, and hamlets of Andruyushetvtsy/Andruszowce at 53º40' 24º38', Baranowszczyzna, Bojary, Buciowszczyzna, Czaplicowszczyzna, Czarnowszczyzna, Dojlidowszczyzna, Domuciowce, Dorgiowce, Dzaplidzowszczyzna, Giernickzka, Gierniki, Iszczolna, Janowszczyzna, Jatwiesk, Klemiany, Kozarcze, Korzyse (Pieski), Lack Koscielny, Leszczanka, Krzywosiolki, Kudra, Kuwerki, Leszczanka, Marysin, Masliszki, Meldziny, Mikolajkowszczyzna, Nowosady, Nowosady Krasnowskie, Pietrulewszczyzna, Planty, Poplawy, Prejca, Rodziewicze, Romaniszki, Siemienie, Siewkowszczyzna, Sliwowszczyzna, Slonna, Smolarnia, Stara Jelna, Starodworce, Swojatycze, Szczuczynek, Szczuczyn, Szczyczynek, Szuly, Talkowszczyzna, Talmontowszczyzna, Topiliszki, Turja, Trynapol, Turja, Waclawowo, Wady, Wity, Wnuczkowce
2010 population was nearly 15,000. [Not Szczuczyn, Poland (Łomża gubernia, near Białystok although both towns were called "Szczuczyn, Poland" between the WWI and WWII]. Jewish population: 1,356 (in 1897), ~2,000 (in 1930).

The first known official mention of Scucyn is 1436, but the settlement dates from 1537 when Scucyn was mentioned in the Book of Acts of the Lithuanian Metrica (Lithuanian vital records), held in the Government Archive in Lithuania. Ownership of Scucyn passed from noble Radziwiłł family, then the Drutskiya-Liubetskis, the Scipions, and others. In the 15th–18th centuries, Scucyn became a member of the Lida council of the Vilnius voivode. In the first half of the 17th century, Scucyn was governed by the marshal of the Lithuanian principality, Scipio de Campo. Scucyn was an average-sized privately owned village in terms of population.

A 1726 Sejm resolution established the Catholic Monasterial Order. The Board of Scucyn was one of the biggest in Belarus. Scucyn was subject to ruin and ravage more than once in its history, the biggest during the North War when the town was seized by Swedish king Karl XII. After the third partition of the Polish–Lithuanian Commonwealth in 1795, Scucyn became part of the Russian Empire. In June 1812, Scucyn was occupied by French troops and in 1915 by the German Kaiser. In 1919, the Red Army attempted to seize Belorussian land by taking the railroad line. However, superior defense forced the Red Army back.

In 1939, Western Belarus including Scucyn went under Soviet control. In World War II, Scucyn was occupied by German troops when from June 25, 1941 until July 13, 1944 the Nazi forces killed about 2180 Jews from Scucyn ghetto, the majority on May 9-10, 1942. Until the collapse of the Soviet Union, Scucyn was a home of one of the biggest Soviet air bases going back into 1941.
Andruszowce: village in Lida powiat, Catholic parish Lack, post office Szczyczyn, Lithuania, 5 mila from Lida; farms 34; 45 domiciles, inhabitants: 340, open area: 74 wlok, of which 14 belong to the peasants according to the decree of 1864; forest 20 wlok, meadow and pasture 15 wlok, wateland 10 wlok; remainder cultivated land with good soil. Cylindrical water mill., the profits of which belonged to the Narbut families for many years, i and in 1849 the inheritance right passed to the Moraczewski family and and today is the state property of the heirs of Adam Moraczewski. There are many kurhan [mounds erected as tombs], rich material for archeology.

Ischalna, today, is a village in Schutchin district located twelve kilometers from Schutchin and eight kilometers from the railway station Skribovtsy. The 1995 population was 90 people with 38 houses.

Ischalna was first mentioned in the Chronicles at the end of fifteenth century to the beginning of the sixteenth century as an estate in Lida povet belonging to Davoinovich. In 1515, he established the St. Trinity Catholic church there. In 1547, Stanislav Davoinovich established a mestechko at Ischalna. In the seventeenth century it belonged to Limont Vishnevetski, Palupyaty, Radimin-Frantzkevich, and Skarbek Vazhinski. In 1690, fifty-three houses existed.

In 1758, U. Val built a brick Catholic church. Beginning in 1795 the Russian Empire governed the area. In the nineteenth century, Ischalna was mestzechko and a village in Schutchin Oblast in Lida povet, Vilna guberniya and belonged to Skarbek Vazhinski. In 1897, there were 118 people, fourteen houses and a post office. In 1915, the German Army occupied it. The Red Army and Polish Army occupied it from1919 to 1920.
In 1921-1939 Ischalna belonged to Poland as a village in Schutchin gmina, Lida povet, Novogrudok Voevodstvo. Beginning 1939 the BSSR assumed control. During World War II, the Nazis captured Ischalna.
Beginning April 17, 1962, Ischalna belonged to Scucyn district with a collective farm "Bolshoe Mozheikovo", a post office and a shop. Architectural monument: St. Trinity Catholic Church (1758)
(Sachenka, vol. 3, p.511)
[Translations by Ellen Renck and Jan Sekta].
Translation of the

Slownik Geograficzny

entry for Iszczolna
Translation of the

Slownik Geographiczny

entry for Scucyn
Resources:
Holocaust in Scucyn on Yahad in Unum site.
Jewish Cemetery

(or go directly to the photographs:

Roll 1 Roll 2 Roll 3 Roll 4

Sefer zikaron le-kehilot Szczuczyn, Wasiliszki, Ostryna, Nowy-Dwor, Rozanka

(Tel Aviv, 1966) (Yizkor)

Słownik Geograficzny Królestwa Polskiego

(1880-1902), XI, pp. 864-865: "Szczuczyn" #1

.

https://www.polishroots.org/slownik/szczuczyn.htm

Barbara Proko's translation of the Slownik entry.


Shtetl Finder

(1980), p. 89: "Sh'chuchin, Stutchin".

Pinkas HaKehilot

, Poland, Vol. 8 (2005), pp. 621-625: "Szczuczyn".

Encyclopedia of Jewish Life

(2001), p. 1276: "Szczuczyn (II)".

Еврейская энциклопедия

(1906-1913), "Щучин, местечко". Minimal entry. The link we had is no longer functional (2021). See the Wikipedia page for this work . "References" lists two links to this work - in Russian.
Russian-language wikipedia page (see the bottom for some pictures)


town images: go to the internet archive Wayback Machine & paste in https://schuchin.narod.ru/gallery.html . Choose 2016 & click on one of the calendar dates with a blue star
If you have Lida uezd materials to share, please considering
donating
it. If you read Yiddish or Hebrew, please
contact
us.
Records are held both in Grodno and Vilna archives.For Lida records translation, your tax deductible contribution by credit card via the secure server at either group or by mail will grow our knowledge. For a $100 donation, you receive all these records translated two years ahead of their posting on JewishGen. Every penny collected is used for Lida uezd projects only. Records include censuses; family lists; marriages, births, death records; prenumeraten lists; and more. Please contact
Judy Baston
with any questions.For current translations, please see the
ALD: All Lithuanian Database
and
Belarus SIG Database
.