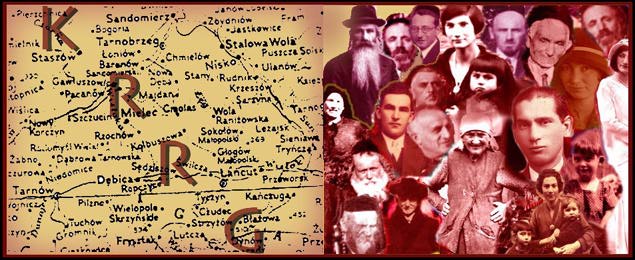 Photos of Przeworsk - before 1944
---
Submitted by Suzanne A. Wertheim . Photos taken in June 2005 during her visit to Przeworsk.

These photos are part of a large collection of photos submitted by Ms Wertheim. They can be seen throughout the Przeworsk webpage under several headings, including:
Maps, Photos of Przeworsk - 2005, The Przeworsk Synagogue, Przeworsk Cemetery, and The Rebbes of Przeworsk.
There are no definite dates for when these photos were taken but they were certainly taken in the early 1920's and definitely pre-WW11 . Mr. Thomas a school teacher living in Przeworsk was very helpful in identifying the photos.
---
Mr. Thomas explained that there are three streets where Jews lived before WW11: Kazimerzowska, Kilinskiego and Bernardynska. These are all in the old downtown south of Jagiellonska and just north of the Rynek. The Photos bellow are all of Jewish streets. Mr. Thomas was only able to identify one: Kazimerzowska. It looks today much like it did when the photo was taken in the early 1920's
---
These photos are part of Tomek Wisniewski's extensive collection:
" We are in search of Poland Society"
They are reproduced here with his permission
Click on the pictures for a full size version. However, these are large pictures. They may take a while to load.
---
© Copyright 2017 Kolbuszowa Region Research Group. All rights reserved.