The Jews of Kraków and its Surrounding Towns
The city of Bochnia lies 45 kilometers east of Krakow,
almost midway between Kraków and Tarnow, Poland.
The city was established around 1200 CE and was
closely linked to the discovery of salt deposits in the area.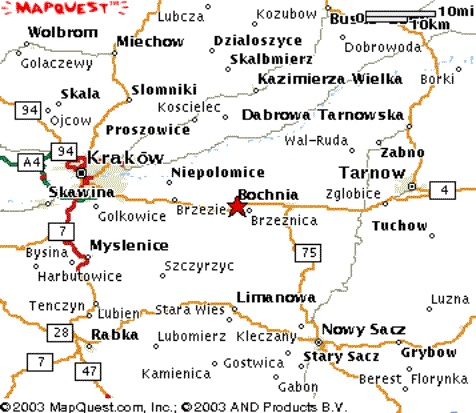 ---
Copyright 2003. The material on this site is compiled and managed by Miriam Romm.
Please contact her if you have any material to contribute.
Photos from Miriam Romm's private collection, and originally from Yad Vashem, Ghetto Fighters' House & Massua (all purchased by or given to Miriam)
---
This site is hosted at no cost by JewishGen, Inc., the Home of Jewish Genealogy.
If you have been aided in your research by this site and wish to further our
mission of preserving our history for future generations, your
JewishGen-erosity is greatly appreciated.

Jewish Gen Home Page | KehilaLinks Directory

Compiled by Eilat Gordin Levitan. Updated February 4, 2020 Copyright © 2007 Eilat Gordin Levitan (eilat.gordinlevitan@gmail.com).
---