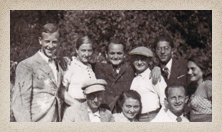 Welcome
This is the story of the Jews of Zurawno, Ukraine. Historical records indicate that there was an active Jewish population in the 18th century, peaking at over 2,000 by 1880. Zurawno was a vibrant community of Jewish individuals and families earning livings as merchants, tradespeople, tailors, bankers, doctors, lawyers, and writers. Today, there are no Jews in Zurawno. As in hundreds of other shtetls in Europe, most lost their lives in the Holocaust. We, their descendants, remember their courage and bear loving witness to their lives and their legacies. We remember, because we cannot forget.
Please note that larger images of the photos on this site may be found in the Photo Galleries.

A Brief History of Zurawno
The town of Zurawno was most likely founded in the second half of the fifteenth century. In 1563, when it was under the private ownership of the nobles, the king relieved the town's tax burden; he also granted various rights and privileges with regard to commerce and authorized market days. Zurawno gained recognition in the annals of Polish history because of the famous Battle of Zurawno which took place nearby between the king of Poland, Jan Sobieski, and the Turkish and Tatar invaders, a battle that ended in a peace treaty. The town was also the birthplace of the renowned Polish poet and author Mikołaj Rej.
We have no precise information about the beginnings and initial development of Zurawno's Jewish community. The first Jews who settled in the town were involved in leasing, bartending, and trade. They were mainly small tradesmen and artisans, and some became successful and even wealthy. The economic situation of the Jews of Zurawno was most probably reasonable. In 1850, a well-known Jewish merchant from the town was elected to the chamber of commerce in Lvov, and two other Zurawno Jews made a sizeable donation to the hospital in Lvov. More...
Donate
This page is hosted at no cost to the public by JewishGen, Inc., a non-profit corporation. If you feel there is a benefit to you in accessing this site, your JewishGen-erosity is appreciated.