LACKENBACH


LOEFFLER (LÖFFLER) family
Compiled and Contributed by Yohanan LOEFFLER, 2010.
Yohann (Johan, Yanush, Yan, Yohanan) Loeffler was born 31 Jan 1877 in Skalica, Slovakia.
His parents were Leopold LÖFFLER and Elise NATHAN. He was the first born of 6 brothers.
The family moved to Budapest. Yohan Married Irma LEDERER from

Lackenbach

on June 20th 1910.



Yohann (Yanos) LÖFFLER and Irma LEDERER marriage registration from
Lakompak
20 Jun 1910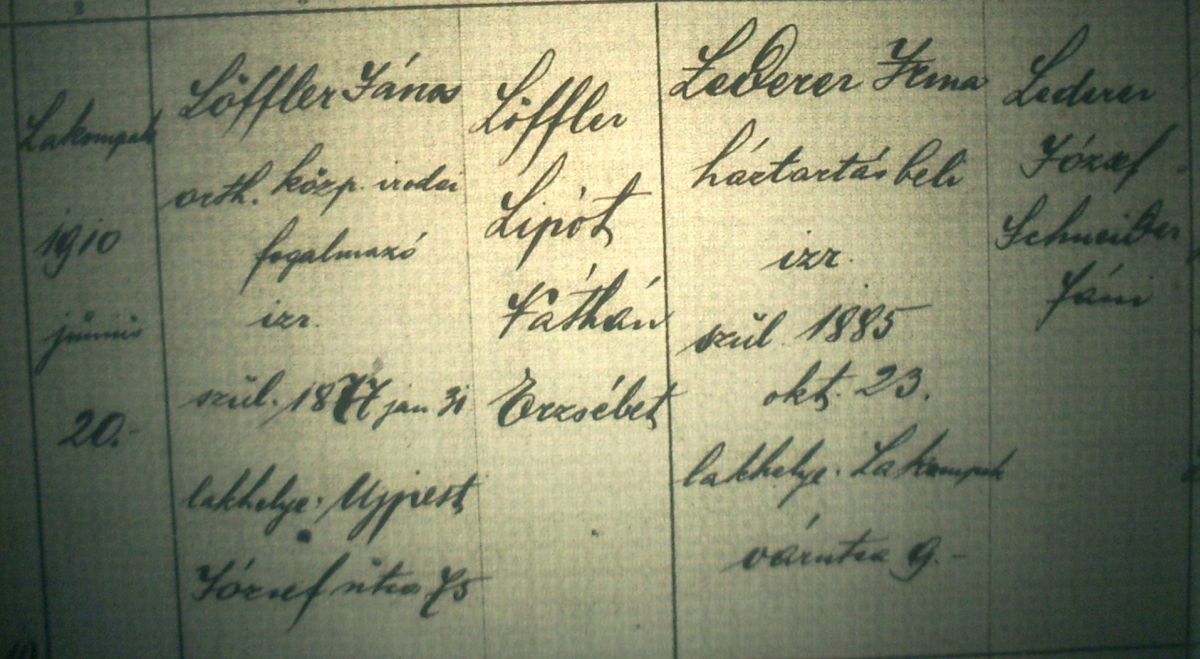 Copyright © Yohanan Loeffler.
Yohann and Irma had 3 children, born in Budapest:
Rosi (Roz'i) born 1911
Margit (Gitta) born 1914
Josef (Yossi) born 1920
In 1922 the family moved to

Lackenbach

, where they lived in the LEDERER home on
SchlossGasse 10.
Yohann was a textile merchant and owned a textile shop in

Lackenbach

. (See photo P4 in "Pictures")



LOFFLER photos taken in
Lackenbach
Copyright © Yohanan Loeffler
| | | |
| --- | --- | --- |
| Josef LOFFLER 1938 | Yohann LOFFLER 1938 | Roz'i (left) & Gitta LOFFLER 1935 |
| | | |
Irma died in 1930, 44 years old, and is buried in
Lackenbach
cemetery.
Roz'i immigrated to Palestine in 1935, Gitta followed her in 1937.
In March 1938, after the Nazi German
Anschluss, Yohann and
Josef escaped from
Lackenbach
to Bratislava.
Josef continued to Palestine where, in November 1938 he joined his sisters in Jerusalem.
They all lived in Meah Shearim, Jerusalem and in the late 1940s moved to Haifa.
Yohann perished in the Holocaust. He was deported from Bratislava (see
Holocaust Yizkor
) on the 4th of June 1942 to an unknown death camp.
Roz'i married Oskar EKHAUS and had 2 children, Mira and Miki. She died in 1998 in Haifa.
Gitta married Zigfrid EINSTEIN and had one child, Yoram. She died in 1984 in Haifa.
Josef married Pepi MUNSTER and had 2 children, Yohanan and Ilan. He died in 2004 in Haifa.
"Childhood in Lackenbach"
as told by Josef LOEFFLER to Yohanan LOEFFLER, translated from Hebrew.
"I had a happy childhood in Lackenbach. All summer I was barefoot, climbing up fruit trees and fences.
We used to play soccer in the street with a ball made of 'shmates' (rags) until it fell apart.
When the rich uncle came from Wien on the train to visit, he used to bring presents.
Once he brought a watermelon (which I never saw before).
He always brought me a baloon. By the time we walked home from the train station the baloon was gone.
We were religious. From age 3 I went to the Cheder in Lackenbach.
Later I went to the Jewish school (see
school photos
) in Lackenbach.
When I finished school, I was about 14, I went to a Talmud Tora in Wien.
I stayed all week with my uncle and came home for the weekend."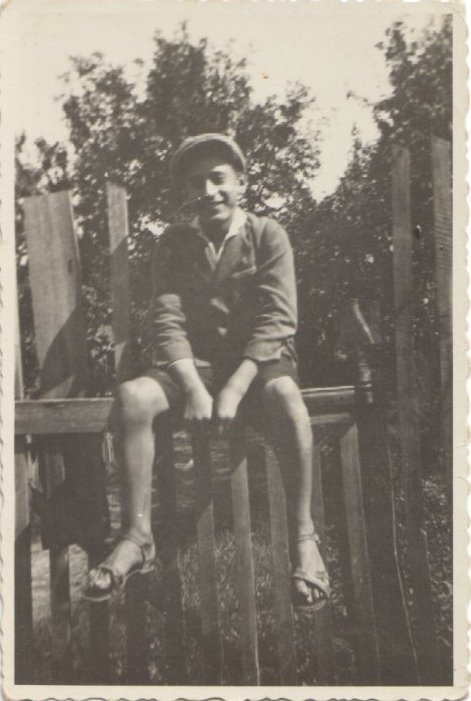 Josef LOFFLER, Lackenbach, early 1930s
This site is hosted at no cost by JewishGen, Inc., the Home of Jewish Genealogy. If you have been aided by this site and wish to further our mission of preserving our history

Return to
Lackenbach Home page
Copyright © 2009 Yohanan Loeffler