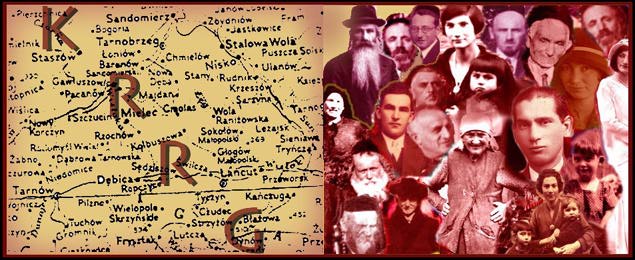 An Inherited Voice Leads To The Past
---
L'Dor v'Dor (From Generation to Generation): An Inherited Voice Leads To The Past
By Leonard Oppenheim
In June, 2001, my father and I traveled to Eastern Europe to visit the towns where my father's parents were born and raised: specifically to the area in what is now southeastern Poland and western Ukraine - an area that was in the province of Galicia in what was then Austria-Hungary when my grandparents lived there.
Dad was born and raised in New Jersey, and had never been to his parent's hometowns. Dadís parents had immigrated to the USA, leaving their parents and other family members behind in Europe.
Dad had heard many tales about his parent's lives in Europe, and had always been interested in visiting his parent's hometowns. I, in turn, heard some of those stories from my grandparents while they were still living, and from my father, and I too thought a trip to visit our "roots" might be interesting.
"Nearly everyone's first reaction when hearing of our trip has been an expression of horror, followed by remarks such as:
Poland? I'd never put a foot in that place; Do you know what the Poles did to the Jews?
Ukraine? The Ukrainians were worse than the Nazis; or
I wouldn't spend a cent in those places.
Yet many of those same people have traveled through Germany; vacationed in Austria; drive Mercedes and BMW's and think nothing of it at all. I can assure you as I do them that regardless of whatever anti- Semitism there is over there, and I'm sure there is plenty, we experienced no unpleasantness, rudeness, or animosity as we visited present and former Jewish sites in Poland and Ukraine.
In both countries our goal was to explore roots - Jewish roots. We skipped most of the historic sites, monuments, museums, and other places where the ordinary tourist would likely go; instead we stopped at Jewish places or formerly Jewish places; neighborhoods that had been mostly Jewish; cemeteries; synagogues, hospitals and schools.
What we found amazed me. Seeing the great number of such sites that are still recognizably Jewish in origin impressed on me the enormity of the holocaust - and seeing these places gave me a much better understanding than I had previously had of a European Jewish culture that had existed for hundreds of years before the holocaust.
In my minds eye, I had always pictured these little towns with tiny synagogues - nothing large, nothing grand. How wrong that image is; at least in the areas we visited. Nearly every town had at least one synagogue, sometimes more; not tucked away down a crummy mud alleyway, but standing in or near the center of town; not tiny and dark, but large, ornate - sometimes even grandiose, and definitely not anonymous. Many of those buildings still exist, although not used as synagogues any more. Some of them have been standing in those places for more than 300 years - a testimony to the place that Jews had held in that society.
I learned on this trip that Chagall was a realist - there's nothing at all imaginative about his paintings of villages and homes; they really look that way, even today, perhaps with the added veneer of soviet-style suburbs. A couple of glasses of schnapps is all you need to add flying cows and fiddlers.
I learned on this trip that Isaac Bashevis Singer did not have such a great imagination either; reality was his model: read these two stories to see what I mean:
Story number one:
Shortly after my mother, the Litvak from Massachusetts, married my father, the Galitzianer from New Jersey, my mother suggested that they visit a cousin of hers named Sinowitz and his wife who lived in New York.
When my parents arrived at the address in New York where my mother's cousin lived, they found a 5 or 6 story building with a shop on the street level. My parents didn't know which apartment my mother's cousin lived in, and none of the mailboxes had names on them. So my father went into the shop to see whether
anyone could tell them which apartment was occupied by the Sinowitz family. The only person my father saw in the shop was a woman standing behind the counter, and he asked her if she could tell him where to find my mother's cousin.
A man stepped out from behind a partition, and asked my father: "Does the name Fishel Heller mean anything to you?" And my father, a bit startled, said, "Yes, Fishel Heller is the name of my grandfather". The man then said: "Your voice is exactly the voice of Fishel Heller, and when I heard you speak, I thought that Fishel was here in America and had come into my shop. I knew your grandfather very well, as I was in his house very often as a boy. He was our next-door neighbor in Europe. My name is Reich. By the way, the Sinowitz you are looking for is married to my daughter, and I can take you upstairs to their apartment".
So, already we have 2 peculiar coincidences; a voice that traveled down 2 generations and connected my father to his grandfather, and the marriage of my mother's Litvak cousin to a woman whose Galitzianer father had been a neighbor of my father's grandfather in Galicia.
When my father and I arrived at my grandmother's village in Poland, we first went to the Jewish cemetery. The oldest cemetery had been destroyed by the Germans, but the so-called "new" cemetery, dating from the 19th century, remains, unkempt and decrepit, but not destroyed either. Stone by stone we went (at least to the upright ones), looking for Dad's uncle Joseph, who had died sometime between the two world wars, and other relatives.
After searching through the cemetery, and not having found any of our family's names, we went to the building in the village that had been the synagogue. It is now used as a municipal building. We noticed that there was a sign for a "museum" in the building, so we went in to see what we might learn. We found the door to the museum locked, but a man in the building told us that he was the caretaker of the museum and that he would run home to get the key. After finding out that we were in the village because Dad's mother's family had originated there, the museum keeper told us he would bring an old man back with him who might be able to tell us something about the place before the war.
The museum keeper returned with the key and an old man, and we went into the room called a museum. In it, in a kind of haphazard manner, the townspeople had deposited things they thought were old or interesting: a churn, old local costumes, old shoemaking tools, boxes of photos and papers, etc. On one shelf marked "Judaica" there was a spice box and several mangled Hebrew prayer books that had been found in the eaves of the building when the roof was repaired sometime after the war.
Dad told the old man that his mother, Esther Heller, had come from the village, and asked the man whether he had any recollection of the Heller family. At first the man said he couldn't remember much, but all of a sudden he said: "Heller, Heller, yes I remember Heller. A grain dealer, also dairy products: wholesale and retail." Indeed, that was exactly my great grandfather's business. But I thought that the old man was a shill - perhaps the tour company, knowing what we were looking for and the name and trade of my great grandfather, had passed that information on so that our visit would not be fruitless.
And then the old man continued: "I remember Heller. But I knew his neighbor much better, a man named Reich." Well, we had never told the tour company Dad's story of the inherited voice; and we hadn't ever mentioned the name Reich, since we were not searching for anyone by that name. You should have seen the astonishment on my father's face - and, I'm sure, on mine. That moment was worth every zloty we had paid for the trip and more.
I told you that I would tell 2 stories. So here is the second story, and the end of my tale:
As we walked around my grandmother's village, the old man continued to tell us stories about life there as it was before the holocaust; about the market day on the square; that except for two houses, every house that faced onto the market square had been Jewish owned and occupied before the war - and he told us about the open air mikveh that was located in the square! I didn't believe it either, but he showed it to us on an old photograph of the village. Yes, an open air mikveh.
The old man pointed out the two-story house on the market square that had been the rabbi's and the house where he himself had grown up next door; and he told us that the rooms on the right side and upstairs of the rabbi's house had been the living quarters, and the left side had been the rabbi's "court". And the old man proceeded to tell us this story of the rabbi.
According to his story, the rabbi was well-to-do, and had made investments in America: houses in Chicago according to the old man. Shortly before the Second World War, the old man (who was then young) had traveled away from the village on some business. When he returned to the village, the rabbi asked the man whether he had seen a particular kind of bird while on his journey. Our translator did not know the English name of that bird, and we didn't write down the Polish name. Anyway, the man told the rabbi that he had not seen any of that kind of bird on his journey, at which the rabbi said that it was a very bad omen, very, very bad. Within a few weeks, the rabbi packed up and left with his family for America. Less than a month after he left, the Germans occupied the town.
Is the old man's story true? Did he make it up on the spot? I don't know. And I'm not sure whether research would tell me. But I keep wondering: Did the rabbi tell his congregation? Did anyone pay attention to the rabbi, or were they like us? If only, if only.
As my Dad and I arranged the trip, we wondered what had become of the Jews of that village. All we knew was that they had disappeared during the War. Occasionally I'd send a fax or email to the Polish travel agency that was arranging our tour there, and I included our question as to the fate of those Jews.
Eventually I received the following response, which reads in part:
"1. The Jews from Sokolow Malopolski were first sent to the ghetto in Rzeszow, then the first 200 Jews were sent to and murdered in a town situated between Sokolow Malopolski and Rzeszow called Glogow Malopolski. The rest of the Jews from Sokolow Malopolski were sent to an extermination camp in Belzec
(near the Polish-Ukrainian border). Belzec is approximately 150 km North-East of Rzeszow."
"2. You will be provided with a comfortable car and guide/driver for your entire journey."
I don't think there will ever again be much of a Jewish presence in the places Dad and I visited. But the void that is left there will take a very long time to disappear.
This is an Itinerary of our trip:
Dad and I spent two weeks touring - we left New York on June 1, 2001 and returned on June 16th. Our intent was to visit the towns Dad's parents had come from, and the places they spoke about when he was a child. When Dad's parents lived in Europe, they lived in Austria-Hungary; his father was from Drogobych and his mother from Sokolow Malopolski, about 40 miles apart. Now those places are in two separate countries, Ukraine and Poland, and since the closest border crossing is not terribly foreign tourist friendly, the arrangements for the trip were somewhat complex.
Our Itinerary:
On June 1: We flew from New York to Warsaw, where our guide met us at the airport, and essentially was with us from June 2nd through June 8th. We really had no interest in Warsaw, but it was the easiest way for us to travel in and out of Ukraine. We did a quick afternoon/evening tour of Warsaw on the 2nd, visiting sites of interest - the former ghetto area and the synagogue.
June 3: Drove Warsaw to Krakow. Visited parts of Kazimierz including the Jewish cemetery. Stayed at Hotel Esther in Kazimierz, the old Jewish district.
June 4: Krakow: Toured Kazimierz, the former synagogues, and the ghetto area; visited Krakow's main market square; visited a salt mine/museum; and attended a performance of "Carmen" at the opera.
June 5: Krakow to Rzeszow: Visited the office of the Rzeszow archives; met with archivist in charge of the area's Jewish archive; visited the old part of town. Stayed in Hotel Prezydenski, Rzeszow.
June 6: Rzeszow to Sokolow Malopolski to Lublin: Visited the Jewish cemetery; museum in former synagogue, now municipal building; toured town and "ohel" of town's tzaddiks with local gentlemen. Stopped in Lezajsk, where we visited the tomb (ohel) of R. Elimelech of Lezajsk. Visited site of Belzec death camp on way to Lublin. Stayed in Hotel Victoria, Lublin.
June 7: Lublin to Warsaw: Toured Maidanek concentration/death camp. Stopped at Kazimierz Dolny on way to Warsaw. Overnight in Warsaw.
June 8: Warsaw to Lviv, Ukraine: Our guide and his driver met us at the airport and stayed with us for our entire time in Ukraine. We stayed in the Grand Hotel, Lviv, during our entire stay in Ukraine, and traveled daily from Lviv to the various sites we wished to visit.
Tour of Lviv's former ghetto area, holocaust memorial, and the Jewish cemetery. Visited Lviv's remaining functioning synagogue.
June 9: Lviv to Stryj: met with a Jewish community leader who took us to the former synagogue, now completely ruined (its interior is used as an outhouse by passersby), the Jewish cemetery, and former Jewish section of city. Returned to Lviv. Attended performance of ballet, "Coppelia".
June 10: Remained in Lviv for the day. Visited old parts of the city, Museum of History and Religion; attended an organ concert.
June 11: Lviv to Drogobych: Jewish community leader took us to the location where Dad's father's home once stood; visited the market square and former Jewish sections of the city; the remaining Jewish cemetery; and the huge, ruined "Choral Synagogue".
Returned to Lviv.
June 12: Lviv to Borislav: Deputy mayor of town took us to the Jewish cemetery; several former ghetto sites; memorials to Jews massacred by Nazis; former Jewish area of town; and explained the local petroleum industry.
Returned to Lviv with stop in Sambir (Sambor).
June 13: Lviv to Bolekhiv (Bolekhov): Visited town museum to see small Judaica collection; visited the former synagogue and beautiful Jewish cemetery with the museum's director. The mayor of Bolekhiv summoned us to the town hall, where he expressed the desire to be able to preserve the cemetery and synagogue.
Returned to Lviv.
June 14: Lviv to Zhovkva: Market day. Visited the former synagogue (built 1590-1600) and old parts of town.
Returned to Lviv.
June 15: Lviv: Visited the Ethnology Museum. Returned to Warsaw.
June 16: Warsaw to New York.
As you can tell, we covered a lot of territory in a short time. By the way, Dad was 94 years old when we went on the trip. I still find it remarkable that my father, at age 94, was able to keep up with it all, but he really enjoyed and savored every moment of the trip. I did too.
You too can explore your roots - do it!
See photos taken by Leonard Oppenheim during his trip.
---
© Copyright 2017 Kolbuszowa Region Research Group. All rights reserved.
Compiled by Joseph Faska and Susana Leistner Bloch
Back to Sokolůw Shtetl Home Page | Back to KRRG Travelogue Page