Ekaterinoslav Guberniya
Mariupolskii District
Jewish Colony No. 13
Nadezhnaya
Der Vilner
N 47° 35' / E 36° 51'
| | | |
| --- | --- | --- |
| Nadezhnaya school, 1904. | | Nadezhnaya school, 1904. |
| Nadezhnaja, 1922. | | Nadezhnaya school, 1922. |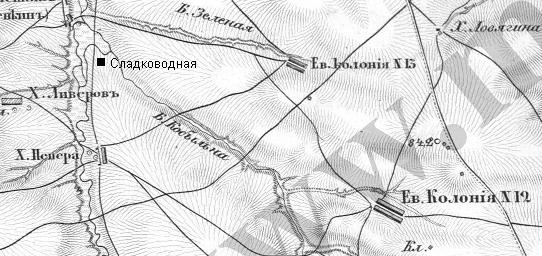 Nadezhnaya Zelenopol Sladkovodnaya, 1865.
Established 1855
Population
At the end of 1885 there were 40 families in the colony.
Surnames: Svirsky, Khazan
Revision Lists of 1858 for Svirsky
Sources: Avotaynu XIII/4/31
Research Contact: Chaim Freedman
This page maintained by Max Heffler
Updated Monday September 05 2022. Copyright © 1999 [Jewish Agricultural Colonies of the Ukraine]. All rights reserved.