Kherson Guberniya
Elizabetgrad District
Berezuvatka-Israelovka-Yaser-Yazer
Israelovka

,

Israilevka

,
Israilovka

,

Izrailevka

,
Izrailovka

,

Izraylovka

,
Izraelevka

,

Yisrealevka
Berezuvatka

,

Berezovatka
(modern name
)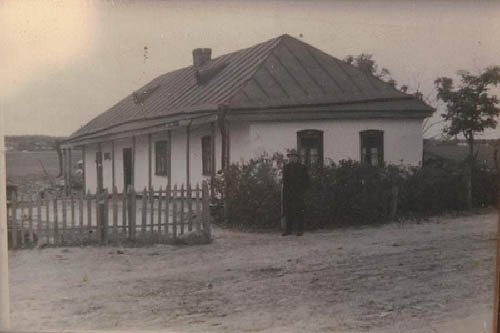 Casa Nosen - Israelovka
Photo © Mario Jeifetz All rights reserved
Isrealovka Izrailovka Israilovka
48° 01'/ 32° 36'
There are modern Ukrainian Oblast maps that show Berezovatka at this location.
Berezovatka (Israilevka) is located 9 km Northeast of Ustinovka and 30 km East of Bobrinets.
Index to Names on AMS 1:250,000 Maps of Eastern Europe, Series N501. 1966 V.1 & V.2
Israilevka is on Map NM-36-11 Lat 48 01, Long 32 36 (the Index lists a Lat of 47 57 which is not correct).
Israilevka is on the, Edition 2 map of NM-36-11.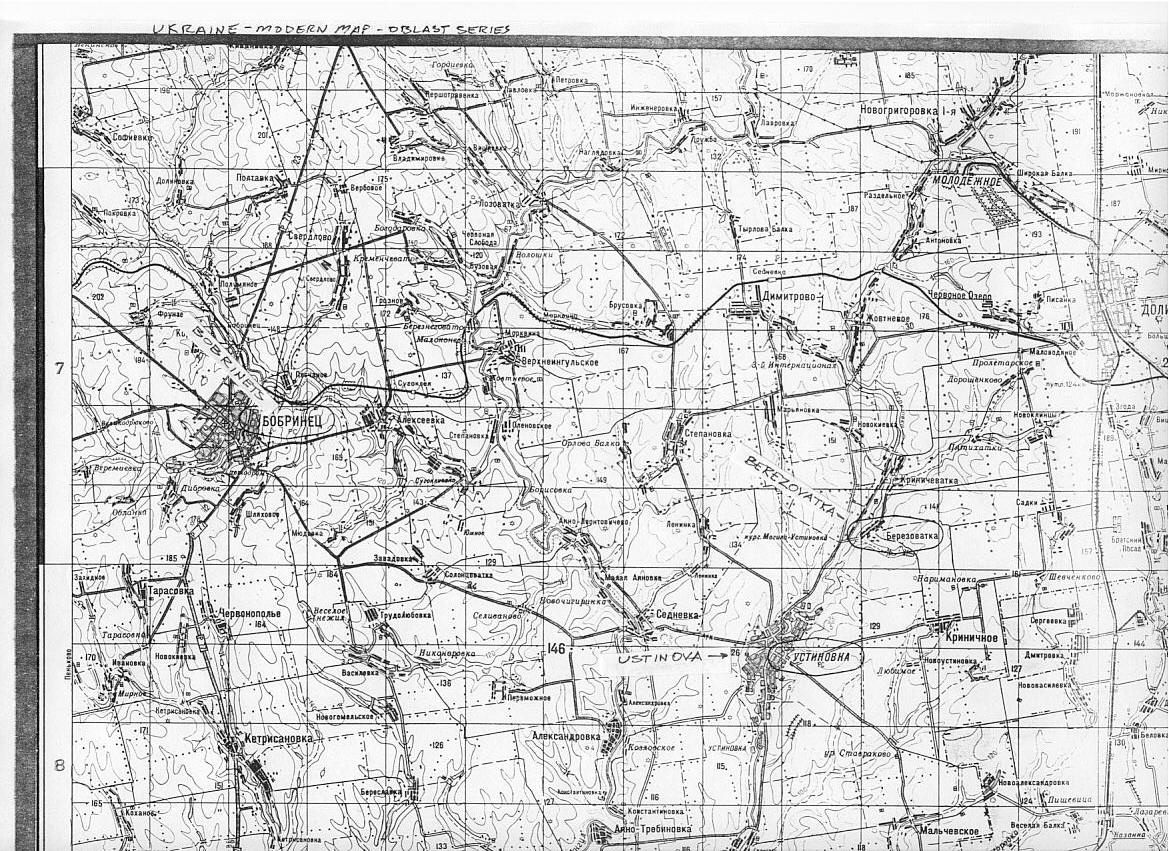 Today I have found what I believe is our Israelovka-Yaser, according to Max Baryshnikov, who wrote to Ukraine Sig:
"Dear Sir,
We have read Your letter about Israilovka and this is what I found by the
moment:
1. I found 2 places with old names similar with Israilovka
A) Iz(s)railovka now Berezuvatka, Ustynivskiy rayon (region in
Ukraine), Kirovogrdaskaya oblast Ukraine.

B) Israilovka, now Grabarivka, today part of Serebrinci silska rada
(local authority), Mogilev-Podilskiy rayon, Vinnitskaya oblast, 24015
Ukraine.
Sincerely Yours,
Max Baryshnikov
igrc@vru.gov.ua "
I'm attaching a map where the place (Berezuvatka) is shown from Microsoft Atlas Encarta (I have drawn it up). I have found it by a chance, when looking for my grandfather's friends birthplaces. If you try to find it, looking for "Berezuvatka" in you will appear near Jarkov. The information and the place are according to other facts I know at this moment. In the surroundings of the village there are a lot of little towns from were was originated the "Kherson Group" in which my family was included, they were from Israelovka-Yaser. The group were about 100 colonists families that arrived in Argentina in 1904/1905 under the Baron Hirsch's Jewish Colonization Association. They settled in Monigotes (some names published in Israelovka's site), a little town close to Moises Ville, and in Santa Isabel colony, a settlement near Concordia, Entre Rios province.
Today I know that my ancestors born in Israelovka were NOT originated in Vinnitskaya Oblast as previously shown in the site. They were neighbors and relatives and friends of those who integrated the Kherson group originated in Bovrinets, Novo-Paltovka, Berezovka, all places in Ustinovka (Ustynivskiy) region, Kirovograd (Elizibethgrad) province.

<![if !vml]>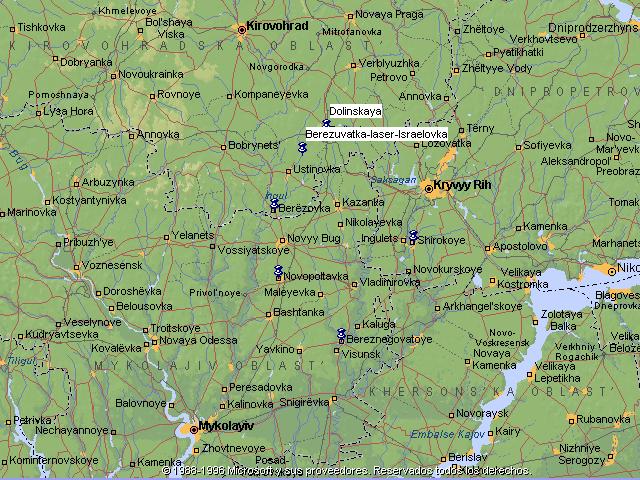 <![endif]>
Population: 1,227'
At the end of 1885 there were 76 families in the colony.
From: Livne, Zvi. 1965. Jewish Agriculturists on the Plains of Russia. Merchavyah, Israel. (Hebrew)
The population of the colony Yazer was several times greater than that of Sehaidak, and it was founded several years earlier, with the assistance of the Russian government which sent agricultural counselors of German extraction there. A reminder of this were the several farms on the outskirts of the colony belonging to German Christians, the descendants of those counselors who also settled there. Why was the Hebrew name Yazer given to the colony? Rabbi Drabkin of Yazer told me that the place had a Russian name of the Provoslavic Church, but the Jewish settlers wanted to change it to a Hebrew name. They checked and found that in the Bible in the Book of Numbers (Chapter 32, verse 3) the Targum Onkelos [the ancient Aramaic translation] translates the name Yazer as komrin [priests] and that is how they changed the former Russian name to the Hebrew Yazer. Over time the Russian government called the colony Israilovka, but the Jews and the neighboring Christians called it Yazer.
The farmers of Yazer, aside from growing winter and summer field crops also grew fruit trees, especially grapes. Because the regional administration (volost in Russian) was in the colony, the seat of the lending society and mutual assistance for the two colonies was also in Yazer.
-Haim Cohen (Kfar Vitkin
Surnames:
| | | | | | |
| --- | --- | --- | --- | --- | --- |
| Name | Father | Surname | Age | Born place | Died |
| Hilel | Elcana Acohen | Kohan | 45 | Iazer | 29-Oct-33 |
| Braine | Abraham Ostrovsky | Woloshin | 67 | Iazer | 10-Nov-36 |
| Eliezer | Elcana Acohen | Kohan | 43 | Iazer | 17-Nov-36 |
| Iacov | Yehoshua | Enguelberg | 74 | Iazer | 26-May-49 |
| Dov | Elcana Acohen | Kohen | 60 | Iazer | 05-Dic-46 |
Here are my grandfather friends, born in Israelovka (Yazer or Iazer) and buried in Monigotes,
a Jewish colony near Moises Ville
" Memoirs left by a relative say she grew up in Izrailovka (she used various spellings), "and the Jews used to call it Yazev". She locates it near Bobrinets in the Kherson Gub. Her father on his citizen ship papers say he is from Izrailovka (Israelofsky on his papers) near Odessa."
Barry Chernick
Bellevue, WA
Encyclopedia of Jewish Life Before and During the Holocaust
Editor - Shmuel Spector
This encyclopedia has information about two different shtetl of Israilovka.
Izrailovka (I) (1944, Berezovatka) Kirovograd Dist, Ukraine.
Agricultural settlement founded in 1807. 118 Jews in 1812...
Izrailovka (II) Vinnitsa Dist. Named after a J.Iessee, six Jews in
1787...
Articles on the web about Izrailevka and war crimes.
| | |
| --- | --- |
| | |
| | War Crimes: Calling Australia Home |
| | |
| | Nazis Find An Aussie Sanctuary |
Web sites that mention Izrailevka
| | |
| --- | --- |
| | |
| | Law #354 from the Levander Index. This law from 1837 mentions "Izrailevka" in referring to Jewish colonies in the Kherson gubernia. |
| | |
| | German Farming Achievements in the Black Sea Region - 1825 (H. Rempel) |
| | |
There are four record groups, birth, death, census, and marriage listed for "Izrailovka Colony" Kirovograd Oblast
Sources: Mario Jeifetz; WWWW: PHR1; Jewish Encyclopedia
JGFF Researcher: Mario Jeifetz; Barry Chernick