Ekaterinoslav
Alexandrovskii District
Jewish Colony No. 11
Gorkaya
Gor'kiy
Nazarevitch
Olgofskoy
47° 44' / 36° 41'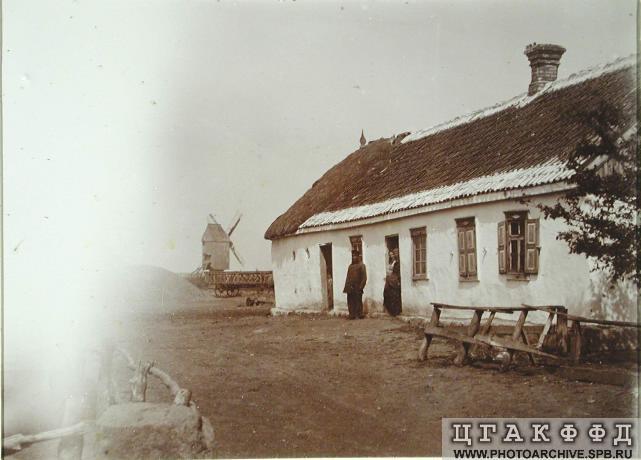 Gorkaya house, 1904.

Memoirs of Yaakov Yelishevitch
Life Story of Shmuel Yelishevitch
Established 1850
Population:
At the end of 1885 there were 26 families in the colony
Extract from Piotr Arshinovs History of the Makhnovist Movement:
| | |
| --- | --- |
| | On May 12, 1919, several Jewish families - 20 people in all - were killed in the |
Jewish agricultural colony of Gor'kaya, near Aleksandrovsk.
The Makhnovist staff immediately set up a special commission to investigate this event. -
From the Hebrew Press:
Surnames from Russian State Archives of Ancient Acts (RGADA): (Fond 1308, series 5, files 1444, 1446, 1448, 1450, 1451) Arshinov, Asinovski, Belyanski, Blyakh, Bodna, Borok, Drozd, Eliosof, Freidenzon, Gimel (Himel?), Gordon, Goryanski, Gurevich, Gurbanov, Gutkin, Kantsan, Kleiman, Kroz, Lemkov, Lomovski, Meyerov, Meyerov, Mogaram, Nudel, Olevsan, Paikin, Perelman, Plinski, Rakhman, Sverdlov, Serkhel, Sladkov, Yelishevitch, Zelbet, Zlatkin,
Sources: WWWW, Avotaynu XIII/4/31
JGFF Researcher: Ronit Zadikov – Borok, Yelishvitch, Gurbanov
Research Contact: Chaim Freedman
This page maintained by Max Heffler
Updated Monday September 05 2022. Copyright © 1999 [Jewish Agricultural Colonies of the Ukraine]. All rights reserved.