Memorial Tombstone
in the Holon Cemetery, Israel
(Area 12, Section 7, Row 34)

Dedicated in April 1975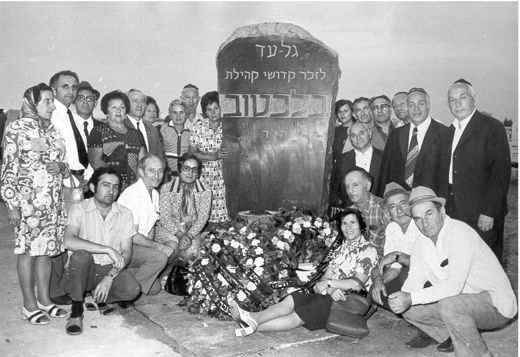 Survivors at the Monument (abt. 1975)
Left top row (standing, from left): wife of Fishl Zwierzynsky, Menachem Sharon, Srurek Machabansky, Jocheved (Jeivet) Huberman, Moshe Binem Farber, Rachel Kleinman Kolberg, Pola Bugansky (sister of Fela Machabansky), Peled Ydah Plawner, unidentified woman.

Right top row (standing, from left): unidentified woman, David Leib, Cheskel Breitberg, unidentified man, Wilhelm Eizel, Kalman Scheinkopf.

Left bottom row (kneeling): Yukl Zwierzynsky, Sucher (Issachar) Szotten, Fela Machabansky.

Right bottom row (from left): Jadzia Szylit (Jocheved Shilit) Szotten (sitting), Mendel Lizerovitch, Fishl Zwierzynsky, and unidentified man.
(This photograph was provided by Leif Rosenstock,
son of Fradjla (Frida) Aisen, whose family came from Belchatow.)
If you can identify any of the other Belchatowers in this photograph
please go to the website dedicated to the Jewish Survivors of Belchatow
and to the numbered template provided there as an aid in identification
to include their names to complete the list of identified survivors.
(Use your browser's back button to return to this site.)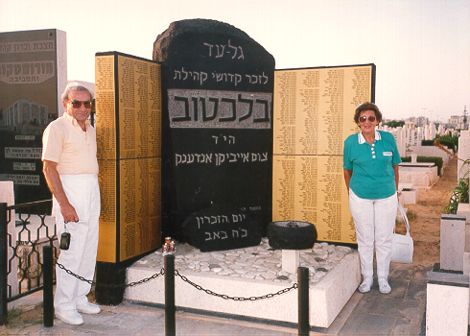 The two side-panels of names were added in August 1992.
Phyllis and Hiller Bell (Belchatowski) are pictured here attending that dedication.
(Photograph provided by Phyllis & Hiller Bell.)
Photos of the 2006 Hazkarah (Memorial Service)
October 3, 2006
Group photo of survivors and their families
Families represented: Choynitzky, Friedrich, Goldfinger, Huberman, Rosental, Sapierstein,
Sharon (Szmulewicz), Strawinsky, Wiener, and Yoskowitz.


[click on photo for larger view]

Dafna (Tousha) Sharon, Moshe Rosental, Menachem Sharon, and Avi (Abraham) Rosental (Moshe's son)

Menachem Sharon with his cousin, Moshe (Moszek) Rosental

Mrs. Huberman, Dafna Sharon, and Mrs. Wiener

Other ladies viewing the ceremony:
Mrs. Yoskowitz in center and Mrs. Strawinsky second from right

Another group photo

Mr. Wiener (son of Elimelech) speaking at the ceremony to Menachem Sharon and Moshe Rosental, among others.
(Above photographs provided by Miriam Rosental, Moshe's daughter-in-law.)
This page last revised January 7, 2007.