Andrzej Selerowicz
and his interactive street map
of Jewish homes in Belchatow in the early 1900's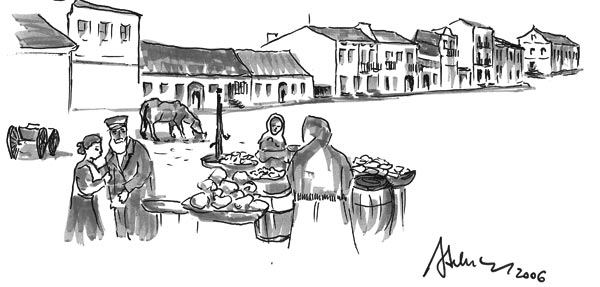 Old Market (Stary Rynek), Belchatow, around 1900

Andrzej Selerowicz, who created the drawing above of the Old Market in Belchatow, was born and raised in Belchatow after the Holocaust. He has a deep interest in the Jewish history of the town. Although he now lives in Vienna, he has made a significant contribution to our understanding of life in Belchatow both before and after the war. This he has done by visiting Belchatow and speaking with people about earlier times there, by obtaining and translating documents from Poland concerning Belchatow, and by visiting in Israel with Mr. Menachem Sharon, the head of the Belchatow Landsmannschaft and former diplomat to Poland from Israel. He has also translated sections of books about Belchatow and articles in the Belchatow Bulletin about its Jewish history. (I am guilty of not yet finishing the transcription of one of these articles from his recorded translation.) In addition, he has translated many records for Belchatow researchers.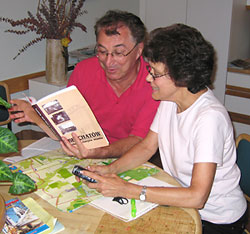 Andrzej and Roni (2006)

Seeing that a website about Jewish Cemeteries in Poland is on-line, Andrzej wanted to have Belchatow represented on the site, despite the fact that the two cemeteries no longer exist. He prepared a paper explaining where these cemeteries were located and included photographs of the monument made up of cemetery matzevot (headstones), which is located on the grounds of one of the old cemeteries. See the section for Belchatow on the site for Jewish Cemeteries in Poland (click for English text on the site).
Andrzej deserves our deepest gratitude for providing us with priceless information about our families and the places they lived.
Roni Seibel Liebowitz (10/10/2007)