The Jew in South Africa
A Record of what individual Jews are doing in the various spheres of the Country's life
Johannesburg : The Century Publishing Company (Pty.,) Limited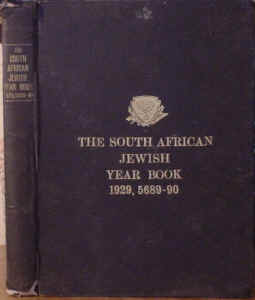 1945
There are three entries in this book for Rokiskis-born Jews and their biographical sketches follow:
Bacher, Solly – Clothing Manufacturer. Born in 1901 in Rakishek , Lithuania and educated there. Came to South Africa in 1921. Married in 1933 to Chanah Teperson. Postal Address: 69, Delvers Street , Johannesburg .
Chaitowitz Jacob. - Minister, Boksburg North Hebrew Congregation. Born in 1903 in Rokiskis , Lithuania . Educated at the Yeshivah "Meah Shearim", Jerusalem , and studied Chazanuth under Chief Cantor, Isaac Shnitzer of Jerusalem . Married in 1922 to Miriam Friedman. Served as Chazan at the "Malbim Synagogue," Jerusalem , from 1927-1930 when appointed to his present position. Lecturer to the Hatechiyah Organization 1935-1938. Executive member of Boksburg Zionist Soc., Zionist Youth Soc. and Chevra Kadisha. Delegate to S.A. Board of Jewish Education and S.A. Board of Jewish Deputies. Postal address: 65, Eighth Street , Boksburg North.
Joffe, Morris – Hardware Merchant. Born in Rakishok , Lithuania . Married to Hannah Rebecca Cohen. Came to South Africa in 1910. Director, Blankfields (Pty.), Ltd. One of the founders of the Melville-Auckland Park Hebrew Cong., and its president ever since its inception in 1927; Com member of the Jeppe "Gmilus Chassodim" and "Ain Yakov" Soc. since 1935; Com. Member of the Old-Aged Home since 1935; Chairman of the Dushater Soc. since 1928. Delegate to the Transvaal Federation of Synagogues; Com. Member Klerksdorp Hebrew Cong., 1916-1921. Postal Address: 285a, Main Street Johannesburg .