Tracing my roots in Rakishok
by Sorrel Kerbel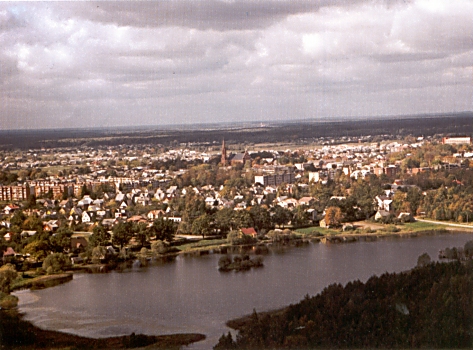 Modern Rokiskis
Thanks to Ada Gamsu, Mo
Skikne, and Peter Stachelhaus for this photo

Sorrel Kerbel, a Rokiskis descendant, shared the story of her great-grandfather Rabbi Bezalel Katz, who was a prominent Hasidic rabbi in Rokiskis. This article first appeared in two installments in Shemot, the journal of the JGS of Great Britain, March 2003, Vol. 11, # 1 and June 2003 Vol. 11, # 2. We have the gracious permission of both Sorrel Kerbel and JGS of Great Britain to reprint the article here.


Sorrel is the editor of a reference work called Jewish Writers of the Twentieth Century, published by Fitzroy Dearborn/Routledge, USA, 2003, which provides essays on the "Jewishness" of 350 novelists, poets and dramatists, including writers around the world. She has a PhD in English Literature from the University of Cape Town, and taught English Literature there. She and her family now live in London.


Part 1

My motherís grandfather, Reb Bezalel Katz, "cheated" the Nazis by dying three months before the start of World War II in 1939. Reb Bezalel lived to the grand old age of ninety six, and his ninety three year old wife Sara nee Yalowetsky (Sorke the Rebbetzin, after whom I am named, ) followed him a few weeksí later to a peaceful grave. But the family was not able to erect gravestones to their memory, as my mother Nechama Meirowitz - Stein explains in her essay in the Rakishok Yizkor book, " A Few Words in Place of a Tombstone". 1

Rakishok, 13 miles from the Latvian border, the largest shtetl in the north- eastern region of Lithuania and district capital after 1915, was once a flourishing spiritual and business centre for Lithuanian Jewry. The Jewish population fluctuated in number according to the exigencies of the times. In 1847, the Jewish population was 593; in 1897 , it was 2067, 75% of the general population; and in 1914, it was about 3000 , out of a general population of 3829. In 1923, 2013 Jews lived there; 50% of the general population. In 1939, there were 3500 Jews; 40% of the general population. 2

Rakishok had excellent rail connections to Dvinsk, Riga, Panevezys (Ponovezh), Siauliai (Shavli) and Kaunas (Kovno) which facilitated trade. What contributed to its special development and stability were its long-standing and well-established markets for produce, particularly flax ( also seeds, furs, corn, wheat, eggs, butter, fruit , poultry), lumber, and especially meat. During this era, there was also intensive trade by Rakishker Jewish merchants in raw hides and skins. Most Jews were traders and peddlers, but there were also artisans, tailors, shoemakers and hat-makers, butchers, bakers, metalworkers and clockmakers. Several hundred Jews worked in the Jewish-owned small industries like the tannery, flour mills, sausage factory, casting factory and electric station. Most of the doctors and pharmacists were Jewish. 3

Rakishok developed from an estate owned by the Polish house of Kroshinsky. The widowed Princess Helena, the last of that family, married Baron Tizenhoff, and Rakishok passed to the family of the Barons Pshezdetsky. The Graf Jan Pshezdetzky built the impressive white Catholic church on his land facing the market square, next to a substantial manor house. Then as now, its towering spire and clocks dominate the landscape.

Reb Bezalel (1843-1939) 4 lived "for as long as anyone could remember" on the Kamayer Gasse (Kamai is 11 miles away), across the road from the bustling market place where on Mondays (some sources say Sundays!) and holidays, thousands of peasants would come. Near his house, on Kamayer Gasse were the Batei Midrashim (houses of study); they were painted the colours of the Independent Lithuanian flag; yellow was for scholars, the green one for community leaders, and the largest, the red one, was for the general community. Behind them, after WWI , was the Folkbank (Peopleís Bank). The area was also important for business; most of the larger shops for textiles and leather goods, flour storehouses, warehouses, and even Singerís Sewing Machine Company showroom were situated there. 5

Reb Bezalel was the "official" rabbi of Rakishok, and met the first President of Independent Lithuania, Antanas Smetona 6, on his visit to Rakishok on the occasion of the opening of the new railway station. circa 1920. He stood with him on the festooned podium together with Graf Tizenhoff; the President later visited the synagogue complex.

My great-grandfather was a Hasid ,who gathered round him other rabbis of his persuasion, each with their own followings - Lubavicher, Babroisker and Ladier. . My mother describes her grandfather as a figure of great piety, modesty and tolerance, who studied "Yom veílaila"(day and night). He wrote many books and articles which have regrettably gone missing. He was also something of an expert in Hebrew, and once wrote a much praised letter in Hebrew to the director of education at the Rakishok pro-gymnasium (high school) which used Hebrew as the medium of instruction. This was the school where my mother and her sisters were educated. Reb Bezalelís granddaughter Feiga married Josef Caspi who was principal of both the Tarbut Bet Sefer and Pro Gymnasium. [Tragically Caspi was to become a "living legend" as a collaborator in the Kovno ghetto.] 7

The Lubavicher Rebbe, Joseph Isaac Shneersohn (uncle of the "last" Rebbe Menahem Mendel Shneersohn), honoured Reb Bezalel with a visit in 1931. On that occasion, Reb Bezalel met him at the station with a carriage and horses loaned by Graf Tizenhoff, and they drove through the town to the synagogue behind his house on Kamayer Street; a non-Jewish neighbour was said to have commented to my great grandmother "your Kaiser has arrived." (anecdote from my aunt Rochel Kalwaria, Kiryat Ono, Israel)

Reb Bezalel was born in Rakishok in 1843; as a young man he worked as an ironmonger, and had business dealings with Graf Tizenhoff. After taking smicha, he became rabbi in Karsevke, near Dvinsk, where he had a "guten nomen" (good name/standing). His second rabbinic post was when he returned to Rakishok, inheriting his fatherís rabbinic "cisei" (seat). (I have yet to discover if his father died or resigned for some other reason.) He and Sara Yalowetsky had a daughter and three sons. His father Josef Ha-Kohen Katz was also born in Rakishok circa 1828. Josef Ha-Kohen Katz had four sons, Bezalel; Avrom Leib Katz, Berzik Katz and Shmuel Katz, as well as two daughters, one of whom married Reb Zecharya Alter Abrahams [my mother calls him Avromtzik Jossel], the father of Chief Rabbi Prof Israel Abrahams of Cape Town.

Reb Josef, was in turn the second of five sons born to Reb Meir Ha-Kohen Katz (b.circa 1800) of Linkuva. Reb Meir Ha-Kohen Katz was also rabbi in Rakishok when Josef , his second son was born there. So the Ha-Kohen Katz family served as rabbis in Rakishok for at least a hundred and fifty years.

These five sons of Meir Ha-Kohen Katz are a genealogistís nightmare because they were each given different surnames at birth to avoid conscription into the Czarís army. The oldest son was Shmuel Leib Ha-Kohen Kaplan; the second son and my great great grandfather, was Josef Ha-Kohen Katz; the third sonís name was not known to my mother, though she notes that he later became rabbi in Linkuva, taking his fatherís place; the fourth son was the eminent science populariser, Hirsch (Zvi) Ha-Kohen Rabinowitz (1832-1889); he showed an early inclination for mathematics and physics and from 1852, in St Petersburg, began to prepare a comprehensive Hebrew work, which was to encompass all the fields of physics. In the event, he published only one volume, Sefer ha-Menuhah ve-ha-Tenuíah ( " The Book of Rest and Movement" ),1867. He later wrote other books on mathematics, magnetism, chemistry and steam-engines, thus enriching Hebrew terminology in these fields and bringing them to the attention of Hebrew readers. He also published many articles in Ha-Meliz (" The Ornamentation") and in several Russian periodicals which he edited and published , including Russki Yevrei (Russian Jews) late 1870s-1885; the youngest son was called Moshe Yaffe [My mother notes concisely that he was " a merchant." Not much coved (prestige) in her eyes.]

Reb Bezalelís only daughter, Asne Rifke (1876-1941) married my grandfather, Rabbi Abraham Meirowitz (1875-1941). Abraham Meirowitz was the fourth child of Moishe and Rifke Meirowitz of Karelitz in the province of Minsk, who had 6 children. (These were Berl David the eldest, whose family settled in Rhodesia and Israel; the second son was Yaakov who emigrated to the U.S., where there are many cousins; Ethel Cohen died in 1941; then came my grandfather Abraham; next was Yudel who died in 1941; the youngest was Meir whom, they said, was killed by the Cossacks, but his wife Machle nee Sachar (from Kupishok ;her brother was A L Sachar, founding president of Brandeis University), and her children settled in Israel.

Abraham Meirowitz studied at the yeshivas of Mir, Slobodka and Volozhin (where his study-partner at one time was the Hebrew poet, H N Bialik). When my mother, Nechama Meirowitz-Stein was born in Rakishok, they lived in her grandfatherís home because her father served in the nearby shtetl Skimiahn.

During the Great War, the family, together with most of the Jewish inhabitants of Rakishok, fled into Russia for safety. My mother recalls that as a child of ten, when they returned to Rakishok after the war, they were welcomed back by the Lithuanian townspeople with "flowers, love, and honour".

Her father, Rabbi Abraham Meirowitz, she writes in the Yizkor book, was a wise man who was no stranger to world affairs despite living in a relative backwater. His command of Russian and German, acquired on his own , led him to read the great literature of those languages, and broadened his horizons well beyond the confines of the narrow world of the shtetl. He was a founder member of the FolkBank (Peopleís Bank) in Rakishok, formed after the Great War, (with American Jewish aid from the Joint) and served as its director. In addition, he went often to Ponovezh where he sat on a rabbinical arbitration board to resolve disputes between litigants. Though Mitnagdim were traditional opponents of Hasidim, my grandfather, a Mitnagid, was considered a "modern " man by the socio-religious standards of that time, and there must have been a good deal of tolerance in the making of this Mitnagid/Hasidic marriage.

My grandfather, Rabbi Abraham Meirowitz, had a strong Zionist orientation (perhaps acquired at Volozhin Yeshiva known for its espousal of Zionism ) which led him to join the Mizrachi - the National Religious Party -within the Zionist movement, appearing as a speaker at their meetings and rallies. Understandably as a result he was less popular in the ultra-orthodox Agudas Yisroel circles.

In1928, my grandfather became rabbi in Abel (Obeliai), nine miles away. At a rabbinical conference in Ponevezh in the late 1930s, he warned his audience of the imminent dangers of Nazism, saying they were mistaken in thinking Hitlerís objectives were confined to the destruction of only German Jews. This raised much criticism among the Agudah delegates, and his admonition fell on deaf ears. Though he possessed immigration papers for America, Asne Rifke refused to leave without her grandchildren. Sadly he met his death from an axe wielded by a Lithuanian collaborator on the bima of the shul in Abel, where everyone in the village was rounded up in August 1941. He was thus the last rabbi in Abel. Because of my motherís delicate health, the truth of his death was kept from her, and the sanitized version she gives in her essay is not correct, according to my motherís last surviving sister Rachel Kalwaria of Kiryat Ono, Israel (July 1995)

Poor as they were, the Meirowitz family was enlightened and determined enough to send my mother and her two sisters Liube and Rachel to study to be teachers and a pharmacist respectively, while a brother Yisroel qualified as a medical doctor. They would go off by train at the nearby Rakishok railway station to the University in Kaunas where they boarded with Rakishker landsleit . My mother told me how, in winter, their landlady would be sent a frozen barrel of veal or beef by train, in part-payment of their board. (Rakishok was an important centre for the wholesale meat trade.) My mother graduated BA from the University of Kaunas in 1932, leaving shortly afterwards for Jerusalem where she married my father Nathan Stein and migrated once more (with my sister Thelma) to Cape Town, South Africa.

Footnotes
1 Nechama Meirowitz-Stein, "A Few Words in Place of a Tombstone" in Yizkor-Book of Rakishok and Environs, edited by M Bakalczuk-Felin, Johannesburg, Yizkor Book Publishing Council, 1952, pp.145-149. Most of the family information here was learned at my motherís knee or contained in her essay. I am indebted also to Alan Todres of Chicago and Raymond Karpelofsky of London who helped me with the Yiddish translation.
2 Nancy Schoenberg and Stuart Schoenberg, Lithuanian Jewish Communities, New York, Garland Publishing, 1991, pp.240-244
3 R. Aarons -Arsch, "Notes on the Economic Position of the Jews in Rakishok." in Yizkor-Book of Rakishok and Environs, pp.19-29
4 The Rokiskis Census of 1897 gives ages for Reb Bezalel and various members of the family which do not coincide with the ages presented here. I have chosen to remain for the purposes of this article with the ages recorded by my mother in the Yizkor-Book of Rakishok and Environs.
5 A Orelowitz, " Rakishok Before and After World War I " in Yizkor-Book of Rakishok and Environs, p.7-18
6 Antanas Smetona (1874-1944) President of Lithuania from April 1919- June 1920 and then for the last 13 years of the Lithuanian Republic. On June 15 1940 he fled to Germany, and then to the US, 1941. Ostensibly and officially a friend of the Jews, he surprised the British Consul in Kaunas by describing the Jews of Lithuania as "active Communists" and "dishonest traders". Masha Greenbaum, The Jews of Lithuania: A History of a Remarkable Community 1316-1945, Jerusalem, Gefen Publishing, 1995, p.279.
7 Feiga, my motherís cousin and daughter of Aharon Katz, married Josef Caspi (Serebrovitz) who wrote as a Jewish journalist using the name Caspi. He was born in Rokiskis, worked first at the Folkbank (employed by Rabbi Abraham Meirowitz), then as principal of the Tarbut School and ProGymnasium in Rakiskis. Because of his capitalist views, he was imprisoned during Soviet rule1940 and released shortly after German occupation. Then he threw in his lot with the Germans to fight communism, and was permitted not to wear the yellow star of David, allowed to live in Kaunas outside the ghetto and even to carry a gun. He was, in his own words, "a living legend who will go down in Jewish history." ( His words to the Council in the Kovno Ghetto). He acted as a go-between the ghetto council and the Nazis commandant. In October 1941, he was sent to Vilnius. In June 1943, back in Kaunas, he was shot by the Nazis together with his wife and two daughters. Shortly before his death Caspi addressed the Jewish council of the Kovno ghetto, "You entertain illusions of survival. I know that if I survive, it will only be by chance". (See photo of the pro- gymnasium class, and an account of this story in Avraham Tory, Surviving the Holocaust: The Kovno Ghetto Diary, Cambridge, Massachusetts and London, Harvard University Press, 1990.

Tracing my roots in Rakiskis, Lithuania
Part 2

So it was with mixed feelings that my husband Jack and I drove to Rokiskis from Kaunas in September 2002, a pleasant two hour drive through forested, fairly flat countryside. There was very little traffic on the roads, occasionally some cars and even the odd horse and cart. We were told that many poor Lithuanians had gone back to the days of the horse and cart because of the rising cost of petrol, now no longer subsidized by the Soviet State, but still half the price we pay in the UK.

I was armed with the details Julia Holzer neť Segal had given me in London some ten years before, kept in my diary all this time. Julia had been in the same class as my aunt Liube at the Hebrew pro- gymnasium in Rakishok . She left Lithuania only in 1968, so remembered it all clearly .

Find the house of the Graf (now a hotel) , then the imposing Catholic church, counting left, the first house belonged to the Lithuanian, Dr Kazlowski, who had refused to hide Juliaís child. The fourth house, a triple-storeyed narrow wooden building on a corner, with wooden slatted roof, brick steps leading up to the front door , was where my mother grew up. It was unchanged . The garden in front, at the side, and at the back, is well-kept and planted with fruit trees and flowers. Reb Bezalelís house stands empty, for sale.

We peered through the windows into the front room. This was where Sorke the rebbetzin sold some few supplies, like yeast and candles. She had the monopoly on selling yeast, an important perk for rabbiís wives at that time bringing in a few gruschen to supplement their resources.

The Folkbank (Peopleís Bank) and Batei Midrashim, (synagogue and houses of study) behind their house, razed to the ground in 1941, is the site of a small supermarket and run-down public lavatory.

In my motherís day, on the main square there was conveniently, a well and a large pump, surrounded by a low wall. Attached to the pump was a tin can, where passers -by could quench their thirst on a hot day. At the foot of the pump was a trough of water for cattle and horses. Now it is the site of a Soviet-style memorial to the anonymous war dead, some twelve foot high in pink granite.

We followed Juliaís instructions to find the Russian Orthodox church (tzirkva); opposite it was the park (bulvar) where the horse market used to be. Still a park and childrenís playground. On the corner the large house facing the park was the Jewish orphanage, now a private dwelling. Turn left, and count three houses to a single-storeyed wooden house, the home of the Kruk (Kriger) [See photo] family who left for Cape Town in 1931, despite a warning from the Lubavicher Rebbe not to go to this "treife" (unclean) country! (The Rebbe himself left for the U.S. in 1940.)

It was all there, little changed . The small wooden houses of the Jews are occupied by more prosperous Lithuanians, mostly with double glazing, running water, and neat gardens. A van was delivering loads of firewood, so I guess they still depend on wood fires. The alternative accommodation today is a flat in one of the many ugly concrete Soviet-styled blocks of flats on the outer perimeter of town. The Jewish houses are in the centre of town, so it is not surprising they are now highly desirable residences.

I had carefully prepared a sentence from the Lithuanian dictionary asking the location of the Jewish cemetery, and asked a woman in the well-stocked bookshop on the relatively prosperous Kamayer Gatve . I asked in English, showing my page, and a well-dressed couple responded. They were driving a newish German car and we followed them part of the way. Then in Bajorai, an old woman with a drab headscarf and poor teeth (probably no more than my age) pointed us in the direction of a memorial with a sign in Lithuanian translated to read "Memorial to the Fascist Martyrs of the Holocaust". Up a winding road in the deep and lovely birch woods of Bajorai were the "killing fields". It was here that 3000 + Jews died; they came from Rakishok and four hamlets including Abel and Skopishok. They were rounded up for 6-8 weeks in July and August in a ghetto in Rakishok in two barns owned by the Graf. A few escaped from the ghetto and fled to neighbouring farmers; they were mostly betrayed. On August 15, 16, and 20th 1941, these Jews were marched some two miles from Rakishok , forced to dig their mass graves, and then shot and buried in seven large trenches, now concreted over. Today there is a simple memorial plaque in three languages. We were told that the post-Soviet Lithuanian State would not allow any mention of the fact that the Jews had been murdered with the willing collaboration of Lithuanians. [See photo]

It was quite a day. Jack and I quietly said Kaddish in their names. There were a few tired red flowers at the memorial, and the remains of a few Yahrzeit candles. It was eerily quiet in the woods, with only a youngster walking to the foresterís house further up the path.

The next day, having returned to Kaunas, we were met in the foyer of the Takioji Neris Hotel by the guide we'd prearranged. Chaim Bargman is the Shlomo of Dan Jacobsonís Heshelís Kingdom; an excellent guide who speaks five languages, including Hebrew. 1

Also waiting in the foyer was Czeslovas Rakevicius, 84 years old, tall and well built .He is the son of the doughty peasant farmer and righteous gentile who had hidden my cousin, six year old Aharon, son of my motherís sister Liube. (In 1978 Aharon Barak was the principal drafter of the Israeli-Egyptian agreement at Camp David; at present he is the Chief Justice of Israel, Head of the Supreme Court.) Czeslovas agreed to show us his familyís farm where Aharon had been hidden - turned out to be in the deep countryside 84 miles west of Kaunas near Paupys and Raseniai.. Quite a trip on dirt roads. But we were pleased to do it because we heard from him, via the guide, the story of how the Rakevicius family, father, mother and four sons, became involved in hiding 25 Jews. Czeslovas told me that before the war, his mother had an operation in the hospital at Kaunas and became friendly with Jewish doctors there, including my uncle Dr Yisroel Meirowitz (who volunteered from the ghetto to go on a medical call and was then shot, 1944). So it was that the Rakeviciusí isolated farm, far off the beaten track, and difficult even for Czeslovas to find, let alone Nazis, was put on a list of safe houses. Though the family offered shelter to his mother as well, Liube Barak told me that she felt that because of her pronounced Jewish looks, she should not accompany her son and thus increase the danger of his being discovered. The Jerusalem Post of 23 July 1993 reports on the ceremony at Yad Vashem where they were honoured as righteous gentiles. It tells of how Czeslovas and his brother Josef smuggled Aharon bundled in a potato sack past a bribed guard out of the Kovno ghetto to a waiting wagon. The boy remained hidden on their farm and that of Jonas Mazuraitis, another righteous gentile. When the Soviets liberated Lithuania in 1945, they collectivised the Rakevicius farm, and Czeslovas went off to Kaunas where he married a Jewish woman and has lived since. A remarkable and honourable family.

After an hour of searching it became apparent that both the Rakevicius and Mazuraitis farms are now entirely under water - part of a lake for farming carp - and you could see nothing at all but lake. But losing our way a couple of times had its compensations. We visited a few of his former neighbours who greeted him warmly. It is poor subsistence farming; small ramshackle wooden houses, with iron or wooden roofs, outside loos replete with newspaper, hand or horse-drawn ploughs, covered wells, and small areas of land with just one or two cows. Mostly flat swampy land fringed by trees, and the odd cormorant diving for fish. It was this marshy land that deterred the Germans during both First and Second World Wars, making them wait for summer to attack, when the swamps dried up and formed dusty wastes.

Then we visited the Ninth Fort outside Kaunas and the memorial to the "Killing Fields" where they marched the sick and elderly, and later everyone from the ghetto except for a few escapees. Aharon Barak's father, Zvi Brik, a well-known Zionist leader in prewar Kovno, was a member of Matzok and manager of one of the large workshops in the ghetto. He was able to organise clandestinely the building of a maline (ghetto slang for bunker) near the river, outside the ghetto. Their maline saved eight people, including Rachel (my motherís youngest sister), her husband Mendel Kalwaria (who actually designed and constructed it), Mendelís brother and wife, and Liuba and Zvi Barak. There were also twenty five survivors in another maline inside the ghetto. The Germans searched for Jews in hiding, blowing up every stone house, and setting fire to every wooden one. The ghetto burned for several days until it was completely destroyed.

In the small museum at the Ninth Fort we saw the official list pinned up by the Nazis stipulating that the following persons were to report for duty as Yiddishe Ghetto Polizei - the last and 43rd name was "Meirowitz, Josef "(my mother's older brother who later settled in Brazil to avoid any enemies he might have made in the ghetto.) 2 3

Then back to visit the Archives in Kaunas. They have the tax returns of various shtetlach from 1850-1915; but rabbinical families are no good because they didnít pay tax! The office was like something from Kafka- books with yellowed pages piled high up to the ceiling, in cupboards, on rickety chairs and tables. 4

Researching this article, I came across a tiny box-Kodak photograph from the 1930s of my great grandfather Rabbi Bezalel Katz, his son-in-law (and my grandfather) Rabbi Abraham Meyerowitz, and his nephew, Shmuel Yalow (Yalowetsky). Rabbi Yalow received smicha from Reb Bezalel, then emigrated shortly afterwards to live and serve the community in Syracuse, New York . I also discovered a cutting from The Post-Standard, 7 June 1943 (USA) which reports on his son Aaronís wedding to Rosalind Sussman of New York (in 1977 the first Jewish woman in the USA to receive a Nobel prize in Medicine for radio- immuno-assays of peptide hormones ). Rabbi Yalow addressed the bride and groom saying, "I have neither wealth nor wisdom to bequeath to you. I can pass on to you but one thing , mispor hayomim- the continuity of the generations, your link with the immortal history of Israel."

Footnotes
1 Dan Jacobson, Heshelís Kingdom, London, Penguin, 1999.
Chaim Bargman, P.Luksio Street 37-22, Kaunas LT-3043, Lithuania.
2 See a record of their names in Sir Martin Gilbertís The Righteous : the Unsung Heroes of the Holocaust, New York and London, Doubleday, 2002.
3 Avraham Tory, Surviving the Holocaust: The Kovno Ghetto Diary, Cambridge, Massachusetts and London, Harvard University Press, 1990. p.522
4 The archives are open to the public daily, 10-1 and 2-5 , for information on the towns and villages of Kaunas province. If you need her, the archivist Vitaliya Svecyte is very helpful and speaks excellent English - archyvas@kaunas.aiva.lt
For information within Vilnius province, use Istorijos.archyvas@centras.lt