Welcome to Jaslo
Pronounced Yaslo! ...This web page is devoted to the shtetl Jaslo, which was in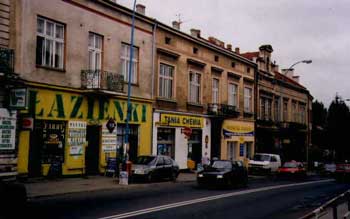 Galicia; and to all our ancestors who had the courage and foresight to brave the new world and emmigrate to the United States, Israel and elsewhere.
A bit of history: Galicia was a province or Kronland of Austria from 1772 through 1919; when Austria lost the war, this province was returned to Poland. Jaslo was in the red circle in the map to the left; it was the county seat and a thriving community.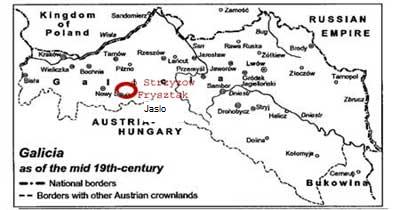 If you are visiting our page because your family came from Jaslo (latitude 49° 45´ longitude 21° 28&acute) or one of the surrounding communities remember that often marriages were arranged between families from neighboring towns, so you may well find information on your surnames where you least expect it.
The map below shows the area of southern Poland today with many of the area towns...each one circled has a KehilaLinks page!
The towns around Jaslo were: Krosno (krosno is 15 miles ESE of Jaslo), this is the master KehilaLinks page, with stories and photographs;
Dukla (16 miles SE),Korczyna (16 miles E),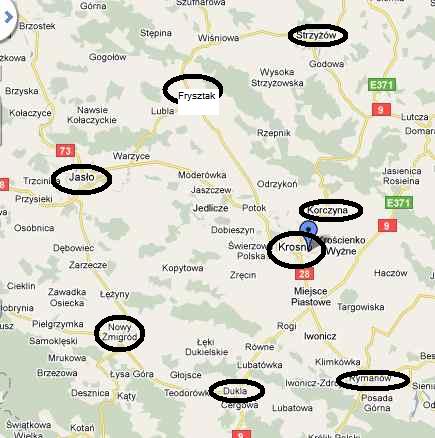 Jasienica (22 miles E),
Rymanow (21 miles ESE, Dukla (16 miles SE), Zmigrod Nowy (10 miles SSE), Frysztak (9 miles NE), Strzyzow (17 miles ENE), and Bukowsko. Other nearby towns included: Biecz-10 miles W, Jedlicze-9 miles NE, Krempna-7 miles S, Osiek Jasielski-8 miles S.
This web page is our loving tribute to the memory of our ancestors who braved the trip and left a legacy for future generations. Feel free to contact me if you have any questions or information to add. Just like our research, this is an evolving project!
The Jaslo KehilaLinks page was created in October 2000 by Phyllis Kramer, V.P. of Education and Special Projects, JewishGen Inc; Copyright &copy 2000.
The site was updated March 2019. Since August 2002, you are visitor:
If you have any questions, comments or additions, please email me (just click on my name).

Please note: This site exists because of your Generosity. Your tax deductible donation to JewishGen makes these services possible. If this site helps your search, just click on Jewish Gen-erosity.
. . . .
Historical Sources for Jaslo
A Unique Alphabetical Table of over 2000 records from following Sources: Oct2013

The Jewish Community in Old Jaslo --a booklet from 1992, translated by Monika Hendry. Probably the best description of life in the shtetl that you'll ever read! an alphabetized listing of Jewish Homes and an index to all surnames
Jaslo School Reports (1500 records) from 1878 through 1930, from the Rzeszow Digital Library, discovered and translated by Monika Hendry FABULOUS!!! Oct2013
Memoirs of Jaslo 1939-1960 --from a book published in polish in 2000; by the "Association of Lovers of Jaslo and the Region", translated by Monika Hendry. This is fabulous! and includes a street map of the town and the names of the shopkeepers!!
Jaslo's 1929 Business Directory entries

The Synagogue
The Jaslo Cemetery
Postcards, Photographs and Articles
Jaslo Remembrance day scheduled for August 2019. for details Sept 2018
Jaslo Maps
Genealogical Sources for Jaslo

Jaslo on JewishGen The Best Site for Jewish Genealogical Research -- JewishGen

JewishGen's Jaslo Page with maps, town history, links to yizkor books, nearby towns, researchers and more!! Nov 2010
Find Other Researchers looking for your Surnames & Towns!! -- JewishGen's Family Finder (JGFF). Do you have roots in Jaslo? Would you like to connect with others researching the same community? Click here to search the JewishGen Family Finder database (JGFF).You may need to register, but i promise you, its painless, and by registering, others will find you…so it's worth the few minutes!!
The entire 1891 Galician Business Directory - Records from Jaslo on JewishGen's Poland database
The 1929 Business Directory for Jaslo - Translated by Monika Hendry 6/04, being alphabetized, target: June 2014
The 1913 Business Directory for Jaslo - Translated by Monika Hendry
The Jewish Records Indexing-Poland project --Vital Records indexes
FindMyPast: Britain, Enemy Aliens and Internees, World Wars Jan 2017

Other Jaslo and Galician Genealogy Sources
Jaslo Family Information available through this Web Page
Holocaust Information
. . . .
Monika Hendry, our wonderful Polish friend, sent us this note in September of 2011:

"In 1437, district head (starost) from Biecz imposed a fine of 60 grzywna (a measure of weight of gold or silver used in medieval central Europe equal to 196.26g to 201.86g) on Jaslo's townsfolk and Jews who 'disturb the peace among themselves by word or deed'".

It was a considerable sum that would buy about 20 hectares of suburban land in those days.

In 1468 there's Jonas, a Jew residing in Jaslo, mentioned These quotes from taken from the Polish language "Historical and Geographical Dictionary of Medieval Poland" which you can find at http://www.slownik.ihpan.edu.pl/search.php?id=6778

. . . .
. . . .
. . . .
The 1891 Galician Business Directory contains a host of listings for Jaslo. You can access all the Polish Databases on JewishGen by clicking on Poland on JewishGen (but don't forget to return here after you are finished). Click here: The JewishGen Polish Databases
. . . .

We received the letter seal from Rodney Cork of Western Australia in January of 2014; Rodney said it was posted originally on "The Stamp Forum"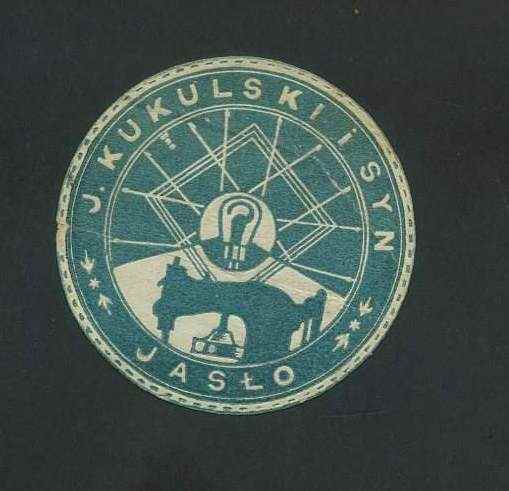 at http://thestampforum.boards.net/thread/1530/letter-seals-worldwide and recognized by Mr. Ryan Davenport of Canada. The seal shows a sewing machine, cycle wheel spokes and a vacuum tube. These little labels were generally used to seal the back of written correspondence envelopes to customers...

thank you Rodney Return to Table of Contents
. . . .
Return to Table of Contents
. . . .

Jewish Records Indexing - Poland has indexes to many Galician Vital Records. Although many western Galician towns are as well represented as those from eastern Galicia, there are indexes to Jaslo birth records in the Polish Archives; also if you search you will find indexes to over 500 individual records of folks from Jaslo who lived elsewhere.

Let me suggest a good method to search on JRI-P for indexes to vital records. What you are seeking are records not just from your own town, but from towns in the area, as marriages were most often arranged between neighboring towns. Here are the steps:
Write down the coordinates of Jaslo, (latitude 49° 45´ longitude 21° 28&acute).
Query (1)your surname, (2)the location (use the town the longitude/latitude)and
request a search of records within (3) 30 miles of Jaslo.

That way you'll find if there are any records for your surname in the area.
Good luck with your search for records.
Return to Table of Contents
. . . .

In 2016 FindMyPast.com added many items from the British Archives. The following resulted from a search using JASLO as the query point. The images connected with these items contain even more information. Go to http://search.findmypast.co.uk/search-world-records/britain-enemy-aliens-and-internees-first-and-second-world-wars and put JASLO into the keyword search field.
First name(s) -- Last name -- Birth year -- Birth place -- Document details -- Year range
Ignaz Haas 1886 Jaslo Dead Index - Wives of Germans, Haack-Hans 1941-1947
Otto Israel Liebermann 1898 Jaslo German Internees Released in UK, Leitn-Lieber 1939-1942
Aurelia Sara Rosner 1910 Jaslo Internees at Liberty in the UK, Roseng-Roszig 1939-1942
Golde Schulmann 1879 Jaslo Internees at Liberty in the UK, Schr-Schu 1939-1942
Return to Table of Contents
…. ….
updated 7/18 to reflect RTR changes The more recent records (within 100 years) are held at the Jaslo Civil Records Office (USC) and are subject to privacy laws. Please email herefor additional information on these records.
Genealogical Records from Miriam Weiner's Web Site and Book
The following list of current Galician records was taken from the wonderful guidebook
"Jewish Roots in Poland: Pages from the Past and Archival Inventories" by Miriam Weiner:
Jaslo, which was until recently in Krosno Province, is now in Podkarpackie Province:
Birth, Marriage and Death records for 1890-1937 in the USC in Jaslo
Kahal records 1915/1927 and Voter Lists 1920/1927 and Army Recruit Lists 1915-1918 can be found in the Przemysl Archives.
Land Records 1785-8 and 1819-20 can be found in the Lvov Archives.
Census of 1946 and Holocaust records 1945-6 and 1949 can be found in the AP at Skolyszyn
Kahal Records from 1940-3 are in the Jewish Historical Institute in Warsaw
Polish Alyijah Passports from 1929-1939 are in the Jewish Historical Institute in Warsaw

You can find this list of records and other information on Miriam Weiner's Web Site, Routes to Roots,www.Rtrfoundation.org.
. . . .
1885-1892 Jewish birth records
According to the state national archives these records are kept in the Sanok branch of the archives. Look at item 2 from top: http://szukajwarchiwach.pl/search?q=Jas%C5%82o&rpp=15&page=6.

And this is how to contact the Sanok office: Archiwum Panstwowe w Rzeszowie Oddzial w Sanoku, 38-500 Sanok, ul. Sadowa 32, tel: (13) 463-19-99, fax: email: apsanok@rzeszow.ap.gov.pl
the records you want are denomination:mojzeszowe located in fond: 1155/0 Jasielski Izraelicki Okreg Metrykalny
Of course you will probably need a researcher to get them for you. You might try jewishgen's infofile of researchers... at www.jewishgen.org/infofiles/researchers.htm.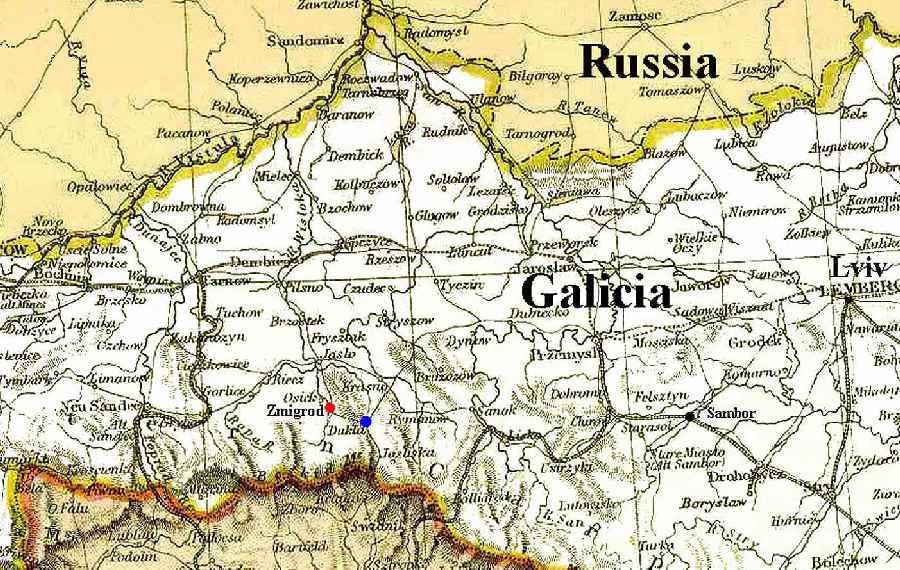 You'll find Jaslo above the little red dot of Zmigrod on the map
. . . .

found online by Monika Hendry Nov2014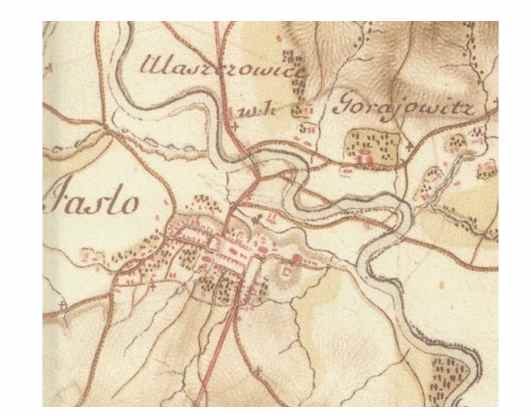 An interesting map. Monika said: "I found it online in a paper by Piotr Szmyd about Jaslo's fortified manor house called 'Koci Zamek', which was located exactly where the synagogue was later built. In fact some of its foundations and walls were incorporated into the synagogue. It is dated to the end of the 18th century." As always, thankyou Monika!!
Return to Table of Contents




FromGoogle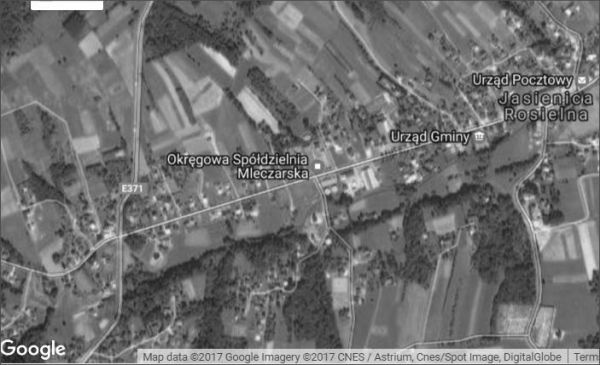 The Jaslo KehilaLinks page was created in October 2000 by Phyllis Kramer, V.P. of Education and Special Projects, JewishGen Inc; you are visitor:
If you have any questions, comments or additions, please email me by clicking here. Phyllis Kramer