Dedicated to the memory of my great-grandfather,
Icek Majer Galas of Jezów,
to to his ancestors and descendants;
to my grandfather Abram Michal Galas,
and to my mother, Fayga Galas,
and the worlds that she lost.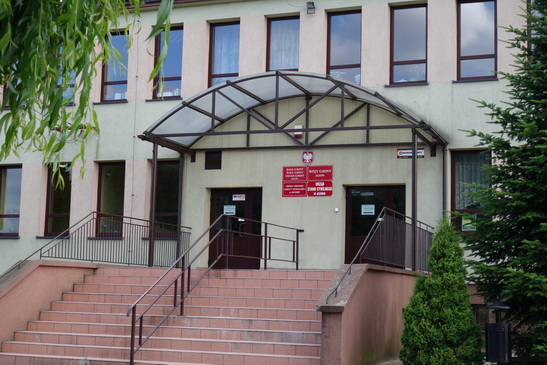 City Hall in Jezow.
Photo thanks to Jeff Rozenthal, 2015.
Genealogical and Historical Research in and about Jezów
To find other researchers searching for family from Jezów, go to Jewishgen's Family Finder

here

and then do a search for Jezów.

Here are the names that appear in records indexed by JRI-Poland:
At Yad Vashem in Israel and in the Jewish Historical Institute in Warsaw, there are six testimonies of Holocaust survivors who were born in Jezow. They are:

David Milich, born in 1932; in Hebrew, record group 0.3
Rosa Rachel Braunfeld Levkovicz, born in 1926; regarding her experiences in the Chrzanow Ghetto and in Sosnowiec and Gabersdor labor camps; in Hebrew; file number 11326
Golda Flaum Segal, born in 1929; regarding her experiences in the Rawa Mazowiecki Ghetto and labor in Germany in a Siemens factory disguised as a Polish woman; in Hebrew; file number 11160
Cwia Shtiglitz Wachetl, born in 1933; regarding her experiences as a child in the Rawa Mazowiecki GHetto and various hiding places including the forest; in Hebrew; file 12313
Jona Moshe Brandt, born in 1924; regarding his experiences in the Jezow Ghetto; a bunker in the forest; and hidden by a farmer in the village; in Hebrew; record group 0.3
Cypra Galas Rubenstein Rafeli; born in 1908; regarding her experiences in Bialystok, SIberia, and Bukara; in Polish; file # 1555

At Yad Vashem and in the Jewish Historical Institute, there is also a list of Jews originally from Jezow who resided in Wroclaw and Strzegom in March 23, 1947; record group M.54; file number JM 10005.
Some records are now available online at the

PSA

website. *
To obtain records that are more recent, you must write to the town archivist of Jezów at Urzad Gminy Jezów, ul. Kwiatowa 1, 95-047 Jezów, Poland. It is strongly encouraged that you write in Polish. You may need to demonstrate your relationship to the people whose records you request and to show a "material interest" in those records. Polish privacy laws can be diffcult and frustrating to maneuver.
Researchers who do not speak Polish are are strongly advised to have translators and/or guides accompany them. Please contact me if you need a recommendation.
*To view the record images, go to http://www.szukajwarchiwach.pl/search?q=Jezow. Click on EN so that you get help in English.
Find the type of record you want, and click on the town name of interest, such as birth, death, marriage.
You will see a list of descriptions of groups of images, showing the type of record, range of dates, and number of images available for each. This list might extend over several pages (navigation at the bottom center).
Click on the description of a group of images for which the right-most column (the number of images) is not 0. Then click the "Digital copies" or "Skany" tab at the top to see thumbnail images, which might extend over several pages.
To enlarge a thumbnail image, click it to see a medium-size version. While viewing a medium-size image, you can click on the right or left side of the image (an arrow icon will appear under your cursor) to display the next or previous medium-size image. Click the rectangle icon in the bottom right of a medium-size image to see the full-size version (which might not fit entirely on your screen, so click and drag the image with your mouse to reveal off-screen sections).
While viewing a full-size image, you can click the links just above the image, on the right or left, to display the next or previous full-size image. A download link is at the bottom center, below the image.
Compiled by Deborah H Long
Updated 2020
Copyright © 2010-2020 Deborah H Long
This page is hosted at no cost to the public by JewishGen, Inc., a non-profit corporation. If you feel there is a benefit to you in accessing this site, your JewishGen-orsity is appreciated.
Please here to make a donation.
The town of Jezów has a website at www.jezow.pl/

The mailing address for information is

Urzad Gminy Jezów

ul. Kwiatowa 195-047

Jezów, Poland

Jezow coat of arms

Thanks to Jeff Rozenthal for this photo taken in 2015.

---