Copyright © 1996 by Joel Alpert
Photos of Residents of Yurburg from the 1930s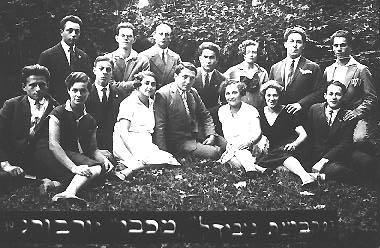 The Naividel Macabbi Group (Kvutzat Naividel)
Bottom from left to right bottom: Feldman, Miki Melnik***, Hershel Eliasov+, **, - Married to a Bass, Hillel (Lushka) Naividel*, - , - Mazar.
** Brother and sister
* Hillel Naividel was in Kovno when the Nazis invaded Lithuania, so had time to flee East with the Russian army and spent the war in Uzbekastan, near the Chinese border. Hillel and his family returned to Lithuania after the war and lived in Vilna. Hillel eventually became the President of the Supreme Court in Vilna, and died in 1969 in that capacity. His daughter now lives in Israel.
*** Miki Melnick died in a heroic way, killing a number of Lithuanians and Nazis. Described in the Yizkor Book, according to Jack Cossid.
+ Lives in Israel
If not otherwise indicated, they did not survive the war.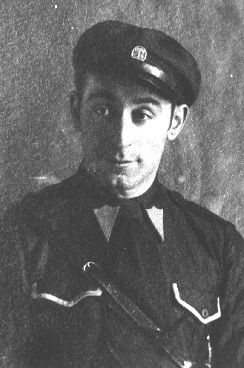 Moshe Krelitz in the uniform of the Palestinian Navy
He was the son of Meir Krelitz, and very good friend of Jack Cossid. Jack said that he was a very intelligent, creative and resourceful person. He often took photos of the youth groups in town, rigging the camera so that he could get into the picture. He was training to join the Palestinian Navy and was scheduled to leave for Palestine, but delayed his departure to marry. He was murdered by the Lithuanians.
Moshe Krelitz is an example of the quality of people that were slaughtered by the Nazis and lost to the world!
All identification by Jack Cossid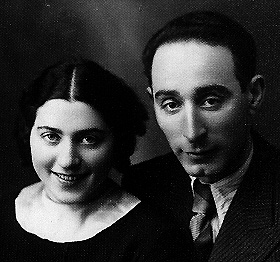 Moshe Krelitz and his wife
This photo was sent to Moshe's Uncle Sam Ellis (Eliashevitz) and Aunt Rae Krelitz Ellis in Milwaukee (about 1940).
---
Copyright © 1996 by Joel Alpert | Created June, 1996 | Last modified September 4, 1996
---
Return to Yurburg Home Page | ShtetLinks Home Page | JewishGen Home Page
---