Headstone G-27
Row 3, Col 3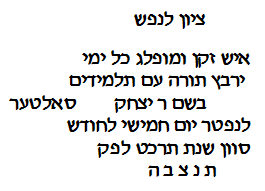 A marker for the soul
A wonderous and elderly man. All of his life
He spread-forth the Torah with students
in the name R Yitzchak Salanter
He departed on the fifth day of the month of
Sivan in the year 5628 (1868)
May his soul be bound in the bonds of life.
All work copyright 2007-2008 Dartmouth Hillel.
Translations, Transcriptions by Rabbi Edward S. Boraz. Other work by Joel Alpert. Web Design by Evan Michals D'07.