Headstone B-125
Row 9, Col 6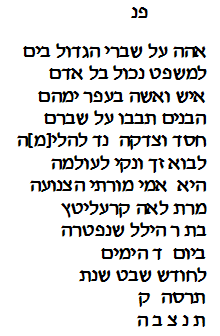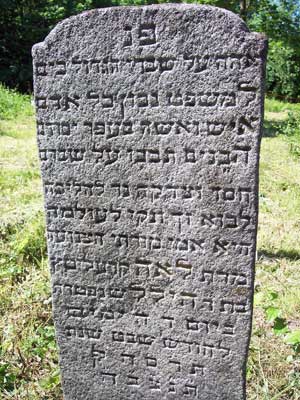 Here lies buried
How awful [the great]
To judge correctly over humanity
Man and women - their days are like dust
The children shall weep over [the one who has been destroyed]
Loving kindness and charity endlessly beating
Purity upon purity to come to eternity
She is my mother, my teacher, the modest
Mrs. Leah Krelitz
The daughter of R. Hillel who departed
On the fourth day
Of the month of Shevat in the year
5665 (1905)
May her soul be bound in the bonds of life.
All work copyright 2007-2008 Dartmouth Hillel.
Translations, Transcriptions by Rabbi Edward S. Boraz. Other work by Joel Alpert. Web Design by Evan Michals D'07.