LACKENBACH
Sample Page from the Hertz HERZL ROFFE Mohel Book
1821
תקפ"א -תקפ"ב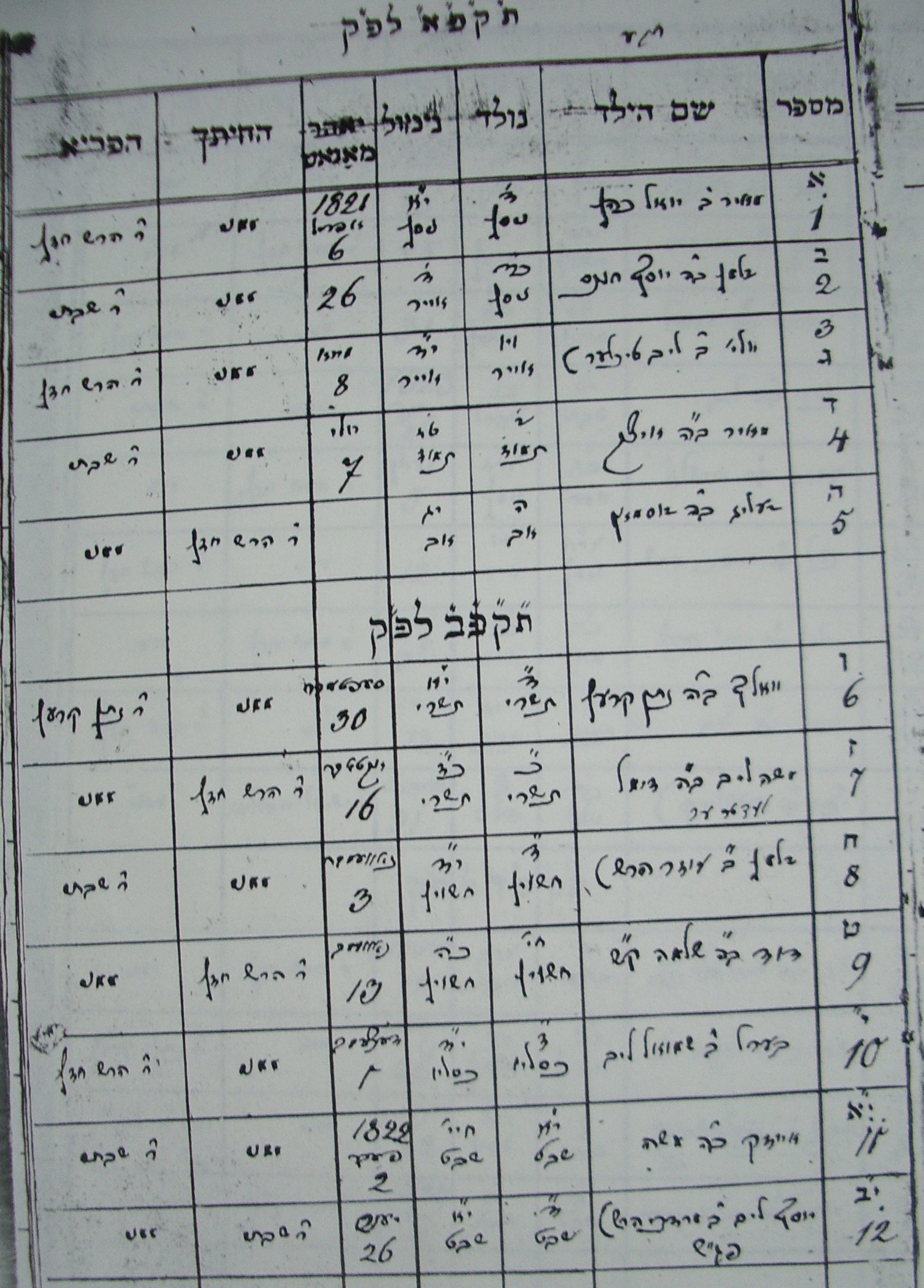 Translation (from Hebrew & Yiddish):

Heading: (columns from right to left)
1. Number (also in Hebrew letters)
2. Child's name
3. Born (Hebrew Date)
4. Circumcised (Hebrew Date)
5. Year and Month
6. "Khituch" - 1st stage of Circumcision (by Rabbi...)
7. "Pria'a" - 2nd stage of Circumcision (By Rabbi...)

1.Meir son of Yoel KOHN
2.Zalman son of Yosef KHONES(?)
3.Eli. son of Leib TICHLER
4. Meir son of Itzeg
5. Zelig son of Sussman

6.Yoel son of Nathan Kretz
7. Moshe Leib son of Zimel LEDERER
8. Zalman son of Ozer Hersch
9. David son of Shlomo K"S (KOPSTEIN?)
10. Berl son of Shmuel Leib
11. Meydek(?) son of Moshe
12. Yosef Leib son of Mordechai Herschel FG"S (FEIGELSTOCK?)

Back to
other sample pages
of the Mohel Book.
Jewish Gen Home Page
| ShtetLinks Directory
This site is hosted at no cost by JewishGen, Inc., the Home of Jewish Genealogy. If you have been aided by this site and wish to further our mission of preserving our history
for future generations, your
JewishGen-erosity
is greatly appreciated.