The Jews of Kraków and its Surrounding Towns
The "Old" (Remuh) Cemetery of Kraków
---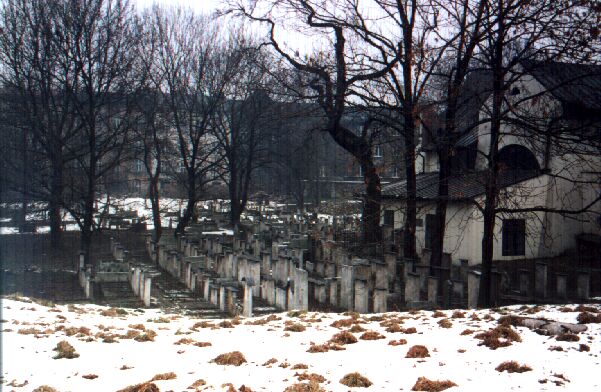 The Remuh Synagogue (acronym for Rabbi Moses Isserles) is located in Kazimierz, the Jewish quarter of Kraków, and was founded in 1553. The Remuh was considered to be the 'Maimonides of Polish Jewry' and was known for his universal outlook, his extensive Talmudic and secular knowledge, his manner of study, and his humility. His published works included treatises on halakhah, philosophy, kabbalah, homiletics, and science.
The adjacent Remuh Cemetery was used until 1799; it contains the graves of the Remuh and his family. Many of the tombstones remain, although they have weathered poorly with the passage of time.
About fifty tombstones images can be seen in the Kraków Album. (The photos were kindly provided by Dr. Adam Schogger)
---
This site is hosted at no cost by JewishGen, Inc., the Home of Jewish Genealogy.
If you have been aided in your research by this site and wish to further our
mission of preserving our history for future generations, your
JewishGen-erosity is greatly appreciated.

Jewish Gen Home Page | KehilaLinks Directory

Compiled by Eilat Gordin Levitan. Updated February 26, 2020 Copyright © 2007 Eilat Gordin Levitan (eilat.gordinlevitan@gmail.com).
---