The Jews of Kraków and its Surrounding Towns
Miodowa Cemetery Burials
---
In 1998, the Kraków Research Group managed to receive a register consisting of a list of about 40,000 burials in the Miodowa Cemetery during the period from approximately 1923 to 1950. The register is a list of names and plot locations. A typical page from this register is shown below. There is no indication as to the date of death or parentage. Also, since most of the cemetery was destroyed, we are unable to match locations in the register with actual grave locations.
Nevertheless, all 40,000 names have been extracted and can be searched by visiting the JRI-PL Database.
---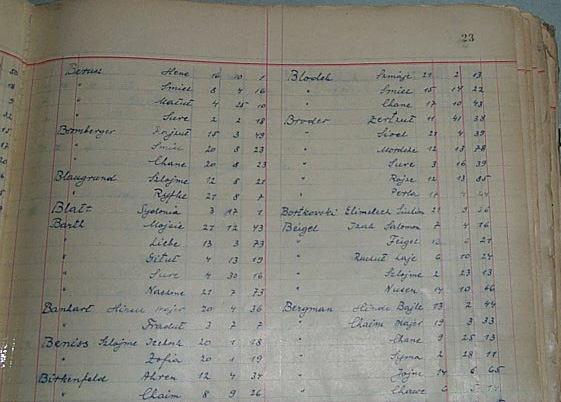 ---
This site is hosted at no cost by JewishGen, Inc., the Home of Jewish Genealogy.
If you have been aided in your research by this site and wish to further our
mission of preserving our history for future generations, your
JewishGen-erosity is greatly appreciated.

Jewish Gen Home Page | KehilaLinks Directory

Compiled by Eilat Gordin Levitan. Updated March 12, 2020 Copyright © 2007 Eilat Gordin Levitan (eilat.gordinlevitan@gmail.com).
---