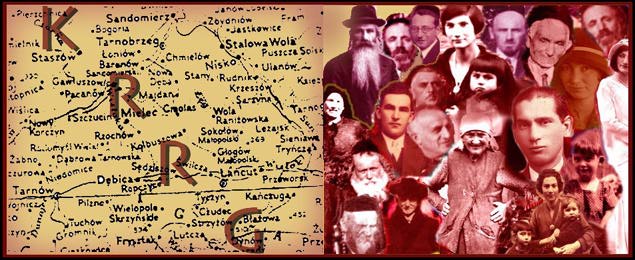 Heller / Oppenheim / Schlanger / Zeller Family Biography
---
Heller / Oppenheim / Schlanger / Zeller Family Biography
By Leonard Oppenheim
Belke Schlanger Heller was the daughter of Moses Schlanger and his wife, Kraindla. (Kraindla was born in 1806 and died in Sokolow on 11/13/1891). Belke, also spelled Belka or Welke, was first married to Isak Schehr, with whom she had a daughter, Friede (b. 3/18/1878). Records don't indicate what happened to Isak and Friede, but Belke next married Fishel Heller, a wholesale/retail grain and butter/egg dealer, believed to have been born in the nearby village of Kamien. Belke and Fishel lived in Belke's home in Sokolow after their marriage. Belke and Fishel had 5 children:
Frimma (b. 8/1/1884), also known as Friede, daughter of Belke Schlanger Heller and Fishel Heller. (Frimma may have been named after Belke's first daughter, Friede Schehr, who perhaps died in infancy). Frimma married Mekhel Zeller. Frimma and Mekhel had a son, Isak (b.?). and a daughter, Chaye Rojza (b. 2/13/1926). The family was not heard from after WWII.
Esther (b. about 1885). At age 15 she married Mekhel Oppenheim a tanner from Drohobych . Esther and Mekhel had two children while in Sokolow, a daughter, Kreindel (probably named after Belke's mother), and a son, Hersh Josef. Both children died as infants. As a result, Esther and Mekhel decided to emigrate to the U.S.A. where they had heard there was good health care and a better chance for children to survive. Mekhel, also known as Max, left first, and after establishing himself in Newark, N.J., was joined by Esther. There they had 3 children, Morris Jacob (b. 1906), Daniel (b. 1909), and Saul (Shaya)(b. 1911), each of whom survived into adulthood.
Sadie (b. 8/10/1886); Malke or Mollie)(b.?); and Josef (1/12/1890 - 7/21/1929). married Kreindel Neus, whose parents were Abraham Neus and Cyfra (?). Josef served as an officer in the Austro-Hungarian army during WWI. Josef and Kreindel had 3 children in Sokolow: Sander, Benny or Benjamin, and Lola or Laia. Josef died during an influenza (?) epidemic.
Eventually each of the children left Europe for America, except for Frimma and Josef.
See Family photos under "Faces"
---
İ Copyright 2017 Kolbuszowa Region Research Group. All rights reserved.
Compiled by Joseph Faska and Susana Leistner Bloch