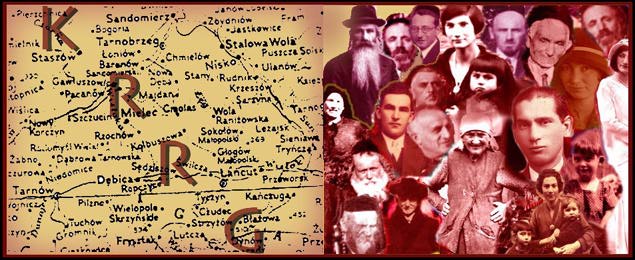 Krakow Ghetto Registration for Lola Heller of Sokolow
---
Judische Gemeinde Krakau - Protokoll
Krakow Ghetto registration for Lola Heller
Submitted by Leonard Oppenheim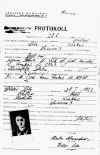 Click on the picture for a full size version. However, it's a large picture. It may take a while to load.
Leonard Oppenheim writes:
While browsing around JewishGen one evening I found that for a very short period the Germans had registered the Jews living in the Krakow Ghetto, and that at least some of those records were available online. My father had once mentioned that he thought that some members of his uncle's family from Sokolow Malopolski had moved to Krakow before WWII. So I clicked to that part of the website and found a long list of registrants, taken from the records and indicating the reel, list, and line of the microfiche of the original registration forms.
I scrolled through the list to the letter H, and in that list found the name Heller, Lola; the same name as one of my great uncle Josef's three children. Heller is not a unique name, and I'm sure there must have been (and perhaps still are) many Lola Hellers. The list has a link to the US Holocaust Museum, where a copy of these records is kept, and I sent an email asking whether they could send me more information from that particular microfiche about Lola Heller.
About 3 weeks later I received from the Holocaust Museum a printout of the microfiche page I had requested. And there was cousin Lola!!! The registration form, called a "Protokoll", a printed form filled in by hand at the "Judische Gemeinde Krakau" at Skawinergasse Nr. 2 on August 28, 1940, includes Lola's name, residence, the name and address of someone vouching for her, the date and place of Lola's birth (Sokolow, January 28, 1922), her occupation (Modistin), and, unbelievably, a small snapshot of Lola's face!!! We have an original photo of Lola with her 2 brothers, taken about 8 years earlier; the snapshot on the registration form definitely is of the same person; just more grown up. (And the birthdate on the Protokoll matches information I already had).
---
© Copyright 2017 Kolbuszowa Region Research Group. All rights reserved.
Compiled by Joseph Faska and Susana Leistner Bloch