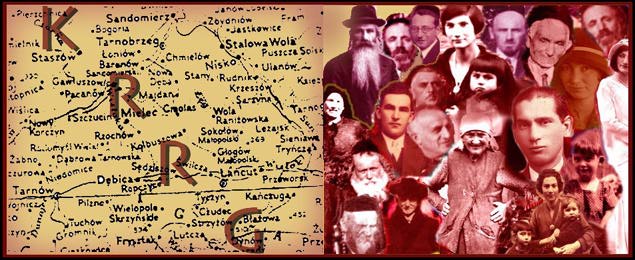 Faces

Of Mielec

. Family and Group Photos
---
Faces of Mielec.
Submitted by Stanislaw Wanatowicz

Stanislaw Wanatowicz is a resident of Mielec who has collected a vast amount of information and material about the Mielec Jewish Community. We are most grateful to him for having donated this material to us.

Mielec Aldermen
Photo taken 1935

Maccabi Footbal (Soccer) Team marching from Rynek [Main Square]to Maccabi Stadium.

Jewish Family from Mielec. Names unknown.
Photo taken c. 1910

Gela Roshi has identified some people in this photo:
The bride: Gela Zuckerbrod
On the top left, holding a little boy:
Yechiel David Zuckerbrod and Martel Zuckerbrod , Gila's grandparents'
Martel married her uncle Yechiel David
On the front row, first on the right Shmuel Zauvel Zuckerbrod, Gila's uncle.
Martel, Yechiel David and Shmuel Zauvel were the only three who survived the Holocaust.
Gila added: The family were Dzikowe Chassidim
The family owned the Zuckerbrod Mill

Jewish Children playing in a Mielec street.
Photo taken c. 1930

Jewish Young Men in the Rynek [Main Square]

FRANZBLAU Family Wedding Celebration.
Photo taken c. 1910 in Goleszˇw .
Chaim Franzblau owned the local Taverns and Liquor Store. Goleszˇw is only 3.8 miles SSE of Mielec. Jewish Population Before the Holocaust: 30. In 1926 the total population of Goleszˇw was 766.
Click on the pictures for a full size version. However, these are large pictures. They may take a while to load.

---
ę Copyright 2014 Kolbuszowa Region Research Group. All rights reserved.