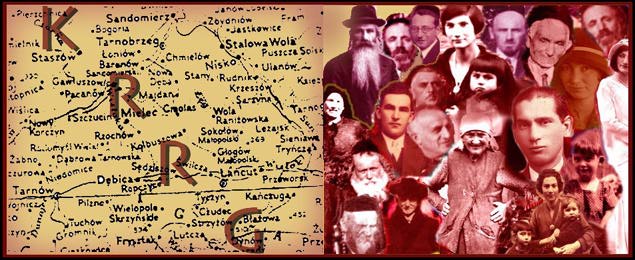 Photos and Postcards of Mielec
---
Photos of Mielec
Submitted by Stanislaw Wanatowicz

Stanislaw Wanatowicz is a resident of Mielec who has collected a vast amount of information and material about the Mielec Jewish Community. We are most grateful to him for having donated this material to us.

Ferry-boat across Wisloka River,
Photo taken c.1930

Panska Street - now Mickiewicza Street
Photo taken in1902

Panoramic View of the Mielec Rynek after it was burnt down.
The Towers of the Synagogue can be seen.
In 1900 a great fire destroyed all the wooden houses which had given the town its characteristic feature. A short time later new houses of stone were built.
Photo taken in 1906.

Birds Eye View of Mielec
The Rynek [Market Place] is clearly visible.
Photo taken in 1934

Birds Eye View of the Synagogue neighborhood
Photo taken in 1934

View Of Mielec from the top of the Church Tower showing the Synagogue neighbourhood.
Photo taken in 1935
---
These photos are part of Tomek Wisniewski's extensive collection:
" We are in search of Poland Society"
They are reproduced here with his permission
Palace of Count Oborskich.
Photo taken in 1910
Today it is the headquarters of the Mielec Regional Museum

Ulica [Street] Piłsudskiego, now Mickiewicza
Photo taken in 1936
Click on the pictures for a full size version. However, these are large pictures. They may take a while to load.

---
© Copyright 2005 Kolbuszowa Region Research Group. All rights reserved.