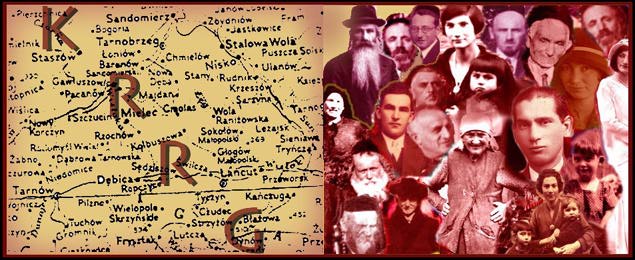 Through The Eyes Of American Soldiers.
Written by Yisrael Meyer
---
Through The Eyes Of American Soldier by Yisrael Mayer
During World War II, my uncles Max (Motel) and Ezra Mayer were in the American army. One ran a motor pool, the other was an infantryman. Though they were in different outfits, they kept in touch. The push through Europe managed to put their truck columns within driving distance and in a position where they could briefly visit Mielec, the town in which they and my father had been born some thirty-five years earlier.
I recall their homecoming to Brooklyn, where they had lived with their parents before They were called up for service. We were seated around the kitchen table, laden with fruit and nuts in a festive manner. My grandfather asked if they had the chance to go to Mielec.
My youngest uncle, Ezra, said that they did. My grandfather asked what they had seen. Both my uncles shook their heads. If memory serves me right, I think they said that the Jewish quarter had been bulldozed. But it is possible I am mistaken about that part; perhaps I heard that about another town.
In all the years subsequently, I never heard that there had been survivors from Mielec. To find out within the last few months that not only were there survivors, but that at least one had written a book of recollections astonishes me. ( through KRRG ) I found that Mark Verstandig, who survived by hiding in farms around Mielec is alive and wrote a book about Mielec titled : " I Rest My Case " .
So to hear that there were survivors, I can't tell you how it affects me, especially as in 1937/8 , we had family on my mother's side ( from Dolina ) visit us in NY but because the father still had two daughters to marry off he returned. My parents begged and pleaded that he and his brother remain in NY and they'd make every effort to bring the rest of the family to the States, but they returned. I was a child, but the recollection of that scene remains with me to this day.
One day, 20 years after that incident, while talking about her childhood, my mother pointedly said that her family had been killed by their neighbors, not the Nazis. It is possible that she was in contact with survivors from various parts of Europe who'd come to live in her neighborhood (Bronx, NY) in the 1950s. Perhaps one of them was the source of my mother's certainty.
---
© Copyright 2017 Kolbuszowa Region Research Group. All rights reserved.