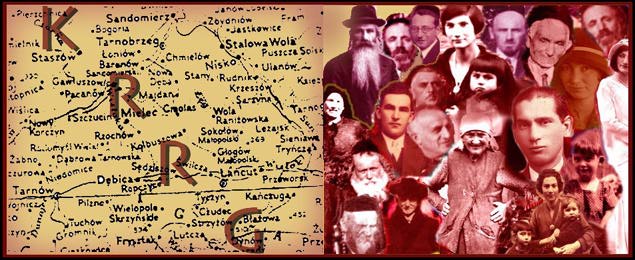 Niwiska Business Directory
---
Business Directory: The 1929 Business Directory. Submitted and translated by Susana Leistner Bloch.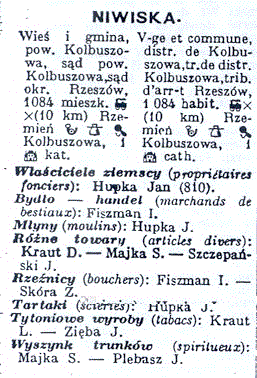 Translation:

NIWISKA

Village and community,
Powiat (county) Kolbuszowa,
Kolbuszowa County Court,
Rzeszow District Court.
1084 inhabitants.
Railway station (10 km) Rzemién
Telegraph, telephone and post-office in Kolbuszowa
1 Catholic Church

Landowners: Hupka Jan
Live stock (Cattle trade): Fiszman I.
Mills: Hupka J.
General / Variety Store / Sundries: Kraut D.– Majka S. – Szcepanski J.
Butchers: Fiszman I. – Skóra Z.
Sawmills: Hupka J.
Tobacco: Kraut L. – Zieba J.
Liquor Store: Majka S. - Plebasz J.
---
© Copyright 2017 Kolbuszowa Region Research Group. All rights reserved.
Compiled by Susana Leistner Bloch