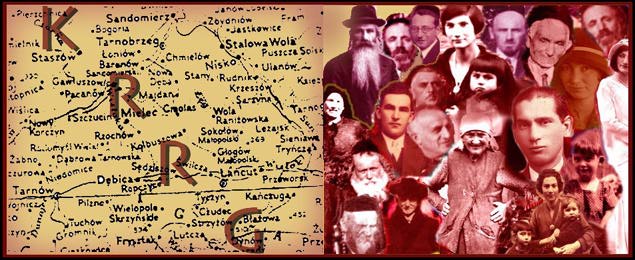 Manasterz Business Directory
---
Business Directory: The 1929 Business Directory. Submitted and translated by Susana Leistner Bloch.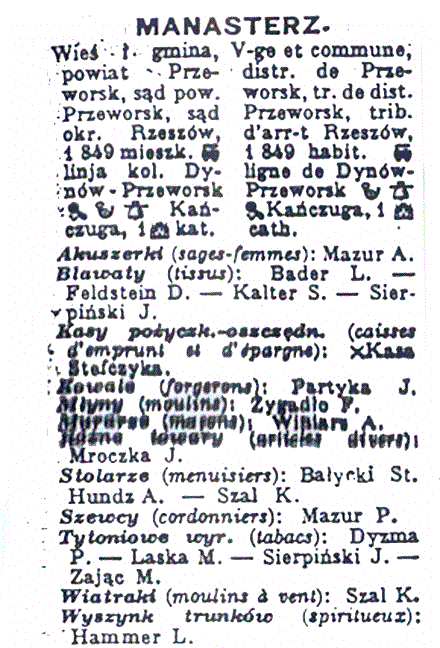 Translation:

MANASTERZ

Village and community,
Przeworsk Powiat(county), Przeworsk County Court,
Rzeszow District Court.
849 inhabitants.
Railway station: on the Dynów Przeworsk line
Post-office, Telegraph and telephone in Kańczuga.

1 Catholic Church,

Midwives: Mazur A.
Fabric Merchants: Bader L. – Feldstein D. – Kalter S. – Sierpinski J.
Savings and Loan Banks: X Kasa Steiczyka
Blacksmiths: Paryka J.
Mills: Zyglado F.
Masons / Bricklayers: Wipiam (?) A.
General / Variety Store / Sundries: Mroczka J.
Cabinet Makers / Joiners: Balycki St. – Hundz A. –

Szal K.
Cobblers / Shoe Repairers: Mazur P.
Tabacco products: Dyzma P. – Laska M. – Sierpinski J. – Zajac M.
Windmills: Szal K.


Public-Houses / Taverns / Liquor Stores:

: Hammer L.
Translator's note: the X before name indicates that it was a Registered Business or Firm.
---
© Copyright 2017 Kolbuszowa Region Research Group. All rights reserved.