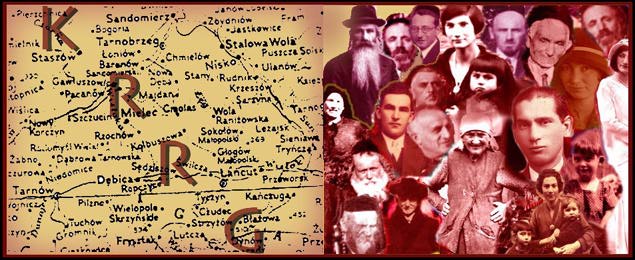 Ka
ń

czuga / Siedleczka Cemetery
---
The Kańczuga / Siedleczka Cemetery

The cemetery is situated about 1.5 miles WSW of Kańczuga on the road to Siedleczka. Gravestones were removed from cemetery and used to pave the main road to the cemetery and other roads and properties.

Howard Nightingale writes:

" Set out to find cemetery in Siedleczka. By serendipity we stopped a lady on the street and asked her. She said she lived next to it and she would show us if we gave her a lift to her house. The cemetery is off of the main road and is not visible from the road. It is about a two minute ride from Kańczuga. If not for this lady we would not have found the cemetery. You must navigate up an old muddy hilly road to a farmer's home. There we asked the farmer's wife and she took us on foot to the place. The cemetery is completely overgrown with poison ivy, bushes and trees. It is less than one acre in size (I estimate) and is inaccessible except at the outer edges. There are piles of headstones and some standing.

My cousin said prior to 1939 it was a cemetery for Ga

ć, Bialoboki, Manasterz, Zagórze, Ka

ń

czuga, Markowa, Jawornik Polski, Zabratówka, Chmielnik. After 1939 the Jews were no longer allowed to erect Matzevot (tombstones). My cousin said that last time he was there, the mud road had been paved with the Matzevot. The farmer's wife advised that someone had received permission to pull out the Matzevot and pile them back in the cemetery, hence the mud road. The farmer ploughs on all three sides of the cemetery. The farmer's wife showed us the mass grave at the base of the hill where the cemetery is located. There is an overgrown stone marker indicating that the remaining Jews of Kańczuga had been rounded up and marched out here and shot in 1942.

The farmer's wife said that some one should reclaim the cemetery. This is what my family, with the assistance of others hope to do, like the Ozarów reclamation.

We said Kaddish at the cemetery and left. "

For more information read Howard Nightingale's travelogue:: Journey In Search Of My Roots.

For photos of the Kańczuga / Siedleczka Cemetery go to Photos of Kańczuga submitted.by Robert Bernheim.
---
© Copyright 2017 Kolbuszowa Region Research Group. All rights reserved.
Back to Kańczuga Shtetl Page| Back to Gac Shtetl Home Page | Back to Zagorze Shtetl Home Page