Chuna Goldbrenner Family
A family photo taken in Grodzisko Dolne. C. 1932 - 34
Submitted by Joseph Goldbrenner
---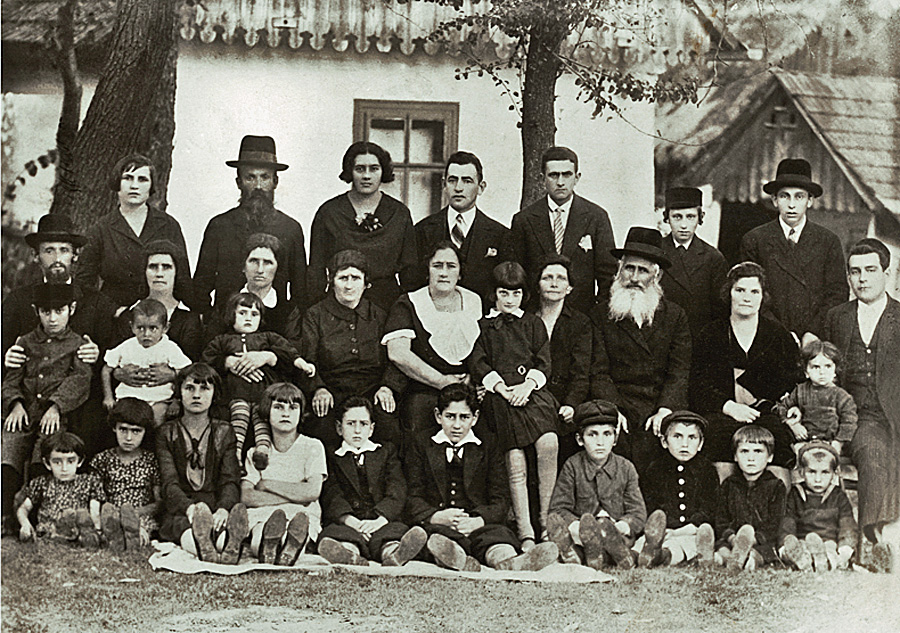 This photo was taken when an aunt and two boys came from America for a visit back home. (My mother is the little girl, front row, second from right.)
Left to right:
Top row. Bailla Weingarten*, Chaim Weingarten, Unknown, engaged to Phillip Fingerhut, Phillip Fingerhut*, Avrohom Fingerhut*, Yoshe Fingerhut, Archie Fingerhut*.
Middle Row. Yitzchok Nussbaum, Liba (Fingerhut) Nussbaum, Raizel (Fingerhut) Weingarten, Breindel Fingerhut, Frumet (Fingerhut) Friedus—US, Chaya Fingerhut, Genendal Fingerhut, Yankel Fingerhut, Henna (Fingerhut) Shprung, Shulem Shprung.
On Laps. Avrohom Dovid Nussbaum, Berish Nussbaum, Leah Weingarten.
Bottom Row. Bronia Nussbaum*, Esther Nussbaum, Miriam Esther Weingarten, Liba Weingarten, Jackie Friedus—US, Shimon Friedus—US, Mordechai Weingarten, Berish Weingarten, Chuma Weingarten*(my mother), Yisroel Shevach Weingarten.
*Survived the Shoah
---
© Copyright 2017 Kolbuszowa Region Research Group. All rights reserved.