Alfredówka Business Directory
---
Business Directory: The 1929 Business Directory. Submitted and translated by Susana Leistner Bloch.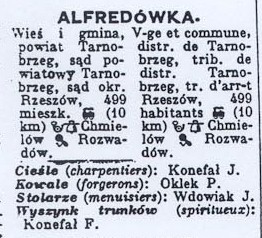 Translation:

ALFREDÓWKA

Village and community,
Powiat (county) Tarnobrzeg,
Tarnobrzeg county court,
Rzeszow District Court.

499 inhabitants.
10 km from the railway station.
Telegraph and post-office in Chmielow,
Telephone in Rozwadow.

Carpenters: Konefal J.
Blacksmith: Oklek P.
Carpentry tools: Widlowiak J.
Liquor Store: Konefal F.
---
© Copyright 2017 Kolbuszowa Region Research Group. All rights reserved.