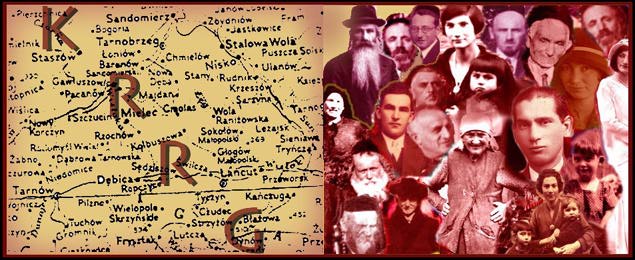 Trzebós History
---
Trzebós, together with parts of the village: Budy and Podlesie. District of Kolbuszowa. is located in the sandy broad valley of Vistula covered with pine forest. Height - 220 meters over the sea level and lies on the Trzebosna creek which has its estuary to the San River, by the road from Sokolow (4 km) to Zolynia. The village is densely built (313 houses). An isolated part Budy (24 houses) lies on the Olchowiec creek, SE from Trzebós. Podlesie (52 houses) lies East to the village. The wooden church (built in 1795, founded by Maria Grabinska) lies in the center of the village. Next to it, there is the school. Together with the isolated parts and the manor the village has 391 houses and 1944 inhabitants.(942 male, 1002 fem., 1905 RCath & 39 Jews). The manor, possessed by Jan Zamoyski is 387 morg (unit of area) large. There are 5 inns and one brewery in the village. The parish church belongs to the deanery of Lezajsk and it comprises also the villages of Katy Brzozanskie and Katy Rakszawskie. There is a rural bank in the village - its capital is 3448 rubles. The village borders are: to the east with Rakszawa, to the west with Nienadowka, to the south with Medynia; to the north with Wolka Niedzwiedzka and Sokolowka.
Source: Slownik Geograficzny Krolestwa Polskiego, Warsaw (Gazetteer was published between 1880 to 1902). Translated by Mary B. Wilson
---
© Copyright 2017 Kolbuszowa Region Research Group. All rights reserved.