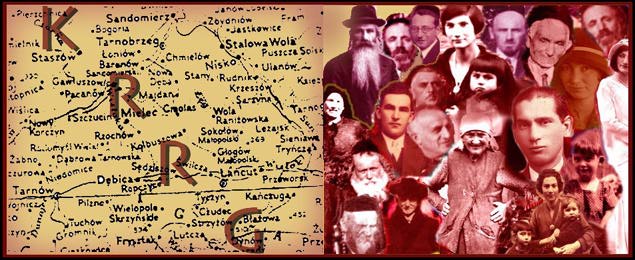 Sędziszów Malopolski Travelogue
---
Sędziszów Malopolski Travelogue. Submitted by Rhoda Green
Rhoda Green visited Sedziszów in July 1998. These are her observations of the shtetl.
It's pretty run down, but it was once a farming community, and a cattle country. My great grandfather Hirsh Mandel was a shochat in Sedziszów.
My traveling companion spoke Polish, and we went into a book shop to see if there were any books about the place, the women in the shop asked why we were interested, and we told her my grandparents were born here, and she immediately told us there was a Jewish cemetery there.
Sedziszów Cemetery :
We raced over only to find it overgrown, with an obelisk in the center. An elderly man saw us and came out of his home, and said he had the key. There were no graves, but the obelisk was a memorial to 400 Jews that were killed on the sight. The German's rounded up the group, made them undress, and dig a grave. A young girl was too modest to undress, and they shot her. They then murdered the rest. We left after that chilling story, he asked my grandmothers maiden name, and said he thought that there was a family by that name.
I did speak to a man in Sydney that was born in the town. His family was in the meat business. His brother survived in hiding in the area. His family name was Gold.
See the photos that go with this travelogue.
---
© Copyright 2017 Kolbuszowa Region Research Group. All rights reserved.