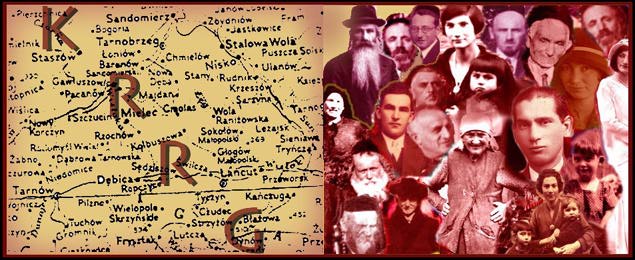 Rani
ź

σw Business Directory
---
Business Directory: The 1929 Business Directory. Submitted and translated by Susana Leistner Bloch.

RANIŻΣW
Village and community,
County (Powiat) Kolbuszowa,
Sokołσw County Court,
Rzeszόw District Court, 1858 inhabitants
25 km dist. from railway station in Rzeszόw,
Telegraph and Post Office in Raniźσw,
Telephone in Kolbuszowa and Rzeszow,
1 Catholic Church, 1 Protestant church,
Mills, Sawmills
Landowners: Tyszkiewicz hr. Jerzy (287)
Midwives: Starkowicz K.
Coopers / Barrel Makers: Sikora M.
Tinware / Tinsmiths: Beller M.
Fabrics / Fabric merchants: Amster B. – Amster O. –
Beck C. – Fass Ch. – Reich E. – Reich L. – Reich S. – Schnur L.
Livestock / Cattle trade: Blitzer E. – Drilings I. – Drilings J. – Drilings K. – Drilings S. –
Fass B. – Fass K. – Mandelkorn S – Rόbner L.
Carpenters: Adamczyk J. – Rosal M. – Sondej J.
Cement Tiles factory: Krudys J.
Hairdressers: Purio W.
Hotels: Reich L.
Eggs: Fass Ch – Najowicz W. – Neuman I. – Rybner Ch. –
Stoj J. – Winter E.
Savings and Loan Banks: x Kasa Stefczyka – x Kasa Zaliczkowa
Wheelwrights: Dul A.
Blacksmiths: Kawalec F. – Polodes P. – Potocki F. – Potocki P. – Wilk J.
Tailors: Tondaj W.
Mills: Lindenbluth and Co [Ska] (par) – Noga Ant. (wod)
Bakeries: Tanzer J. – Wachpress Ch.
General / Variety Store / Sundries: Drylings R. – Dul M. – Hillinger L. – Katz D. – Mandel G. –
Neuman R. – Hussbaum H. – Peciołajtis A. – Rejch S. jun. – Schirf A. –
Schwanenfeld Ch. – Sonnenblick L. – Stiller S. – Wachpress Ch. –
Wadler J. – Wang D. – Zeller B.
Butchers: Fass I. – Kusy J. – Ortwen J. – Wiącek K.
Leather / Hides: Orbach M. – Porcelan I.
Salt - Wholesale: Reich L.
Liquor: Reich J. K.
Cabinet Makers/ Joiners: Mierwa F.
Shoemakers / Cobblers: Betrza F. – Samojadny M. – Wiązck F.
Sawmills: Lindenbluth and Co [Ska] – Noga A.
Tobacco Goods - Wholesale: Kato H.
Pork Butchers: Rajpold F. – Sadej P. – Wiącek A.
Licensed Public-Houses / Taverns / Liquor Stores: X Engleberg I. – Ohlbaum B. – Reich S. – Wiącek A.
Iron products / Cast Iron / Hardware: Karpf G. – Reich I. – Strom P.
Translator's note: the x before name indicates that it was a Registered Business or Firm
---
© Copyright 2016 Kolbuszowa Region Research Group. All rights reserved.