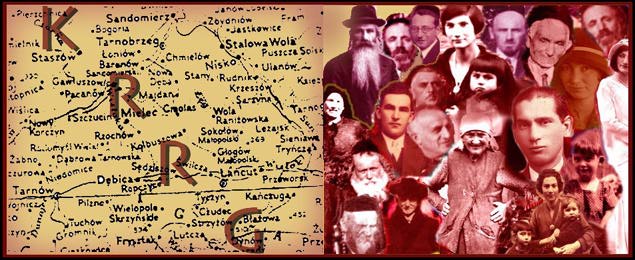 Borowa Business Directory
---
Business Directory: The 1929 Business Directory. Submitted and translated by Susana Leistner Bloch.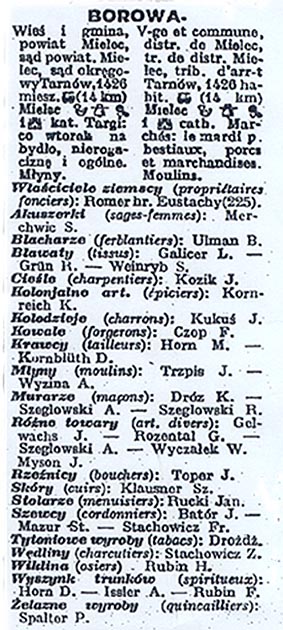 Translation:

BOROWA

Village and community,
Mielec Powiat (county),
County Court Mielec,
Tarnów District Court,
1628 inhabitants.
14 kms from Railway Station in Mielec
Local Telegraph, Telephone and Post-office
1 Catholic Church.
Markets for livestock / cattle, pigs and goods / wares
Mills.

Landowners: Romer br Eustachy (225)
Midwives: Merchwic S.
Tinware / Tinsmiths: Ulman B.
Fabrics / Fabric merchants: Galicer L. – Grün R. – Winryb S.
Carpenters: Kozik J.
Groceries / Staple Items: Kornreich K.
Wheelwrights: Kukuś J.
Blacksmiths: Czop F.
Tailors: Horn M. – Kornblüth D.
Mills: Trzpis J. – Wyzina A.
Masons / Bricklayers: Dróz K. – Szeglowski R.
Variety Stores / Sundries: Gelwachs J – Rozental G. – Szeglowski A. – Wyczalek W. – Myson J.
Butchers: Toper J.
Leather/ Hides: Klausner Sz.
Cabinet Makers / Joiners: Rucki Jan
Cobblers / Shoe repairers: Bátor J. – Mazur S. – Stashowicz Fr.
Tabacco Products: Droźdź
Pork Butchers: Stashowicz Z.
Wicker Dealers: Rubin H.
Public Houses / Taverns / Liquor Stores: Horn D. – Issler A. – Rubin F.
Ironmongers / Hardware: Spalter P.
---
© Copyright 2002 Kolbuszowa Region Research Group. All rights reserved.