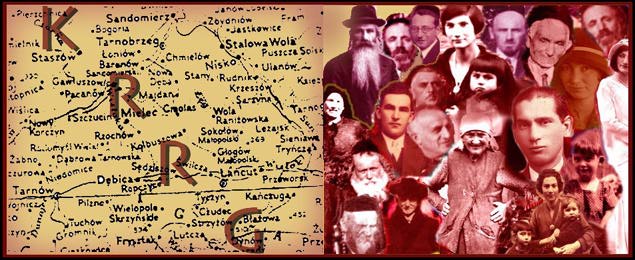 1929 Przeworsk Business Directory
---
Submitted and translated by Susana Leistner Bloch.
PRZEWORSK
Town and County Seat / Judicial District (Includes suburb of Budy Przeworwskie)
District County Court/ Seat, District Court: Rzeszow
5554 Inhabitants
2 km distance from the Railway on the Przeworsk – Rozwadow, and Jaroslaw –Rzeszow Railway Lines,
Narrow Gauged Railway Line Przeworsk – Dynow,
Local Telephone, Telegraph and Post Office service
Office of Inland Revenue, Taxes and Collections, Treasury Bank
Department of Land and Property Surveyors and Cadastral registration
School / Education Inspectorate, Municipal Office
1 Catholic Church, Convents: of the Bernardines and the Sisters of Charity
High School, Trade / Occupational School
Hospital of the Sisters of Mercy, National Health Service
Electric Power Plant and Municipal Slaughterhouse
Trade Guilds of Merchants, Shoemakers, Tailors, Butchers, Bakers, Blacksmiths and Ironworkers
Markets for livestock on Monday, Wednesday and Friday
Fairs on 2/1, 19/3, 1/5, 25/7, 4/10, 19/11.
Cement factory, Sugar factory, Distillery, Brandy and liquor factory, Alcohol refinery, flour mills.
Lively trade in cattle / livestock trade, pigs and dairy products
(Bottom part - Left Column)
Prefect (Starost): Adam Remiszewski
Mayor: Wl. Rybacki
Fire Chief (Volunteer Fire Brigade): Przewrocki Michal
Physicians: Goldschlag J. dr., Krok Jack. County Dr. – Ossadnik Jan dr. – Smyczyński Ign. Dr – Krok J. dr.
Dentists: Handelsman E.
Veterinarians: Skalisz Jul. – Zajączowski Stan.
Lawyers: Drucks Marcin dr. – Glab Marcin dr. – Jarosiewicz Mac. Dr. - Karpf Aleks dr. – Kleinman Anz. Dr. – Pieniąźek Leon dr. – Świtalski Stef. dr. – Gotlieb Ignacy Hugo dr.
Notaries: Lasko Win.
Landowners: Lubomirski ks, Andrz. (Podzamcze)
Midwives: Krzan E. – Ringenberg Fr. – Trybalska K.
Pharmacies: X Świtalska M.
Barrel makers / Coopers: Bieniarz W.
Concrete Products: Buczec J. – Rybacki S.
Tinsmiths / Tinware: Chlad M. – Hirshhorn S. – Kupfer,
Fabrics / Fabric merchants: Adler M. – X Adolf S. – X Basseches S. – Brand R. – Gelernter R. – Hasenfeld I. – Leszcowicz B. – Hasenfeld I. – Lipiner P. – Rolska B. – Rottenstreich U. – Schiffmann C. – Schwarz B. – Trinczer M.
Construction Material: Hornstein M. – Rosenbach J.
Cattle Trade: X Gogojewicz W. – X Mirkiewicz K. – Rolski F. – X Spσldz Cattle and Pig Dealers Sp. z o. o.– Trybolski I.
Brickworks: X Lubomirski ks. A.
Cement Products Factories: Rybacki W.
Candy Factory: Orlowski S.
Sugar Factory: X "Przeworsk" Sugar Factory and Refinery Cukru S.A.
Tiles / Tile Makers: Orlowski J.
Printers: Straus M.
Wood / Lumber: Frieder G. – Haas J. – Hornstein M.
Hairdressers: Duniec S. – Mandelsaft F. - Mandelsaft Z. – Marzec S – Osuch S.
Dry goods / Notions / Fancy goods: Adolf Z. – Bronner M. – Jakob Ch. – Freiberg M. – Landau O. – Lang S. – Schwefel S – Schwefel S. – Straus M. – Tannenbaum S – Dym. O.
Surveyors: Chwalek W. – Zajac J.
Distilleries: Lubomirski ks. Andrzej
Hotels: Rosengarten M.
Eggs: Baseches B. – Fuchs F.
Savings and Loan Banks: X Powiatowa Kasa Rolnicza
Cinemas: "Sokol"
Inner tube from animal intestines / Catgut maker: Brand Ch. – X Glanzman B.
Staple Items grocery (not bakery or dairy): Brόh S. – X Friedman R – Orlowska B. – Pretorius W. – Rosenberg H. – Zawilska J.
Wheelwrights: Dolhań J. – Kapusta J. – Zyga A.
Chimney Sweeps: Niedzioncha F.
Cooperatives: X Zarzad Okregowy Tow. Rolniczego , Kolko Rolnicze
Credit Unions: X Spolka Kredytowa I Handlowa
Basket Maker supplies: Anaskiewitz F.
(Bottom part - Left Column)
Blacksmith: X Bembenek S. – Sowiński S.
Tailors: Freifeld M. – Mφrsel J. – Schopf H. – Schopf J. – Schφnwald J. – Szajna S. – Śliwa J. – Tenzer S. – Wnzniak S.
Dressmakers / Lady's Tailors: Leja W. – Obarowa J. – Rosengarten F.
Book Stores: Adolf Z. – Nipl J – X Ruch S. A.
Kitchenware: Bronner M.
Painters: Kadlewicz T. – Zalewski S.
Agricultural Machinery / Equipment: Reifer O.
Flours: Jakσb T. – Habstman M.
Mechanical Workshops: Lubomirski ks. A.
Mills: Kapusta W.
Masons / Bricklayers: Mirkiewicz W. – Rybacki W.
Dairymen: X Basseches L. – Einhorn C. – Gerber J. – Goldberg M. – Wang E. – Brόh S.
Petroleum Products: Lorberbaum R.
Seeds: Anaskiewicz S. – Orlowska P. – Zarzad Dφbre Przeworsk
Oil Manufecturers: Shaffel H.
Bakeries: Blau K. – Furman R. – Pretorjus M. – Tenzer E. – Tryblnski M.
Beer Wholesale: Buchsbaum O. – X Englard E.
Rope Makers: Rzepa E.
Restaurants: Rolska.
Variety Store-Sundries: Anaszkewiecz S. – Belz J. – Belz N. – Biberman A. – Brand S. – Brόh M. – Englard A. – Englard F. – Feldstein J. – Friedman M. – Goldberg O. – Grόss F. – Herbstman Ch. – Herbstman W. – Hornstein D. – X Hurtownia Zw, Kupcσw Chrs. – Kestecher B. – X Kesten O. – X Kolko Rolnicze – Kress D. – Kurz I. - Lockman R. – Orlowska P. –Przemysz J. – Spiegler M. – Unger J. – Walaszek K. – Wein N. – Jung F. – Langsam F. - Zawilska.
Butchers: Didner A. - Krogulecki J. - Krogulecki W. – X Mirkiewicz J. – Mόhlrad A. – Plesnar W. – Rolski S. – Udem S. –
Cheese Factory: Hemm J. – Sawczyn M. & Co – Lubomirski ks. A.
Leathers / Hides: Braten M. – Braten S. – Kesten S. – Feldman F.
Alcohol Rectification / Adjustment: Lubomirski ks. A.
Food Products / Comestibles: Pretorjus M. – Sternheim K. – Unger J.
Cabinet Makers / Joiners: Fornelsi J. – Jabloński F. – Krukiewicz T. – Markocki W. – Mroczyński A. – Pieniazek S. – Rucker S. – Szleck W. - Zolyniak J.
Bristle Dealers (Pork): Kleiner.
Shoemakers / Cobblers: Chlebuś J. – Chmiel – Gottfried A. – Grόnspan – Katz A. – Krzeszower M. – Lieberman S. – Lisiewicz M.
Glaziers: Rutter S. – Sonntag T.
Locksmiths: Jelinek F. – Konieczny J. – X Konieczny M. – Olech A. – Orlowsky J. – Wajdowicz F.
Dental Mechanic / Technician: Dreiangel N.
Tobacco Goods Factories: "Hurtownia Tytoniowa" – Nestorowicz M. – Rolska W. – X Spσldz Powiat. Kola Zw. Inwalidσw Wojenych Rzeczp. Polskiej, Sp. z. o. o.
Pork Butchers' Goods: Gogojewiecz W. – Mirkiewiecz K. – Mirkiewicz T.
Centrifugal Machinery / Extractors / Separators: Anaszkiewicz F. – Bujniak A.
Seltzer Water / Aereted / Soda Water Factories: Lachs I – Świtalska M.
Brandy and Liqueur Dealers: Buchsbaum O.
Manufacturers of Brandy and Liqueurs: Englard K. – Lubomirski ks. A.
Public-Houses with Spirit License / Taverns / Liquor Stores: Atlas Ch. – Dabrowiccki K. – Fliegelman M. – Krzan – Preis J. – X Rosengarten M. – Scharlman E. – Wachtel I. – Wein S.
Inns: Rosengarten L.
Grains / Cereals: Geller G. – Langsam I. – Silberman M. – Spiegler M.
Clock / Watch Makers: Friedman M. – Geilzholz A. – Stein M.
Iron products / Cast Iron / Hardware: Berger Z. – Brenner T. – Frieder M. – Jaroslawicz D. – Landau B. – Nussbaum R.
Translator's note: the X before a name indicates that it was a Registered Business or Firm
Click here to see the original.
---
© Copyright 2017 Kolbuszowa Region Research Group. All rights reserved.
Compiled by Susana Leistner Bloch and Neil Emmer