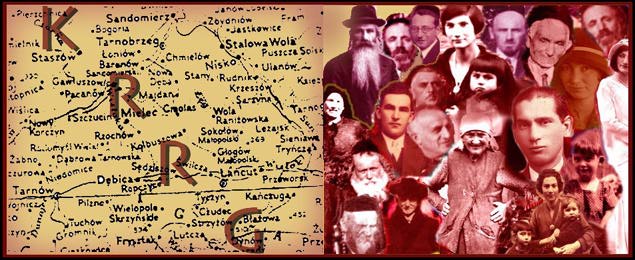 1929 Nisko Business Directory
---
Submitted and translated by Susana Leistner Bloch.
Column #1
NISKO
District town, 233 meters above the sea level ,
Seat of the District Court, Regional County Court: Rzeszów
5103 inhabitants, Railway line Przeworsk - Rozwadów
Post Office, Telegraph, Telephone
Government and Local Authorities: Provincial Authorities,
District Police Headquarters, The Ministry of Finance and Taxation Office
Treasury Department, The Land Management Office (Survey and Taxation)
District School Board, Municipality, District authorities.
Churches and Schools: One Catholic Church.
Public Senior High School, Vocational School
Market days: every Wednesday
Electric Power Plant. Brewery, Wood (Alcohol) Distillery

District Head: Adam Skarzyński
Mayor & President of the Municipal Council: Michal Baran
Volunteer Fire Brigade Commander: Pawlik Wlad. Mar.
Medical Practitioners: Loewy Al. dr. – Pizlo St. dr. pow. –
Walzcysńki Wł. Dr.
Dentists: Rosin Reich
Veterinarians: Przykopa R.
Lawyers: Birnbaum L. dr. – Klocek T. dr. – Stillman L. dr. –
West J. Dr. – Zaloscer M. dr.
Notaries: Wdówka G.
Landowners: Francke M.
Midwives: Kociolek J. – Musurowa L. – Plachcińska K.
Pharmacies: Korecka H.
Banks: X Bank Rolniczo- Handlowy
Lingerie Manufacturers: Feit J.
Tinsmiths / Tinware: Feit I. – Szpringer C.
Fabrics / Fabric Merchants: Bombach S – Knopfer C. – Lieblich L. –
Neiss M. – Nessel M. – Ohlbaum W. –
Rottenstreich S. – Schlüsselberg S.
Breweries: X Francke M.
Building Contractors: Krokosa L. – Liebling J.
Brickyards: Cegielnia Geminna – Francke M.
Carpenters: Perlik J.
Tile Makers: Francke M. – Pilat T.
Wood Industry: zarząd Dóbr Franke Marks.
Wood: X Haber M. – Pinkus M. – Süssapfel M.
Wood Distillation: X "Terpen", S.A.
Electricity Works: Francke M.
Photographic Studios: Steciak M.
Hairdressers: Luka W. – Maroszek J. – Woloszyn S. – Zipper I.
Fancy Goods / Notions: Luka W. & Woloszyn S.
Land Surveying: Albrecht S. – Liebling J.
Tea Rooms: Heiselbeck R. – Janiec S.
Hotels: Grünfeld Z. – Herzlich M. – Knaga M.
Savings and Loan Banks: X Kasa Stefzyka
Cinemas: "San."
Wheelwrights / Cartwrights: Grzywacz J.
Translator's note: the X before a name indicates that it was a Registered Business or Firm
Column #2
Nisko
Chimney Sweeps: Dulęba M. – Ostrowski A.
Cooperatives: X Spółdzielnia Oficersko Żolnierska
Blacksmiths: Barański J. – Bąk W. – Ryś J. –
Szewczyk A. – Woźniak R.
Tailors: Bartoszek S. – Hirsch M. – Kira G. –
Kopyto K. – Mędraș A. – Schlüsselberg M. –
Tokarz W. – Wilkenfeld M.
Ladies' Tailors / Dressmakers: Delor J. – Wnukowa Z.
Book Dealers: Opiatow M.
Forestry Operations: Francke M.
Mills: X Francke M.
Masons / Bricklayers: Krokosz L.
Fruit Dealers: Tuchman B.
Paper / Stationers: Opiat M.
Bakers: Gancarz J. – Haar – Knopf A.
Restaurants: Jagodzińska L.
Variety Store-Sundries: Aschkenaze L. – Both B. – Feit C. –
Herlich H. – Iwaszko M. – Jacobi J. –
Kochańczyk A. – Korpf C. – X Kólko Rolnicze –
Maroszek A. – Mitura W. – Myśliwiec J. –
Pinkas I. – X Siew" Ska Roln –Handl –
Wagner D. – Wiesenfeld M. – Brod M. –
Chrostek Z. – Pinkus M.
Saddlers / Leather Cutters: Jamroz J.
Butchers: Fass – Iwaszko P. –Jagodziński M. – Kara M. –
Knopf – Koliński J. – Kruk P.
Leathers: Goldberg J. – Sternlicht C.
Food Products: Atlas – Grzywacz Z. – Iwaszko – Myśliwiec –
Neuwirth.
Joiners / Carpentry Contractors: Francke M.
Carpenters: Jankowski S. – Scholl W. – Skrzat.
Shoemakers / Cobblers: Chrostek H. – Dąbek S. – Govryl A. –
Jamiec M. – Makówka J. – Pociosk M.
Sawmills: Francke M.
Tobacco Goods: Wholesale: X Związek Inwalidów w Nisku.
Ready-to-Wear Clothes: Herlich M. – Knopf W. – Neiss I.
Lime: Wagner C.
Pork Butchers' Goods (sausages, ham, etc.): Kochańczyk M. –
Kułacz J. – Wojtak K. – Kruk P.
Carbonated / Sparkling Water: Tuchman – Zeisel J.
Taverns / Public-Houses with Spirit License: Herlich M. – Kara M. –
X Kornbluth W. – Kościołek M. – Litwin F. –
X Powiatowo Koło Związku Inwalidów Woj.
Inns / Hotels: Knaga S.
Grains / Cereals: Bis F.
Watchmakers: Feit N. – Schneikart F. – Silberman M.
Irons: Bock W. – Haar R.
Translator's note: the X before a name indicates that it was a Registered Business or Firm
Click here to see the original.
---
© Copyright 2017 Kolbuszowa Region Research Group. All rights reserved.