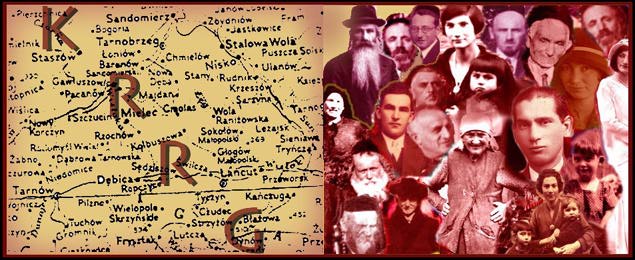 The GOLD - OST Family
History
---
Submitted by Frieda Schwartz
My parents, Jakob GOLD and Hela Ost were born in Nisko Poland and were married on September 15, 1938 in Nisko before the Registrars Office.
My father's parents were Shimon and Pesha Gold (nee Knopf).
His siblings were Alexander, Zischa, Sutcha , Hannah, Sarah and Wolf.
My mother's parents were Nathan and Mechal Ost (nee Friedman/ Frydman/ Fridman) and her siblings were Sarah, Hannah, Malcha and Abraham.
Through the years, they lived right in Nisko and for some years even in surrounding villages such as Cholewiana Gora and Rozwadów.
They were surrounded by their loving extended families including Gershon and Shifra GLIKLICH and their children, Morris and Malushia Haia.
The David and Dvora ANFANG family was part of the extended family clan as well.
Family and holiday celebrations were shared by all and were very festive and meaningful.
My folks had a very happy life. My father and his family owned a great deal of farmland property and a bar/restaurant. When the work week was completed, Shabbos was the highlight of their lives. They truly observed Shabbos----went to Shul, dressed beautifully, ate special meals and sang after each meal offering thanks to G-d for their bounties. Their Judaism was all important to them and even though it was a simple lifestyle they lived, they were inspired and fulfilled.
---
© Copyright 2017 Kolbuszowa Region Research Group. All rights reserved.
Back to Nisko Home Page Back to Cholewiana Góra Home Page