ShtetLinks: FLOSS

In German spelled as Floß

View the location of FLOSS
(49°44' 12°17') via Mapquest
BREAKING NEWS June 2021 - A document with the history of the Jewish Community of Floss was discovered in the papers
of a Floss descendant has been translated and is now available here in the background section below.
This site is hosted at no charge by JewishGen, Inc. If you find this site of value,
your Jewish Gen-erosity is greatly appreciated.
| | | |
| --- | --- | --- |
| | Map used by permission from Town of Floss brochure | |
Some Background Information About Floss
Click here for a newly discoverd history of Floss, author unknown. The original was in a handwritten notebook found in Bella Langermann Thannhauser's papers. Her mother was born in Floss. The crossouts have been preserved but still shown. This has been typed up, translated, and put in this lovely format by Anuschka Tomat and Helen Brandshaft.

Click here for a History of the Jewish Community of Floss summarized from the Höpfinger book cited below "Four Jewish families were permitted to settle in Floss in 1684, the brothers Henoch and Hirsch Meier as well as Eisig and Nathan Feifas and their families. All of the Jews who came from Floss thereafter were descended from the original four, either directly or by marriage. The laws limited the number of Jews permitted to live in Floss; sometimes these laws were loosely applied and other times people were forced to leave Floss because the numbers were too high.

The Commission of the Greater Main River Area requested all the Jews from Floss to appear for a meeting on April 26, 1814 where Jews were required to take last names. Those who had family names already kept them. (e.g. Bloch, Bomeisler, and Boscowitz ). The others took on German family names. Everybody had to register their names. Before then, each man was known by his name and the name of his father.

Sixty-four families were entered into the records and sixty-four remained the number allowed which could not be exceeded. " [translated and condensed from Renate Höpfinger, Die Judengemeinde von Floss, 1684-1942 ]

Because of these restrictions, many Flossers emigrated in the mid 1800s, often to the USA, otherwise to nearby Jewish communities such as Fürth, Nürnberg, and Regensburg. Also it was German law that Jews could not marry until the age of 28.

There are no longer any Jews in Floss. However the synagogue has been restored and is used once a year by a neighboring Jewish Community. There is also a museum area in the synagogue now.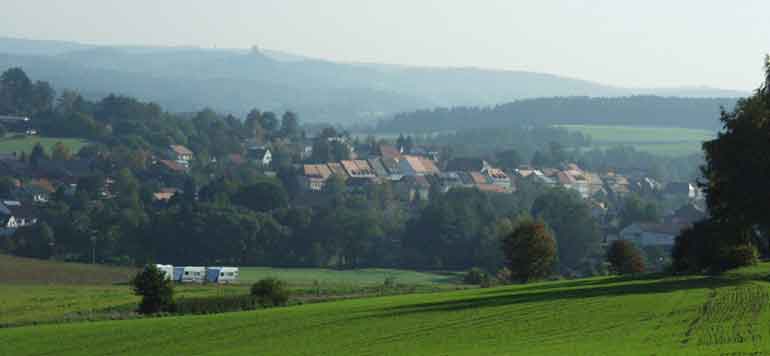 View of Floss photographed by Ralf Rossmeissl in 2004

Bibliography
Höpfinger, Renate.

Die Judengemeinde von Floss, 1684-1942 : die Geschichte einer judischen Landgemeinde in Bayern . Kallmunz Opf. : M. Lassleben, 1993.
Series title: Regensburger historische Forschungen ; Bd. 14. UCB Main DS135.G4 F544 1993
English title: The Jewish community of Floss, 1684-1942: the history of a rural Jewish community in Bavaria (not available in English)

Mormon Family History microfilm: Europe 1194062,

About 20 years of records (births 1813 to 1833) and some marriages and other records are item 3 on this film, available from any of the LDS family history centers.
Documents
Picture Gallery
Family Portrait Galleries
The Town of Floss
Some Family names from the Judenburg of Floss are:
ANSBACHER
BAMBERGER
BLOCH
BOMEISLER
BOSKOWITZ
DOPPELMAYER
DOPPELMEIER
EISEMANN

EISMANN
ENGELMANN
ENGLAENDER
FLOSSER
GOLDMANN
GRUENBAUM
HAMBURGER
HOENIG

HOENIGSBERGER
KOENIGSHOFER
LANGERMANN
LEVI
PLOCH
REICHENBERGER
SCHWARZ
STEINHARDT

WEISS
WELTZER
WIENER
WILMERSDOERFER
(became WILLIAMS
and WILMERS)
WITTELSHOFFER

Searchable Databases
---

---
Compiled by Kitty Munson Cooper
Updated by KMC on 5 Jun 2021
Copyright © 2002 Kitty Munson Cooper
Jewish Gen Home Page
| ShtetLinks Directory