Rzeszˇw, Poland
(Pronounced zhe-shof)
(Other Names: Reisha, Reyshe, Zhezhov)
Images of Rzeszˇw
Index of surnames. Photos of family from Rzeszow. Photos of Jewish gravestones in Rzeszow. Photos of postcards.
Other Important Links
1891 Galician Business Directory Listings. 1929 Polish Business Directory Listings. New York cemetery information. Gesher Galicia SIG. Kolbuszowa Region Research Group. Routes to Roots Foundation.
Holocaust Research
The Lauder Genealogy Project in the Jewish Historical Institute, Warsaw, The U.S. Holocaust Memorial Museum Survivors' Registry, The Auschwitz Museum, JewishGen Holocaust database.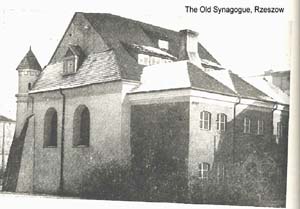 WELCOME TO REISHA
(Jewish Rzeszˇw)

Please make a selection from the menu on the left.

---
Jewish Gen Home Page
| ShtetLinks Directory
Last updated in 2008
Copyright ę 2008
Marian Rubin